Some games hold your hand as you walk towards their complex game mechanics, ensuring that you're fully prepared to handle whatever beasties await you in the dark dungeon. That's not 10000000.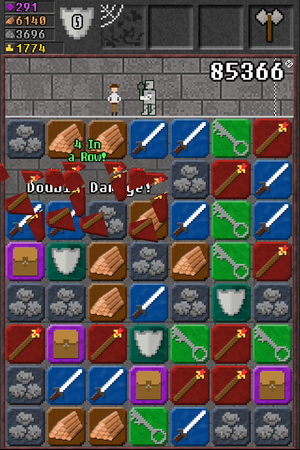 10000000, which is available for iOS and was just released on Android on March 14, is a niche game ripe for a dedicated following and prime for cult status. Aside from its difficult-to-search-for name, the graphics are 8-bit, the soundtrack is unwelcoming, and the gameplay is brutally challenging—from its fast-paced puzzle match gameplay to its puny, underpowered hero. 10000000 doesn't have to be for everyone, but it is for anyone looking for an oddly addictive, clever experience on the iPhone.
10000000 pairs the dungeon-crawler/role-playing game genre with the "match-three" aspects of popular iOS puzzle games. While it sounds insane, it actually brings an exceptionally well thought out timing and strategy component to the puzzle genre. Your character is traveling down a never-ending dungeon. Like any good RPG, he'll confront monsters and enemy soldiers to fight and doors and chests to unlock. But in order to execute attacks or unlock doors, you'll need to match the corresponding tiles at the bottom of your screen. Timing is everything, of course; so knowing when to match your sword tiles can mean the difference between a longer run and a quick death.
Like all infinite platformers, 10000000 doesn't end. You'll die hundreds of times, but each time you do, you'll collect loot. This loot can then be turned into improved armor, weapons, and spells that can be unlocked from the game's starting hub.
10000000 is a slow burn: it starts out as seemingly an overly-simplistic (albeit difficult) match-three game that reveals itself, with time, to be a more complex and deep game than you probably imagined. As an example, you'll start off your first few runs just trying to master the lightning-quick pace of the game. Only after you've begun to understand the strategies and rhythms of the obstacles do you look at the objectives. You're given certain goals to complete in your runs, and by completing them you'll be able to unlock more experience and loot. Many of these objectives require you to strategize and alter your initial approach: you may be tasked with matching a certain number of wooden tiles, or unlock a door in a particular way.
Unfortunately, the game's balancing act between RPG and puzzle game doesn't always work. The later missions in the game require long runs—a difficult task, because your enemies get stronger just as you do. You'll need to hoard the objects that you occasionally pick up, including staves, scrolls, and magic orbs. But while you'll continue to acquire objects, you'll pick up proportionally less loot as the game goes on, despite the incrementally more costly weapon and armor upgrades. The best way to unlock more experience and level up is to meet objectives, but when these include goals like "perform 90 matches" or "match 32 wood tiles," you're going to hit some bottlenecks.
That's ultimately the biggest issue with 10000000: no matter your skill level or the objects you collect, you'll eventually hit a brick wall, a place in the game where your current equipment isn't sufficient and you'll have to spend hours level-grinding in the hopes you can survive long enough to complete the objectives and advance. But RPG fans will likely recognize this familiar grinding problem.
Bottom line
Thankfully, 10000000 doesn't suffer from the same repetitive combat mechanics that plague other RPGs. Instead, the puzzle mechanics breathes replay-ability and longevity into a game that would otherwise wear out its welcome quickly. With its intentionally retro graphics (resembling a cross-between Pitfall and some text-based adventure titles) and its minimalistic frills, the game is unassuming and unapologetic about what's it about: infinite dungeon crawling with a frenetic match-three battle mechanic. 10000000 won't win many style points, but that kind of formula will definitely win more than a few fans.