Fans of The Big Bang Theory can rejoice: CBS joined the iOS age on Thursday, releasing its own app to stream the network's shows to the iPhone and iPad—a move that comes just as the broader television industry prepares to finally start counting "cord-cutting" TV watchers as part of its official viewership numbers.
The new CBS Interactive app will feature some of the network's shows the day after airing—namely, the daily daytime and late night content. The more desirable primetime episodes, however, won't be available until eight days after they're broadcast. That's the same deal that Fox has made in providing its show through Hulu and the Hulu Plus app; NBC and ABC, by contrast, generally make their programs available the next day through their respective network apps, and through Hulu.
CBS may seem late to the game, but its timing is no doubt very deliberate: The app comes just a few weeks after reports that that Nielsen—which tracks the TV viewership that allows networks to set their advertising rates— will finally begin to measure online viewing numbers. Reportedly, Nielsen plans to phase in its new tracking program by measuring iPad viewing by the end of this year.
That may have removed the last roadblock to CBS's arrival on iOS. Television executives have long worried that online viewers cannibalize live-TV viewership for their shows, depressing the "official" ratings and driving advertisers away. (Conversely, advocates for some low-rated shows with devoted followings—think of NBC's perpetually-about-to-be-canceled Community—have long argued that those official ratings, by omitting the online audience, actually vastly underestimate a show's viewership and potential value to advertisers.) With iPad viewership now included in the count, those cannibalization fears should recede—and those bubble shows may have more of a fighting chance for survival.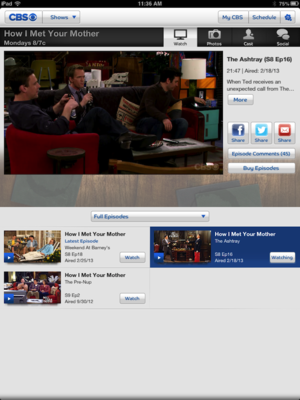 Indeed, Nielsen signaled this week that the "cord-cutting" community is approaching a critical mass, noting that the U.S. now has 5 million "zero TV" households—up from 2 million in 2007. "These households don't fit Nielsen's traditional definition of a TV household," the company noted, "but they still view video content."
CBS Interactive isn't the network's first foray into iPad content; it has created popular apps for news, sports, and individual shows like 60 Minutes. It also owns the TV.com iPhone app, which provides a limited offering of current primetime episodes, but mostly offered viewers a chance to watch network-owned shows from the 1980s and prior. Some of that back catalog—shows like Star Trek and MacGyver—have also been available through Hulu and Netflix.
The app is free and compatible with devices running iOS 5.0 or later.