Usually, golf involves a lot of hushed tones, polo shirts, and polite clapping. That is, as long as it doesn't involve either Tiger Woods or Super Stickman Golf.
And that's why Super Stickman Golf 2 isn't just any other game: It's the sequel to the most popular stick-figure golf title around (okay, the only stick-figure golf title around). The new version does a great job of retaining what was so appealing about the original, while adding more of everything: more stick figures, more courses, more powerups, and, perhaps most importantly, infinitely more hats.
Single player and loving it
The mechanics of the game remain largely the same: You're a stick figure golfing on a variety of wacky courses. To make a shot you choose angle and power—(yes, SSG is at heart a descendant of the DOS-era classic Scorched Earth)—until you get the ball in the hole. Your goal? To beat par while avoiding water traps, sand pits, and other obstacles.
SSG2 has fewer courses to start out with than its predecessor, which boasted just under 30 levels of varying difficulties. This time around, the courses are divided more evenly: There are five "tours," each containing four courses. As with the original, you earn stars—gold, silver, bronze—depending on how well you do on a given course. There's also an extra "clean ball" bonus for shooting par on a course without resorting to the game's powerups.
This time around, though, the courses are a little more complex. You'll find some pink goo that your shots will stick to, lasers that will zap your ball and cost you an extra stroke, and even teleportation portals inspired by—ahem—another popular game.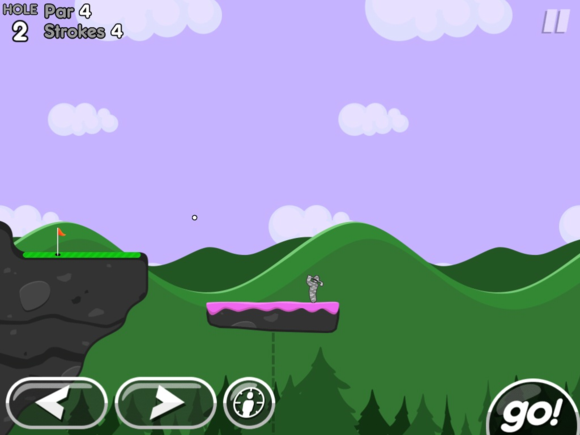 Despite the lower number of courses, their quality is higher in SSG2. The holes are overall much more dynamic, many including moving elements, and also much cleverer than the original game's. They're also often a heck of a lot more challenging.
Really, though, you could probably sell me on just one feature of Super Stickman Golf 2: Thanks to iCloud, your progress is now synced between multiple iOS devices. Which means you can play a round on your iPad, unlock a new hat, and then jump over to your iPhone to enjoy the same fancy headgear. It also means you don't have to play the same course again on all your different devices, which was one notable frustration with the original Super Stickman Golf.
Power-ups to the people
SSG2's roster of power-ups revives many of the same familiar options as the first incarnation—sticky balls, ice balls, the super ball—as well as a couple of new abilities, including the laser ball (it goes in a straight line and then falls down to the ground) and the magnet ball (hold down a control to have it "home in" on the hole).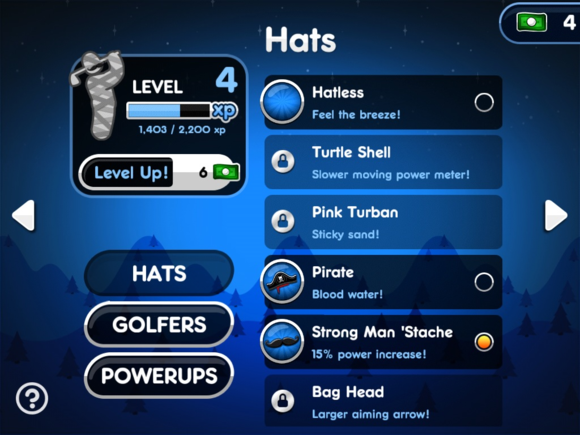 In addition to powering up your shots, you can now upgrade your stick-figure golfer itself, dressing up as a mummy, a ninja, a zombie, and more. These don't bring anything in the way of in-game advantages to your play, but they do add a bit of fun, and it can be handy in the multiplayer mode to help distinguish you from your opponents. You unlock new golfers by progressing through levels, which you do simply by playing through courses in both single-player and multiplayer modes; naturally, the better you play, the more quickly you level up.
But if it's an in-game edge you're looking for, you'll find it primarily in the form of SSG2's hats. These fancy accessories have a myriad of effects, ranging from a pirate hat that turns all water traps to blood to a green ball cap that gives you stronger putts to a pope hat that does…well, you'll have to unlock that one to find out.
And there comes one of the few rubs of SSG2: The game now has an elaborate in-game currency system—Golf Bux—which you can use to not only buy new levels, thus unlocking some in-game items, but also to feed the Hat Lottery machine. The more money you spend in the lottery, the better the odds that you'll walk away with a new hat (and the game tells you your odds); if you win a hat that you already have, it's translated instead into a modicum of experience points.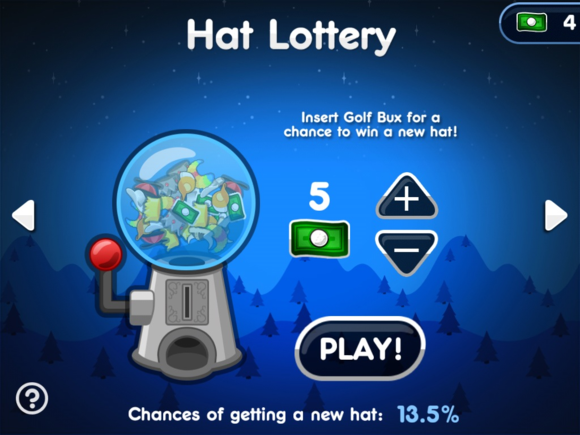 You earn Golf Bux by collecting them as you play (you'll see the bills floating in the air on various holes), but you can—of course—also buy them in varying denominations as in-app purchases from the game's Pro Shop, at the cost of actual moolah.
That's not the most egregious in-game purchase system I've seen, by far—Real Racing 3, anybody?—but if you play a lot of multiplayer, it does encourage a culture of escalation just in order to keep up with the Joneses (or, in my case, the Frakeses). You can also spend your Golf Bux to purchase more powerups during a course, should you exhaust the seven that you begin with.
There are also a couple of in-game upgrades that are available only via straight-up in-app purchase, including one that shows an indicator of how much power you put into your previous shot (the developers decided to make it an in-app purchase only because, as they told me, it "makes the game a lot easier") and another that allows you to maintain up to 25 simultaneous turn-based multiplayer matches at once (more on that in a bit).
Friends and enemies
Speaking of multiplayer, another major improvement in Super Stickman Golf 2 is a new turn-based multiplayer mode. Don't fret: The original race mode, where you and all your friends are competing to be the first to sink your shot, is still around; in fact, it now allows up to eight players over a local network, up from the original four. (Online play via Game Center is still limited to four.)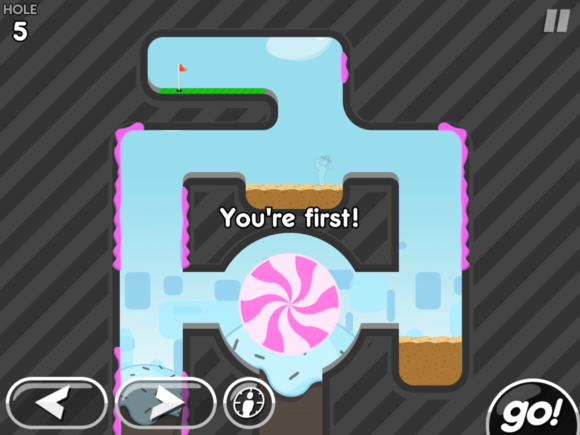 The new turn-based mode, though, is for times when you might not have ten minutes to kill in a single game. Instead, you play through a hole, and then your opponent shoots on the same hole and tries to beat your score. In short, it's a lot like actual golf.
While that might not appeal to the traditional SSG fan, there are advantages. Though you can only take on a single friend in any given match, you can have multiple matches at the same time—up to five at first, though in-game Bux can you get three more, or the aforementioned in-app purchase can raise that to 25. (Noodlecake told me that the restriction was mainly for the purpose of keeping their servers online during launch, and it might later raise the limit if everything goes smoothly.) Turn-based mode is also not prone to the sort of network lag issues you'll sometimes encounter in Race Mode, although in my limited tests, those don't seem to occur as frequently as they did in the original SSG.
Noodlecake has also realized that watching your friends shoot can be, well, a less interesting part of the game, so though it offers a replay of their turn, it allows you to speed through or skip it entirely.
There's an added bonus of the turn-based mode: Super Stickman Golf 2 is available for Android as well, and the turn-by-turn mode is cross-platform. So you can challenge your Android-toting friends to see how much they like "open" when it's followed by "a can of whoop-ass."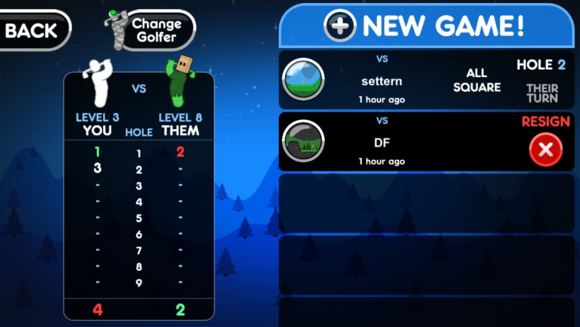 Turn-based play isn't without its issues, however. Just inviting a friend to play the game is a little bit finicky, since your friends will need to actually tap on the Turn Based option under the multiplayer menu in order for them to show up in your list of friends. (In some cases, I had friends who didn't show up until I force-quit the game and started again.) And despite the fact that the Challenge Others button warns you that you're going to challenge all of your Game Center friends, I've got a few friends who have already experienced that particular "whoops" moment.
Still, I think the two multiplayer modes actually complement each other: I can keep honing my skills in turn-based matches against my buddies, earning experience and unlocking hats—oh, so many hats—and still from time to time have the joy of taking them on in the classic frantic mode that we've all come to love.
Bottom line
Did you like the original Super Stickman Golf? Then SSG2 is a no-brainer for you: It's more of the same great fun, with new challenges, new opportunities, and handy new features. Not a fan of the first game? SSG2 seems unlikely to change your mind, unless you were driven away by the lack of turn-based play or iCloud syncing, in which case, your pleas have been answered.
As for that group of you who haven't—gasp—tried Super Stickman Golf ever, well, what are you waiting for? At $1, it's certainly worth a test drive.