As my mother always told me, the three things you don't discuss at the dinner table are money, politics, and launcher applications. But we aren't at the dinner table, so I'm not afraid to tell you about the latest update to my launcher app of choice: Running with Crayons's Alfred 2.0.
The original Alfred was a wildly capable application that not only let you launch other programs on your Mac via your keyboard, but also allowed you to do things like perform Web searches directly from its window, store snippets of frequently-used text for quick access, and even control your music playback in iTunes. The good news is all those features remain in Alfred 2.0.
One feature has fallen by the wayside, however. Alfred also offered Extensions that would let you perform a variety of other sometimes complex functions via AppleScript and Terminal scripting, as well as interact with groups of files and search filters. But though Extensions are gone in Alfred version 2.0, the app's developers have taken the idea behind them and turned it into something even more powerful: Workflows.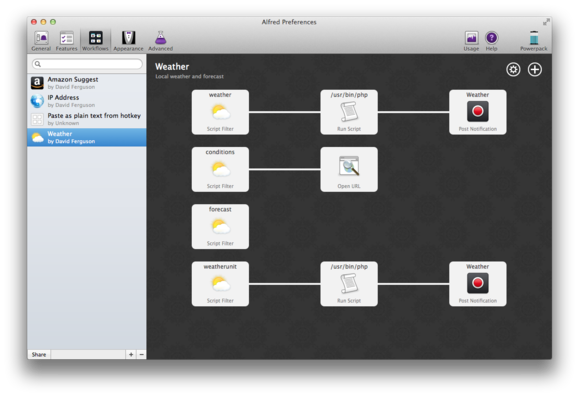 If you associate the term "workflow" with OS X's own Automator, you've pretty much hit the nail on the head. Alfred's Workflows are a lot like that built-in Mac feature, allowing you to create powerful, multipart processes that can do everything from offering live search result suggestions from a website to showing you your local weather forecast.
Alfred offers a number of templates that include common tasks, such as using a hot key to execute a system command or creating a keyword that runs a script, which you can customize to your needs; additionally, there are a few built-in example Workflows that you can dissect to learn more.
You can also build your own Workflow in Alfred's visual editor, combining elements like triggers, inputs, actions, and outputs. And, of course, there's plenty of scripting support: Workflows can be written in a variety of different languages, including zsh and bash shell scripting and popular programming languages like Perl, PHP, Python, Ruby, and AppleScript.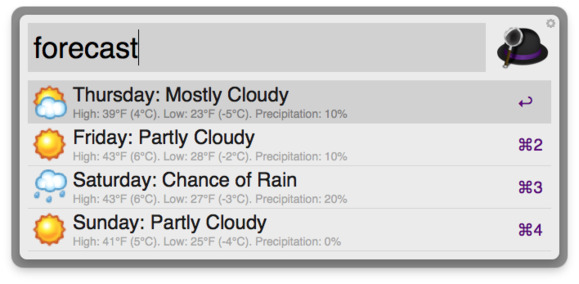 Of course, not everybody is a scripting master or wants to spend their time reinventing the wheel. Fortunately, Alfred makes it easy to export a Workflow and share it with others—and equally easy to download and install Workflows that others have created. There's already a forum full of workflows that you can benefit from without doing a lick of work.
While Workflows represent the major functional update to this latest version of Alfred, the developers haven't skimped on the formal aspect. The original Alfred let you pick from a few default themes, but Alfred 2.0 allows you to tweak the colors, fonts, and height and width of its primary window to your heart's content. As with Workflows, you can then share your gorgeous new theme with the world—or just as easily use one created by someone else. If your design skills are anything like mine, though, you might want to leave those themes to more talented folks.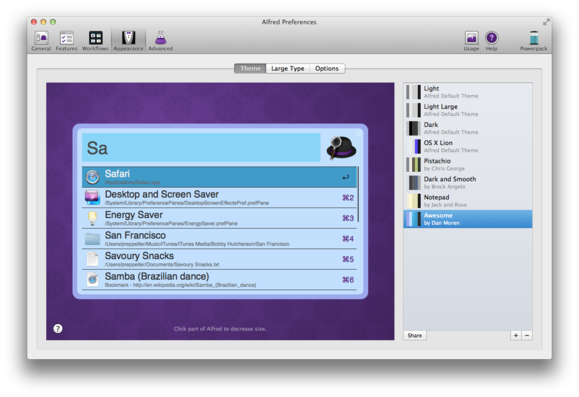 There are plenty of other new features and enhancements in Alfred 2.0, including support for Notification Center in Mountain Lion, better Contacts integration, and a complete rewriting of Alfred's underlying code to be faster and more efficient.
As ever, Alfred is a free download, though some of its advanced features require the £15 Powerpack ($22 at current exchange rates, my currency conversion Workflow tells me). Those who purchased a Mega Supporter license are entitled to a free upgrade to version 2.0, as are customers who purchased a version 1 license in December 2012 or later. You can check the status of your own license on Alfred's website. The app requires OS X 10.6 or later.