The iPad and iPhone are powerful devices, but they can't do it all yet. We still rely on traditional computers for a number of tasks, especially gaming and Flash videos. Splashtop 2 ( iPad App Store link, iPhone App Store link, Mac App Store link) is a remote desktop app that promises to fill that gap, bringing the full capabilities of Macs and PCs to mobile devices. While there are numerous ways to access your computer from anywhere, such as VNC, LogMeIn Ignition, and GoToMyPC, Splashtop 2 is unique in that it emphasizes multimedia, and is capable of streaming audio as well as video. Even more interesting, it's currently free for home use, with in-app purchases for additional functionality.
To begin, download the Splashtop Streamer for the computer(s) you would like to access. It's available for the Mac, Windows, and Linux. Once installed, you need to create a login for the Splashtop service. While the original Splashtop required a Google account for remote access, Splashtop 2 now has its own login system.
This is where I discovered my first major problem with Splashtop Streamer: it won't let you paste a password—a pain if you use a password management app, like the great 1Password. (At least you don't have to reenter the password once Streamer is set up, but that itself is a potential security issue.) Splashtop support told me that this was disabled "in Splashtop 2 for security reasons." Well, I'd like to be able to copy and paste my secure password, for security reasons. Fortunately, you can also create an optional 8- to 20-character security code that is required every time you remotely access your computer. You can't paste that code in either, but at least it's another layer of protection.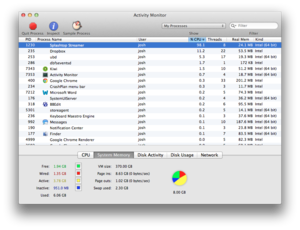 Once set up, Streamer stays in your menu bar and out of your way. However, you're not going to want to run it all the time, as it has a habit of choking the CPU. On my MacBook Pro, with no clients connected to Streamer, I noticed my computer slowing down, and Activity Monitor reported that 98 percent of my CPU activity was dedicated to Stream. I restarted Streamer, but it did the same thing a couple of days later, using 91 percent of my CPU. Splashtop has told me that Streamer is being reworked and a new, improved version will enter private testing soon.
iOS clients
Fortunately, the iOS clients are better behaved. The iPhone and iPad apps are virtually identical, except the iPad has one extra feature, which we'll discuss momentarily. By default, you control the linked computer through touch, which works better than you might think. At times though, working a Mac like a touchscreen becomes tedious, but fortunately, there's a Trackpad Mode that lets you drag across the screen to move the cursor.
Splashtop offers a premium option that allows greater control, but it's only available for iPad users, called Configureable Shortcuts and Gamepad, which costs $1 a month or $10 a year. This feature does just what it says, allowing you to create on-screen shortcuts and gamepads. You can also create profiles for different applications. For example, there is a built-in OS X profile with controls to hide or unhide the dock, switch apps, and more. You can create your own shortcuts for any key combination you wish. Combine this with a macro app like Keyboard Maestro, and the possibilities are endless. It's too bad that this feature isn't available on the iPhone, especially since it costs a monthly fee.
One of Splashtop 2's built-in profiles is for Diablo, so I fired up Diablo 3 on my MacBook Pro and laid down on the couch with the Splashtop app on my iPad. The controls worked better than I had expected, but unfortunately, the frame rate was too choppy to make for a good experience, even when I switched the display rendering from Sharp to Smooth. Regardless of which rendering method I enabled, the gameplay was choppy and the display blurry.
Even if the framerate had been smooth, there were lingering display issues. When first loading Diablo 3, part of the display was shifted off the screen. After some fiddling, I resolved that issue, but when I quit the game, something went wrong with the Streamer, squishing my computer's display when viewing it on the iPad client.
Gaming is one of Splashtop's intended purposes, but I don't recommend it. There are few PC or Mac games that don't have an existing iOS port that would work well with a touchscreen. The few I can think of, like Diablo 3, are too demanding to stream over Wi-Fi from your Mac to your iPad.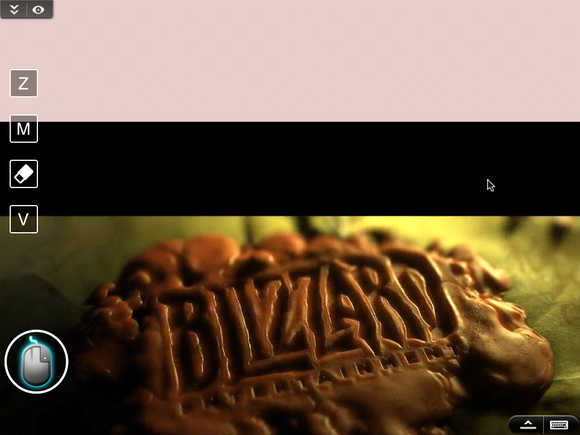 Video is another matter. I found that Flash video stream on Splashtop was flawlessly transmitted, both audio and video.
For regular desktop operations, Splashtop performs admirably. It features a full on-screen keyboard, as well as on-screen arrow keys that can be toggled on and off. You can even scroll inside a window with two fingers on the screen.
If you want to access your computer on the go, you'll have to subscribe to the Anywhere Access Pack, which costs $2 a month or $17 per year. For the price, you'll be able to access any of your Splashtop-enabled computers from any network, protected by SSL-AES 256-bit encryption.
Bottom line
Even in its second iteration, Splashtop has a number of issues, including mediocre performance and questionable support. But it's hard to argue with the low price of free. If you need only occasional remote access while around the house, Splashtop isn't a bad app to keep around. However, if you require professional-grade access, you might want to look at the aforementioned LogMeIn Ignition or GoToMyPC.
Splashtop has some intriguing ideas for remote access. I especially like the Configureable Shortcuts and Gamepad option, which by itself could be a useful Mac app. But until Splashtop tames the Streamer's CPU usage and display bugs, all the innovation is for naught.