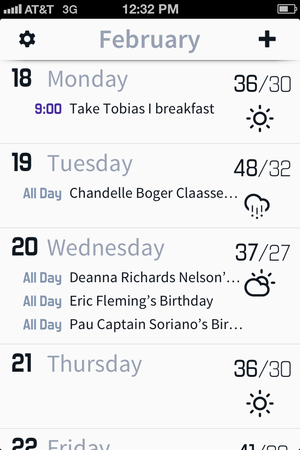 Sometimes a solid, old idea can be livened up with a little something extra. Horizon Calendar—a $2 calendar app for the iPhone by developer Kyle Rosenbluth—offers a little something extra, and it's a beauty: The weather.
Once you've entered the time and place of an upcoming appointment in your Horizon calendar, the app shows you what the weather will be like at the location of that entry. While the forecasts only appear for the two weeks closest to the current date, it's a feature that makes Horizon very helpful for parents wondering whether to pack an umbrella for that field trip, or business travelers unsure how to pack their bags for that weeklong trip to the coast.
Horizon syncs with the iPhone's native Calendar application, and entering appointment data is very similar in both apps, with one exception: When entering location information in Horizon, a Google-powered search function tries to predict the precise location and city you'll be visiting, the better to offer a precise weather forecast.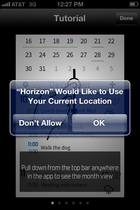 This doesn't always work perfectly straight out of the gate: Horizon seemed bewildered temporarily when I tried to find "Almaz Café" in Philadelphia to schedule breakfast with my son. But the app learns quickly: The second time I typed in "Almaz" to schedule an appointment, Horizon figured out what I was looking for.
The app defaults to your current location, but Horizon doesn't accidentally offer you the forecast for Philadelphia for your meeting in San Francisco. If you enter the right location for your meeting, you'll get the best available forecast for that area.
Bottom line
Horizon Calendar isn't just useful; it's also lovely to look at. It features the stripped-down aesthetic found in so many recent weather apps, and switches easily between daily and monthly views of your schedule, day and night modes for viewing, and Celsius or Fahrenheit measurements of temperature. Best of all, it helps ensure you won't show up at your next appointment soaking wet from an unexpected rain.