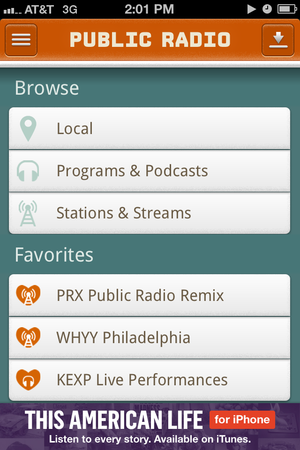 The Public Radio Player app for iPhone has been around long enough that it could almost be called "venerable"—the offering from PRX was one of the first iOS audio player apps to stream live radio, effectively turning the then-new iPhone into a broadcast tuner that could receive live, dynamic audio content from anywhere in the world. In fact, we reviewed an early version of the appin 2009.
Version 3.0 of the app, released in February, builds on all of Public Radio Player's many demonstrated strengths from throughout the years: It remains one of the best aggregators of public radio content in the land—with more than 500 stations available for live streaming and more than 1,000 listen-on-demand programs—and the app keeps adding features to make it ever more useful. But two things plague the radio player: One old shortcoming, and that it mostly falls short when compared to similar rival apps.
Not that there's nothing to love about the revamped app. The visual design has been updated—for greater contrast, the developers at PRX say, but the green-and-orange color palette gives off a funky vibe. And the listen-on-demand features of the app have become more podcast-like, letting users download episodes of shows to listen to later offline.
It's that feature that starts to beg comparison with another app— NPR News for iPhone and iPad, which also offers hundreds of live streams and downloadable shows. It's probably easier to find the show you're looking for in the NPR app: If you're searching the alphabetical listing, for example, it shows up in NPR under "Radiolab," right where you'd expect it. On Public Radio Player, the show is listed as "WNYC's Radiolab"—something you can find using the app's search engine, but not a listing you'd intuitively seek. The naming convention for the on-demand shows seems to vary from show to show within the Public Radio Player app, which is problematic—it makes the experience feel clumsy.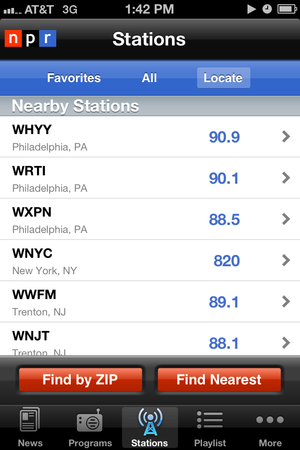 On the other hand, Public Radio Player lets you download and listen to shows from directly within the app. NPR requires users shift to Apple's native Podcasts app to do so. My preference: An experience that doesn't force me to hop from app to app.
Public Radio Player is also supposedly newly interactive, letting users view Tweets and breaking news headlines from member stations that provide those services. The problem, though, is that you can only see a portion of a Tweet or headline onscreen: Click for a fuller view, and you're whisked to the Safari app. This isn't a huge problem, since the app will keep playing your audio in the background, but it makes these features seem less useful.
Public Radio Player has a number of holdover details that make the app useful: You can search for stations either by geographic location or by format type—talk, jazz, classical music, etc. You can see a particular station's programming schedule, so you know what time to be ready for that Frank Deford commentary; you can also set an alarm clock to wake you up with NPR, or a sleep timer to let you drift to sleep listening to your local station's classical music DJ.
The biggest drawback—one that makes a reviewer tempted to stick with NPR News or other rival options like TuneIn Radio Pro—is that Public Radio Player is just a bit buggy. My live stream of the local NPR station dropped frequently during my testing; I'd be more forgiving if earlier generations of the app hadn't demonstrated the same problem for years. Similarly, the navigation within the app frequently froze for a few seconds. It's an issue that should be fixed by now.
Bottom line
Public Radio Player has to take a place among the second tier of broadcast radio apps. It's good, but it's not great—and it doesn't do its basic job consistently enough.