At a Glance
Expert's Rating
Pros
Invoicing, basic reporting, and customer data available on your iPad
Mapping feature provides directions to customer location with a touch
Cons
No time billing features
Limited reporting tools
No printing
Our Verdict
Last February, Intuit released an addition to its QuickBooks Online offering, an iOS app called QuickBooks Online for iPad that allow access to your QuickBooks data without requiring you to be pinned to your desk. While it's clearly a first generation app—which means it doesn't have all the features I'd like to see in an app of this sort—QuickBooks Online for iPad has the potential to ease your estimating and invoicing while you're on the road.
It's important to note from the start that QuickBooks Online for iPad is not a standalone app that you can use to manage your business' books, and it isn't an app you can use with the Mac or Windows versions of QuickBooks. QuickBooks Online for iPad is solely designed as a helper app for a new or existing QuickBooks Online account. A service that costs from $13 to $40 per month. If you don't already have a QuickBooks Online account you can use the app to create one, and if you do you can use the app to log into your existing account and go right to work.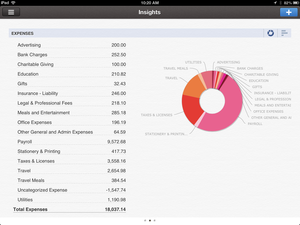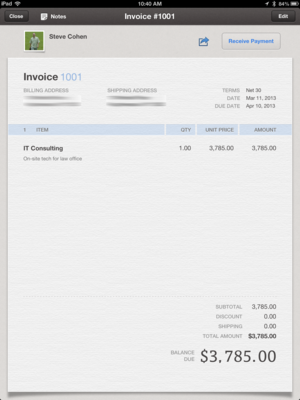 Work using the app is limited to a few basics functions that do not encompass everything possible with QuickBooks Online. You can add new customers, create estimates and invoices, add expenses, receive payments, and create some basic but useful reports. These features work well, but you don't have access to some of the core functionality of QuickBooks Online and it's also missing features that seem pretty obvious for what is ostensibly a mobile app.
Adding customers is easy, as is adding any other type of transaction. From any QuickBooks Online for iPad screen you tap a (+) that appears in the app's upper right-hand corner, then choose either Customer, Invoice, Payment, Expense, or Note and begin adding the appropriate information. If you're creating a customer the app is able to pull info from your Contacts app. Although, while the app offers a field for a customer photo, that photo is not imported from the Contacts app. Customers viewed within QuickBooks Online for iPad display a map pinpoint with the address location for the customer. Tapping that map opens the Maps app and automatically finds directions from your location to the customer location.
Once customers are created you can begin creating invoices for those customers. Invoices can include personal notes with photos you've taken of a project or items you're selling. If you don't already have an item set up, you can create new items int he app as you're creating your invoice. The beauty of QuickBooks Online for iPad is that, no matter whether you're creating customers, invoices, or items you sell, as long as you have an active Internet connection, everything your create on the app is synchronized and updated to your QuickBooks Online account. And anything you create in QuickBooks Online is also synced to your iPad.
Invoices look gorgeous when you view them on the iPad, but that beauty doesn't transfer to the invoices your customers receive. What they get instead are forms based on the default templates you've selected in the QuickBooks Online app. As is the case with the desktop version of QuickBooks and applications such as Acclivity's AccountEdge products, these templates are sterile, uninteresting, and minimally customizable. They'll work, but it's small details like these that keep me using Billings for all my invoicing and time billing needs.
Which raises another important point. QuickBooks Online for iPad has no time billing features, which is a pretty obvious hole in an app designed to be brought on-site to a customer location. It's also important to note that while the app has some basic reporting functionality—you can view open and closed invoices, profit & loss graphs, and a bar chart of invoices by month—these are a very limited subset of what's possible at QuickBooks Online. Furthermore, while I know we live in an increasingly paperless world, there is no way to print anything from the app.
Bottom line
QuickBooks Online for iPad is an excellent start for what has the potential to be an amazing add-on to QuickBooks Online. Its invoicing tools, access to customer data, and basic reporting tools make it an enticing app, but missing time billing and access to more detailed reporting features make it an app that is not yet good enough to stand on its own.