For the past three decades, Apple has made it a point, with few exceptions, to ship the highest quality computer displays it can muster.
The company's obsession with the clarity and accuracy of its displays began with the original Macintosh in 1984 and grew as the platform attracted a large audience of visually-oriented professionals from fields such as graphic design, desktop publishing, photo retouching, and film production. Feedback from these pros only strengthened the quality of Apple's displays over the years.
Apple spent nearly two decades selling some of the world's sharpest and most color accurate CRT displays (mostly manufactured by Sony), but the company has truly shined in its pursuit of flat-screen technology, racking up a number of industry firsts since the debut of its first LCD for the Apple IIc in 1984.
To be sure, Apple's largest contribution to computer display innovation has not come from the invention of new display technologies themselves—technologies that usually originate from companies like Sony, Samsung, or LG—but from Apple's push to integrate the most cutting-edge display technologies into consumer products.
So to celebrate Apple's achievements in visual computer displays, let's take a look at five of the most important displays Apple has ever released. The following units had the most impact and influence on the computer industry, Apple, and even the wider world as a whole.
(By the way, it's telling that only one of these five displays is a stand-alone product. Since the introduction of the Apple Lisa in 1983, Apple has frequently produced computers that integrate a monitor with the main unit housing the CPU.)
Macintosh Portable display (1989)
Released: September 1989 Type: Monochrome Active-Matrix LCD (1-bit color) Native Resolution: 640 by 400 Size: 9.8-inches diagonal
Few folks remember 1989's Macintosh Portable because few folks owned the Macintosh Portable. It retailed for an astounding $6500 to $7300 (about $12,000 to $13,500 in today's dollars)—a price that ruined the machine's prospects more than any particular fault of its design.
In fact, the Mac Portable's design was cutting-edge at the time, and Apple cut no corners choosing its display: they integrated the world's first active-matrix LCD to appear in a production laptop. Its active-matrix design meant that every pixel of its 640 by 400 screen remained vividly sharp in a wide range of lighting conditions. That was particularly important because the first model of the Mac Portable's display did not come equipped with a backlight.
Active-matrix LCDs were very expensive to produce in 1989 due to low yields from a complex and difficult manufacturing process. (In fact, Apple repeatedly delayed production of its first portable machine until active-matrix technology was commercially viable.) Apple took a big gamble by including such a pricey component in its first portable machine; its choice of panel alone forced Apple to sell the Portable at prices over $1000 more than its passive-matrix PC competitors.
The gamble didn't pay off. The active-matrix LCD drove up the price too high and effectively sunk the Mac Portable in the market. Despite that, the Portable's display remains important because, as Apple's first laptop LCD, it set a precedent for ultra-high quality that Apple still chases to this day.
iMac G4 800 display (2002)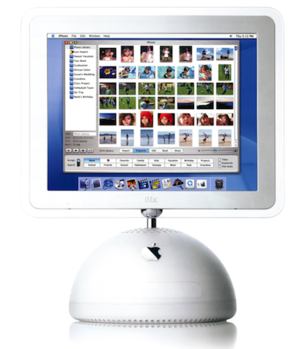 Released: January 2002 Type: Color TFT LCD Native Resolution: 1024 by 768 Size: 15-inch diagonal
The iMac G4's display is more than the sum of its parts. Separately, you had a color TFT flat-panel LCD and a fluidly adjustable mechanical arm. But combined, the two components conjured a kind of magic that turned Apple's first mainstream LCD-bearing desktop machine into a distinctive triumph.
Sure, Apple could have just stuck the flat panel display in a rectangular box (similar to what we see in iMacs today), but instead the firm chose to debut mainstream desktop LCDs with a distinctive flourish that defined the personality of the machine and maintained Apple's head-and-shoulders design lead above its competition.
It's worth noting that Apple's first desktop LCD first appeared in 1984 as a pricey accessory to the Apple IIc; its first color desktop LCD came integrated in 1997 as part of the Twentieth Anniversary Macintosh. But both were expensive, niche products that symbolized excess as much as they did technological innovation.
The first Apple desktop LCD that really mattered shipped as part of the iMac G4 in early 2002. It proved that LCDs in iMacs worked, and we still see the results in Apple's products today.
Apple Cinema Display (1999)
Released: August 1999 Type: Color TFT LCD Native Resolution: 1600 by 1024 Size: 22-inch diagonal
"The Apple Cinema Display is without a doubt the largest, the most advanced and the most beautiful LCD display ever offered," said Steve Jobs in the August 1999 press release for Apple's first Cinema Display, a 22-inch flat-panel monitor that introduced a number of firsts for Apple displays. Among them, the Cinema Display was Apple's first display with a widescreen aspect ratio and the first with a digital video interface.
It was also (as Jobs mentioned) the largest desktop computer LCD in the world at the time of its release. Apple expertly positioned the new monitor to appeal to a new breed of high-end digital video professionals; its "Cinema" name and wide aspect ratio conveyed that Macs were the ideal platform for editing high definition video and Hollywood movies alike.
The $3999 product set a new industry high-water mark for display quality that critics loved and competitors initially struggled to match. (Even traditional Apple curmudgeons Maximum PC gave the Cinema display a 10/10 score in a 2000 review, calling it "the pinnacle of LCD technology.")
As the years passed, Apple continued to up the ante with ever-larger, sharper, and higher-contrast displays all the way up to 30-inches. Today, even iMacs ship with their own "Cinema Displays" (not in name, but in spirit) signifying the importance of the 1999 Cinema Display as a first step into a wider world of expansive monitors.
MacBook Pro with Retina Display (2012)
Released: June 2012 Type: Color IPS LED-backlit LCD Native Resolution: 2880 by 1800 Size: 15.4-inch diagonal
In a move that harkened back to Apple's choice of an ultra-high end display for its first portable Mac, Apple introduced the world's highest resolution notebook display (at the time of its release) as part of the 15-inch MacBook Pro with Retina Display in 2012.
Apple first debuted the "Retina" display brand on the iPhone 4 in 2010, then it made its way to the iPad 3 in 2012. It only made sense that Apple would continue to push ultra high-density LCDs into the notebook space.
The key behind the 2012 MacBook Pro's Retina screen is that its 2880 by 1800 pixels were crammed into a 15-inch diagonal space, resulting in a 220 pixels per inch density. It's that last number that makes it impossible for the human eye to distinguish an individual pixel at the average viewing distance. That meant ultra-sharp text and images in a league beyond those found on any other notebook at the time of its release.
As the first non-tablet personal computer to ship with a high pixel density display, the 2012 Retina MacBook Pro marked the dawn of a new generation of ultra-sharp desktop and notebook monitors. As more competitors follow Apple's lead, historians may one day look back at the MacBook Pro with Retina as the decisive turning point in a high-density display revolution.
Macintosh 9-inch display (1984)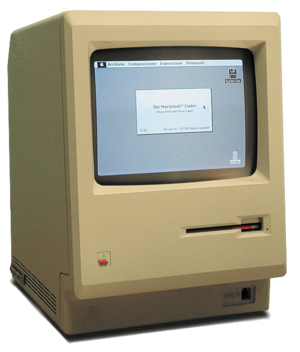 Released: January 1984 Type: Monochrome CRT Native Resolution: 512 by 342 Size: 9-inch diagonal
Few would doubt that Apple's most important display shipped with its first mainstream graphics-oriented computer, the Macintosh, in 1984.
The 9-inch black and white CRT embedded in every Mac set a new standard for high quality personal computer displays with its sharp, flicker-free, almost paper-white display. Apple included it out of necessity, since the Mac needed to accurately render what was then considered a very high resolution bitmapped image.
That high resolution ensured that the Mac could only display two colors: black or white. Providing even rudimentary color for a 512 by 342 display would have been prohibitively expensive in 1984, both in terms of the memory required to handle it and the monitor required to display it.
But critics loved it anyway. At a time when many business-class personal computers shipped with green- or amber-screen monochrome displays, the Mac's white phosphor CRT lent itself very well to the simulation of paper in desktop publishing software that would become the hallmark of the Macintosh. The display set a high bar for quality that Apple has rarely deviated from over the past 30 years.