At a Glance
Expert's Rating
Our Verdict
Permanent is a new spreadsheet-ish app for the iPad. As something of a spreadsheet junkie, I was excited to see an alternative entrant in this rather staid marketplace. And "alternative" really is the proper word, for Permanent is unlike any spreadsheet you've ever used. Diving in, I was really hoping to love this app, to see real progress in the niche that is spreadsheets. Alas, it was not to be.
Permanent—which runs only in landscape mode—launches to a blank white canvas with a top and side frame. The side frame lists all your projects, while the top of the screen contains a few buttons and the title of the selected project.
The first time I tried to open the Demo Project, Permanent crashed. While this wasn't encouraging, it opened successfully on the second try.
Once open, the Demo Project displays a work area with two overlapping worksheets, and two background images. On one sheet are the app's 30 (yes, just 30) functions; the other shows some operators and examples of how they're used. With only 30 functions, there's obviously no compatibility with Numbers or Excel spreadsheets; only the simplest of spreadsheets would work. The two background pictures are apparently there to show you that you can, in fact, have pictures. That's it as far as hands-on instruction goes; there's no tutorial or manual to be seen.
Unlike most any other spreadsheet, you cannot create a table that's longer than the iPad's relatively-short landscape mode screen. Instead, you scroll around inside the table area. Combine these artificially-short tables with tables stacked on top of one another, and the concept of printing gets much more complicated. But at present, you can't print, so I can't explain how the program addresses this challenge. Even if you could print, the program's lack of cell styling (no fonts, no number formats, no borders, no shading, no color, nothing!) and missing column/row width/height controls mean that you probably wouldn't find the output very readable.
There's a separate numeric keypad screen for entering numeric data. You can reposition the keypad itself in the pane by tapping and dragging the "0" key, which is a nice touch.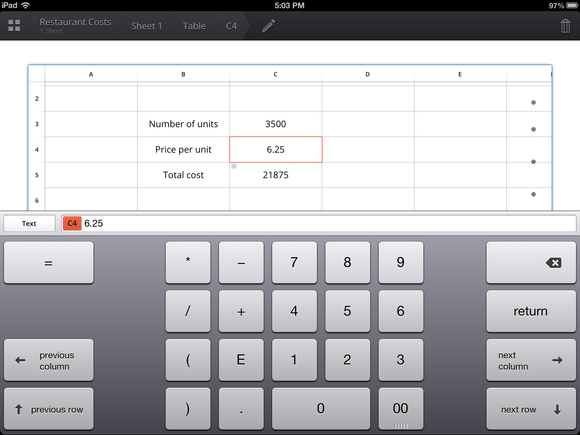 However, the four buttons for navigating the tables—previous/next column/row—are oddly laid out. If you've got nothing but numbers to enter, the numeric keypad will save time; if you have text and numbers to enter, you'll still be flipping between keyboards—though having the mathematical operators here still saves the time over Apple's layout, which puts some operators (like + and *) on a separate screen from the numerals themselves.
Interacting with the tables is odd, too. To move a table, you have to first unselect any cells by tapping outside the table area, then tap the table once to select it, then tap an icon in the top menu bar, then tap and hold on a move arrow in the center of the table. In other operations, some buttons that must be tapped appear under a dark bar that makes them look inactive—but they're both active and required.
Those aren't the only controls that are finicky: Want to enter a formula that refers to other cells? Type it out; if you tap another cell while entering a formula, Permanent ends the edit and takes you to that cell. Think you can use pinch to zoom/unzoom your view, as in most any iPad app? Nope; pinch and unpinch do nothing in Permanent's spreadsheet view.
If you want to rearrange your columns, you can't tap-and-hold to drag them around. Instead, you tap the column header once, then tap buttons in the header to insert, for instance, columns to the left or right of your selection. There are no column delete buttons, however. Even worse, when I inserted columns, the cell references in my formulas didn't change—I had to manually edit them to point to the newly-moved cells.
For a spreadsheet built specifically for a touch-based UI, I found the touch experience confusing and unintuitive.
Other areas don't fare much better, even with unique features that could be winners. Permanent's Undo browser, for instance, lets you step back in time, hundreds of steps if necessary. However, finding exactly what you want to undo can be time consuming and visually intimidating.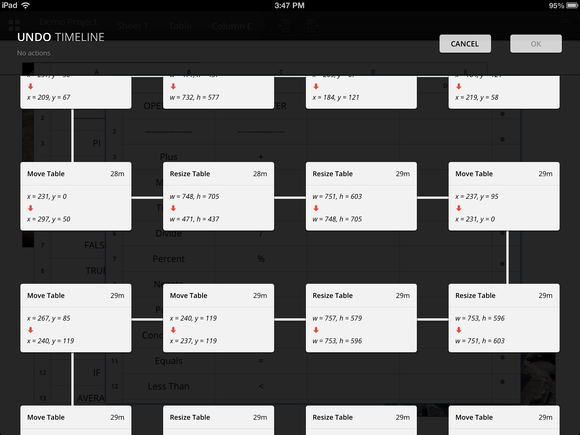 Geeks will also appreciate the inclusion of the full Lua scripting language, but this won't be appealing to a mainstream audience.
The bottom line
Permanent's App Store page lays out a nice roadmap for the app's future feature additions. However, at $10, the asking price is incredibly steep for what's actually delivered today. I think there's an interesting model here, and it definitely could work well if the authors can deliver on their promises.
As it stands now, though, I can't recommend Permanent to anyone, unless you're interested in supporting the company's efforts, or you're a Lua programmer looking to write some code on an iPad. For everyone else, the best advice is to wait and see what this app may become.