At a Glance
Expert's Rating
Pros
All-around fast performance
Simple but pleasant interface
Cons
Does not display many promised features
Basically just Chrome, reskinned
Our Verdict
Tageted at Russian users, Yandex is fast and pleasant to use, bu it's a needlessly complicated and mildly inferior version of Chrome.
Yandex is to Russia what Google is here in the States—a homegrown favorite search engine. Now, like Google, it's gotten into the Web browsing business with Yandex Browser, built mostly from the open-source version of Google's Chrome. Judged by itself, the resulting browser is amply fast, if considerably quirky. But when ranked among the broader browser lineup, it seems like a pale imitation of its bigger, better inspiration.
Brush up on your Cyrillic
Yandex practically announces its biggest problem on the very page where you download it: "Yandex.Browser with a full set of features designed specifically for the English-speaking users will be released soon." As it stands now, the browser caters by default to those who speak Russian.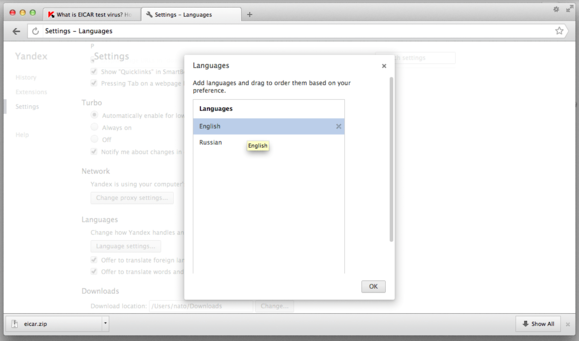 Automatic searches via the URL bar default to Yandex's all-Cyrillic results pages. Even when you dive into the settings to switch to Google, you'll get its Russian-language service. And by default, the program's only set to translate pages into Russian from any other language. You have to burrow down into the advanced settings to make English or another language your first preference.
Even then, Yandex Browser's online help files initially appear in Russian—you've got to change them to English via a tiny, tough-to-spot link at the bottom of the page. (My initial attempt to translate this page into English via Google Translate, thwarted when that page also showed up in Cyrillic, was admittedly pretty amusing.)
There's nothing wrong with Yandex serving its home country's needs first. But until Yandex's full English localization debuts, prospective users should expect to hit not one, but several language barriers.
A Russian impressionist palette
Yandex's most notable and innovative feature is the Tableau. When you click to type in a new URL or search, a palette of links from recently or frequently visited sites appears. You can easily add new sites and expand the palette via an adjacent button. It's visually appealing, but if you have dozens of favorite sites instead of just a handful, it may not prove more useful than the standard bookmarks bar.
Yandex says that panels in the Tableau can become interactive, displaying current weather or other updates. But I couldn't find an easy way to add such widgets, and I'm not sure whether sites have to know about Yandex and build in support to enable such interactive features. Even after I linked my Facebook account to Yandex, it still didn't accurately display new Facebook messages or notifications in its Tableau panel.
Yandex also seems to have licensed Opera's Turbo ability, which compresses images and other data to help pages load faster over slow connections. I couldn't reliably test this feature from my fast in-home Wi-Fi, because it's supposedly automatically regulated by the speed of your connection. I suppose if you rely on a 3G wireless modem for your web surfing, it might come in handy. For everyone else, it may prove superfluous.
Great-sounding features that may or may not exist
I was far more intrigued by Yandex's QuickLinks feature, which promises to interpret Web sites for banks, stores, airlines, and other commercial services, and quickly break out links to their most important features. The example on Yandex's Web site shows an online store, with links on the right side of the URL bar for Payment, Delivery, and Cart.
But when I visited sites such as Amazon.com and American Airlines, I saw no such links. At Victoria's Secret.com, a link did appear that took me to that site's shopping cart—but of course, the link was written in Cyrillic.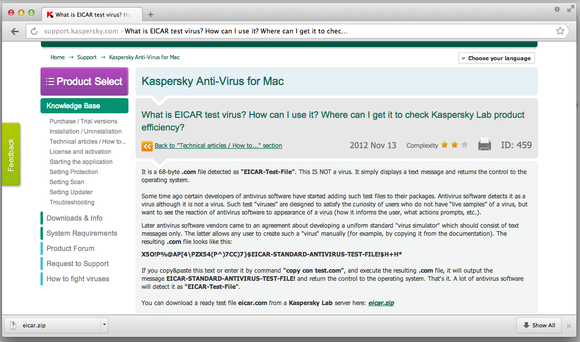 Yandex also promises that all pages and downloads are scanned by the well-regarded Kaspersky antivirus software. Obviously, it's tough to test this without endangering one's computer. I found a suite of harmless sample "virus" files from EICAR, the European Expert Group for IT Security. They're designed to test antivirus software's ability to identify malicious code. Kaspersky's documentation says it supports the EICAR test—but Yandex cheerfully downloaded each of EICAR's four files without a single alert.
In terms of raw horsepower, Yandex acquitted itself well when tested against Safari 6.0.2, Opera 12.42, Firefox 19, and Chrome 25. It didn't post the highest score in any of my standard tests, but did score closely behind Chrome in most of them, outperforming Safari, Opera, and Firefox in four of the seven categories, including JavaScript performance and overall standards compliance. Weirdly, though it joined the other browsers in passing the Acid3 standards test, it was the only browser I tested to display an odd graphic that read, "YOU SHOULD NEVER SEE THIS."
Benchmarks: Yandex Browser 1.5
| Browser | HTML5 Vector | HTML5 Bitmap | HTML5 Text | Octane | SunSpider | Acid3 | HTML5 Compliance |
| --- | --- | --- | --- | --- | --- | --- | --- |
| Yandex Browser 1.5 | 15.63 | 52.63 | 18.42 | 7549 | 365.4 | 100* | 433/10 bonus |
| Safari 6.0.2 | 34.87 | 55.93 | 20.94 | 4767 | 388.9 | 100 | 393/11 bonus |
| Opera 12.42 | 32.63 | 45.95 | 13.61 | 2677 | 427.8 | 100 | 419/9 bonus |
| Firefox 19 | 3.51 | 15.12 | 24.52 | 4471 | 390.8 | 100 | 393/9 bonus |
| Chrome 25 | 16.53 | 55.91 | 17.12 | 7752 | 321.3 | 100 | 463/9 bonus |
Bottom line
Yandex asked to access my personal information (including my contacts) often enough to make me wary. It's plenty fast and pleasant to use, once you've managed to (mostly) persuade it that you don't actually speak Russian.
But why settle for a needlessly complicated and mildly inferior version of Chrome when you can use the real thing? Unless you're a Russian émigré pining for a taste of home, Yandex probably isn't for you.