I recently wrote about finding the best iPad keyboard, with a focus on Bluetooth keyboards that work with iOS devices. I devoted a section of that article to desktop/tablet keyboards that can perform double duty: These models serve as your Mac's primary keyboard, but they can also be used to type on your iPad or iPhone while you're sitting at your desk.
The thing is, there's a good chance that you've already got a Mac keyboard you like, so these $50 to $200 keyboards are really an option only if you're (a) in the market for a keyboard for your iPad or iPhone; and (b) in the market for a new keyboard for your Mac.
A less expensive solution is Houdah Software's $5 Type2Phone ( Mac App Store link). This clever utility lets you use your Mac's current keyboard with the iOS device of your choosing. In fact, you can even use your Mac's keyboard with your Apple TV. Type2Phone requires iOS 3.2 or later, or Apple TV software 5.2 or later.
(Why might you use an iPad or iPhone when you're already sitting in front of your Mac? I sometimes use my iPad for Twitter or sending quick emails while I'm doing "real" work on my Mac, and I know more than a few people who perform particular tasks—sending SMS messages, adding notes to Evernote, typing entries in Day One, browsing Facebook, using Drafts—only on their iPhone or iPad. Maybe you've got a Yahoo Mail account and you prefer iOS Mail to Yahoo's Web interface; similarly, as TidBits's Adam Engst pointed out, there are some iPhone-only apps that you may want to use a real keyboard with.)
The trickiest part of using Type2Phone is setting it up: You must pair your iOS device and your Mac from the iOS device. First, you make sure that your Bluetooth-equipped Mac is discoverable (using the Bluetooth pane of System Preferences). Then you go to your iOS device, open the Settings app, and tap Bluetooth. Make sure Bluetooth is enabled there, and when your Mac shows up, tap it and follow the pairing instructions. Once you've performed this initial pairing, your Mac and iPhone can reconnect whenever in range of one another.
(Interestingly, you can also use Type2Phone to type on one Mac using another Mac's keyboard—thanks to TJ Luoma for the tip—though it would probably be easier to just use Screen Sharing, Synergy, or a similar tool for this kind of task.)
With your devices paired, any time Type2Phone is the frontmost app, whatever you type on your Mac's keyboard is sent to your iOS device. Switch to a different Mac app, and your keyboard acts as a normal Mac keyboard. Usefully, Command+Tab is always sent to your Mac, making it easy to switch both to and from Type2Phone using the keyboard. In fact, it's this seamless switching that ultimately made me a Type2Phone convert. (If your Mac is paired with multiple iOS devices, you can choose which one Type2Phone targets using the Click Here To Connect menu in the app's window or by choosing File -> Reconnect To -> [Device Name].)

As you type in Type2Phone, the keys you press are displayed in large characters—scrolling right to left—in the Type2Phone window. They also appear at the bottom of window in text that remains until you switch away from the app. You can tweak this display by enabling Stealth Mode, which doesn't show your characters on the Mac side; Collapsed Mode, which hides the scrolling-letter display (but still shows your text at the bottom of the window); and Fly Out Animation, an odd option that sends letters flying around your Mac's screen as you type them. One apparent bug I came across is that if you click the text at the bottom of the Type2Phone window, the app stops sending your keypresses until you click in the scrolling-letter area.
If you're using an iOS app that supports common Mac keyboard shortcuts such as Command+C (copy), Command+V (paste), and Command+A (select all), Type2Phone correctly sends those shortcuts to your iPad or iPhone. Similarly, if you've enabled multiple keyboard layouts on your iOS device, you can switch between them by pressing Command+Spacebar; however, if you've already got that key combo assigned to another third-party utility on your Mac (such as LaunchBar, Alfred, or Butler), you'll need to use OS X's keyboard-shortcuts feature (in the Keyboard pane of System Preferences) to change Type2Phone's shortcut.
Type2Phone supports the systemwide dictation feature in OS X 10.8 Mountain Lion. With Type2Phone the frontmost app, just press your dictation shortcut, speak your text, and then press Return. Once OS X processes the speech, Type2Phone "types" the text on your iOS device. Type2Phone also supports Voice Over via the app's Special -> Voice Over menu, which lists 37 common Voice Over commands you can send to your iOS device.
Using F-keys (F1 through F12) and special-function keys (volume control, brightness, and the like) is a bit tricker. On some keyboards, but not all, F-key presses worked fine for me; if they don't on your keyboard, you can use the Special -> Function Keys menu to "press" F1 through F12. Similarly, just as some of the special-function keys on Apple's keyboards map to iOS features, I found that on some keyboards, dedicated volume-level keys, brightness-level keys, and even some media-playback keys were correctly sent to my iPad. Just as with F-keys, if your keyboard's special-function keys don't work—or if it doesn't have such keys—the Special -> Consumer Keys menu includes commands for screen brightness, screen lock, Home, keyboard toggle, media-playback, and volume-level keypresses. (You can use OS X's own keyboard-shortcuts feature to add keyboard shortcuts for these menu items.)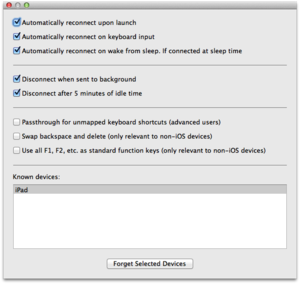 One of my favorite features is that you can paste text from your Mac to your iOS device (but not the other way around). This means you can compose longer pieces of text, or URLs and other bits that need to be processed in some way, on your Mac and then paste them to your iPad or iPhone. Or if you have a password stored on your Mac that you need on your iPhone, you can just copy and paste it, rather than having to manually type it on the phone while looking at your Mac's screen. The paste feature also means that Type2Phone supports TextExpander: Type a snippet abbreviation in Type2Phone, TextExpander expands the snippet, and Type2Phone deletes the abbreviation characters on your iOS device and replaces them with the full snippet. You can also process text using AppleScripts or other tools and then send that text to your iOS device.
However, the paste feature feels a bit kludgy at times. Especially with longer batches of text, the text isn't "typed" immediately. Instead, there can be a considerable delay—leading you to wonder if the text is going to be pasted—before the pasted text appears.
Type2Phone is limited by iOS's Bluetooth-keyboard limitations. For example, your Mac's Return and Enter keys can't activate the Send button in Mail, just as a standalone Bluetooth keyboard offers no way to activate that button. And you can't use a keyboard shortcut to switch between iOS apps. But given those limitations, Type2Phone works surprisingly well.
Of course, as Macworld contributor Andy Ihnatko joked on Twitter, using your Mac's keyboard to type on your iPad is somewhat akin to using your car to pedal your bike. And when I first heard about the utility, I didn't think I'd find it that useful. But I regularly use my iPad at my desk, and I found Type2Phone worked well for typing on my iOS devices and my office Apple TV, and it meant having only one keyboard on that desk instead of two. If you've wished you could use a full-size keyboard with your iPhone or iPad while at your desk, it's an inexpensive alternative to a real keyboard.
(Note: I tested Type2Phone 2.0.2, which has been submitted to the Mac App Store and should be available any day now. Version 2.0.1 is largely identical to version 2.0.2, though the latter fixes a couple issues that affect key repeating and TextExpander.)
Want to stay up to date with the latest Gems? You can follow Mac Gems on Twitter.