Everyone needs a great text editor—for those times when you need to clean up funky characters in a big text file downloaded from the Web, remove duplicates in a list, or make a particular change to a bunch of files at once. When such text-manipulation jobs land on your desk, you can make short work of them with Bare Bone Software's TextWrangler. Even better, this powerful tool is free from either the Mac App Store or the Bare Bones website.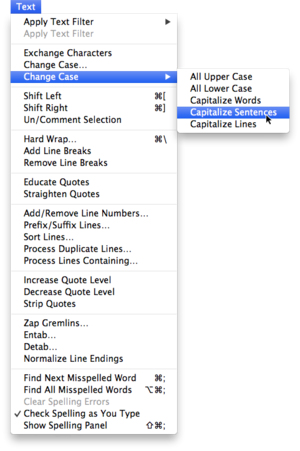 TextWrangler reads almost any file (including code files such as HTML and Markdown that contain plain text), but it saves only to plain-text files, and it doesn't support styled-text formats such as RTF or Microsoft Word documents. TextWrangler shares this "pure" text-editor approach with its professional-grade sibling, the $50 BBEdit. Like BBEdit 10, TextWrangler 4.5 is now Retina-display ready.
Programmers have always loved TextWrangler (and BBEdit) for ease-of-use features such as syntax coloring for various programming languages. New to this version are switchable syntax-coloring schemes. Code folding lets you view or hide the functions you're working with, and TextWrangler gives you easy access to files on FTP and SFTP servers—you don't even need to leave the program.
If you don't know a syntax from a saxophone, you'll still like TextWrangler's many text-manipulation features, including case conversion, line wrapping and numbering, simple conversion of straight quotes to curly quotes (and vice versa), the ability to change quote levels in copied emails, and the ability to work with multiple files simultaneously. You can even insert the contents of another file into the one you're editing. TextWrangler automatically saves your files as you're working—if you quit the program with unsaved (or even never-saved) documents, they're automatically restored when you next open the program.
A new Go menu allows you to build and step through a history of the different locations in a document where you've been working. This lets programmers easily jump between functions, while the rest of us can switch between the different sections of our documents.
TextWrangler's Find and Replace features are superb. You can search for and make changes in a single file or many at once—even files that aren't open—and you can move freely between the open document(s) and your search window to refine your searches. If you're familiar with regular expressions (also known as grep), you can create complex search criteria that provide precise control over what text gets found and replaced.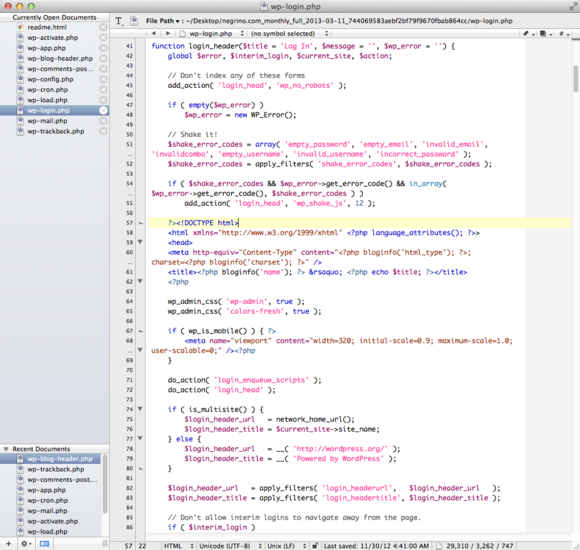 If you're using Lion or Mountain Lion, TextWrangler leverages the system's file-versioning capabilities with a new Compare Against Previous Version command. (This feature doesn't use the standard Time Machine interface for versioning, which would be confusing.) You can also, as always, compare two documents to find and display their differences.
Wondering what you lose by going with the free TextWrangler instead of the $50 BBEdit? Bare Bones reserves plenty of great features for its paid flagship product. For example, BBEdit includes tools for creating HTML markup, tag and attribute completion, and a built-in instance of WebKit (the page renderer used in Safari) that provides live previews of your webpages. BBEdit also gives you the ability to read and write files stored within .zip archives, which is especially useful for tweaking ePub ebook files. BBEdit's Scratchpad window makes it easy to transform text without needing to open up a new document window, and its Clippings system lets you store and insert frequently used snippets of text and tags. BBEdit also has many automation and scripting features geared toward saving the professional programmer time.
But for most of us, whether your text-editing job is large or small, TextWrangler is plenty powerful. If you're not a programmer, the program will come in handy whenever you need to write or edit text files. If you're a beginning programmer, TextWrangler will likely be your default editor. Unless you require the extra features of BBEdit, TextWrangler should be your text editor of choice.
(Note: Due to Apple restrictions, the Mac App Store version of TextWrangler differs slightly from the version available for purchase from the Bare Bones website. The Mac App Store version is missing command-line tools that allow you to use TextWrangler as the editor for files you open from within Terminal. [Bare Bones offers a separate download that enables this capability for the Mac App Store version of TextWrangler.] Also, while the direct-purchase version allows you to perform authenticated saves—to save files that you don't own—as long as you have an administrator account on your Mac, the Mac App Store version does not.)
Want to stay up-to-date with the latest Gems? You can follow Mac Gems on Twitter.