At a Glance
Expert's Rating
Our Verdict
Fifteen years ago, BioWare launched Baldur's Gate, an opus that redefined what it meant to be a deep, open-ended, and epic role-playing game. Now, Overhaul Games has remastered the original plus its expansion Tales of the Sword Coast, and relaunched the package as Baldur's Gate: Enhanced Edition for the PC, Mac, and iPad.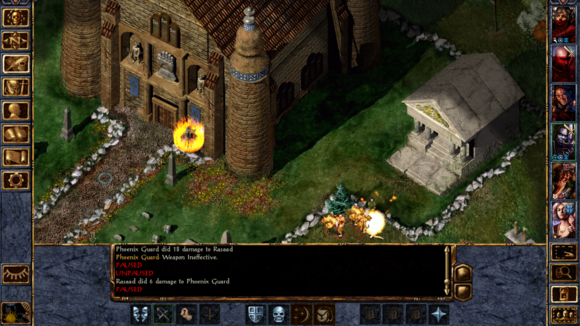 The challenge for Overhaul Games was to justify the rerelease of a late-'90s game that, while iconic, looks dated and is still available for purchase (patches, expansions, and all) for those who know where to look. And Overhaul largely meets that challenge, thanks mainly to its choice of a game that is so influential and exceptionally well written that any attempt to bring it to a new platform (and update it) should be applauded.
Granted, Baldur's Gate—despite the Enhanced Edition's higher resolutions and improved interface—will still look dated to modern players. But since we're a generation that has embraced the retro, that isn't a death sentence. The core elements of the game are still sound, despite the time lapsed between initial release and remastering.
In fact, as someone who missed the game the first time around, I was surprised to discover how many of the combat elements, character interactions, and key gameplay features I appreciated. This is partly due to my familiarity with BioWare games; in retrospect, it's easy to see how certain combat elements evolved into the features I so enjoyed in Dragon Age: Origins, a later BioWare title.
The game is still brutally challenging, though, even with a long (and remarkably poorly integrated) tutorial. You'll rush out of Candlekeep feeling pretty confident, only to see your untimely end at the hands of a kobold or bear within mere minutes of setting out. Even with the ability to pause combat, move items around, and plan your party's attacks, your fortunes can change in seconds. I can't tell you how many times I cursed because a hobgoblin took out my crazed mage, making me restart the entire encounter.
The difficulty and balance of the combat are due to the second-edition Dungeons and Dragons rules the game is built on: The classes, attacks, weapons, and such all draw from that world. That makes your initial skirmishes with bandits, rogue wizards, and assassins surprisingly frustrating. You'll have to save often and go back to your save points every time you die—a relic of a much less forgiving era in role-playing games.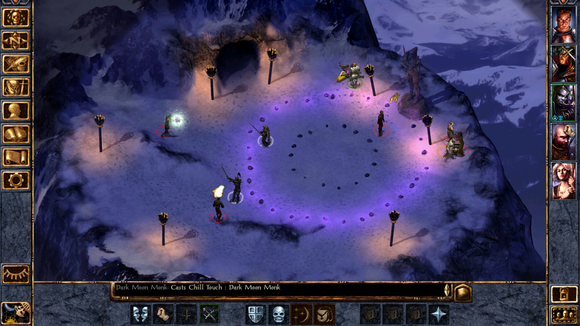 While the core combat mechanics are sound (if unforgiving), other elements of Baldur's Gate haven't aged as well. Writing and learning spells, for example, requires a great deal of tinkering and a lot of steps, and is initially quite limited; typically I had way more spells than slots. The game requires magic users to rest before they can reuse their powers (unless you obtain a potion), meaning that you'll often have to double back to a local inn to rest up before continuing on your journey—making me question why I brought magic users along in the first place.
Which pieces of equipment are the most powerful isn't immediately apparent, so you'll initially scratch your head at the dozens of 'Bastard Sword' and 'Leather Armor' items you keep finding. That's a larger issue with Baldur's Gate: You get a lot of loot but nothing seems particularly useful at first, and swapping it out on your character is a pain.
Despite some clunky interface issues and my larger complaint about the difficulty, Baldur's Gate may be worth playing for its writing alone. The plot isn't particularly noteworthy—something about a conspiracy and your father figure Gorion being slain, revenge, mystery, blah blah blah, but the dialogue is exceptional.
Though it'll slow down your journey considerably, talking to everyone you find is usually worth your time. Not only is it a great way to meet new party members and get side quests, but you'll also meet some truly interesting and amusing characters. Bickering bandits, a bipolar mage, and a miniature giant space hamster named Boo are just some of the characters you'll find along the way. The game also gives you the option to be as big a jerk as you want to be. Steal, kill, mock, and confuse at your leisure.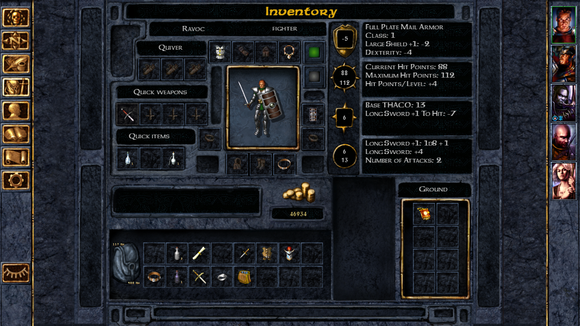 Bottom line
Baldur's Gate: Enhanced Edition is mostly a nostalgia buy for dedicated RPG fans who will enjoy the old-school gameplay, brutal difficulty, and subtle enhancements over the original. New players may not care much about the characters that aren't available aside from the Enhanced Edition, instead stumbling over the game's unimpressive graphics and the initial slow start. Overhaul Games gets credit for remastering a classic title that deserves to be remembered for its influence and creativity. If you're just a regular Mac gamer who is curious about dungeons, space hamsters, and annoying characters named Noober, hey, it's only $20.