Izik for iPad, a free search engine app for your tablet, is a competent offering that distinguishes itself from better-known competitors like Google and Bing in two ways: First, it hearkens back to a day when search services pretty much only did search; you'll not find yourself swamped in related email, calendar, and document apps here. Second: It has an aesthetic sensibility made for the tablet format, offering search results in a fashion that, say, Flipboard's creators might appreciate.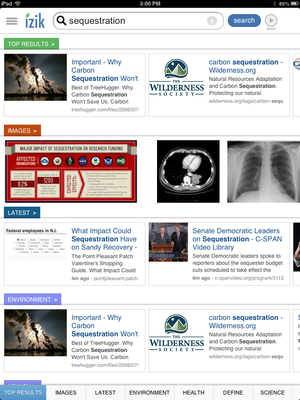 Does it do enough to replace those competing apps on your tablet? I'd say probably not.
Izik is easy enough to use. Open it up, enter a search term, and you get results. Instead of a never-ending list, though, Izik offers up rows of results. For a well-known figure like Secretary of State John Kerry, for example, you'll get a capsule description of the man, followed by "Quick Answer" description from Wikipedia. The third row is recent news results, followed by a fourth row of top web results.
The way these results are presented vary from search to search; the app's main goal is to provide you several kinds of content, and the top results within those genres. Some searches might bring back image results displayed high in the list; others might bring back social media results from Facebook and Twitter. This is both good and bad: On one hand, search results shape themselves according to the types of content available; on the other hand, you don't know if certain types of content don't show up because they're not there, or because they haven't been highlighted. And those options don't always appear in the menu. If you want to look at John Kerry videos, you can't search for "John Kerry" and click on a "video" button for results—you actually have to search for "John Kerry videos" instead.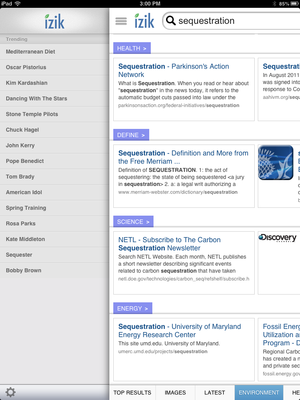 There are other features besides just search. A left-hand rail lets you see trending search terms among people using Izik's engine; that's fun and occasionally useful. Izik also has a "safe search" mode in its latest edition, making the app safe for your kids to use.
At the end of the day, though, I found myself wanting to drift back to the Google app for iPad. Even the Bing app rates higher than Izik.
Why? Well, Izik doesn't have some of the features those deep-pocketed competitors do. I can use the voice function on both Google and Bing to search for terms; this works pretty well in the Google app and not quite as well in Bing, but it's not even an option in Izik. And if you do use those other companies' broader array of services—even to check weather or headlines—you can stay in their apps to do so. With Izik, you just get search.
That might still be enough, especially when paired with Izik's aesthetic distinctiveness. But the Blekko search engine at the heart of the app doesn't appear—to me, anyway—to offer noticeably better or faster or even different results than Google or Bing. Blekko's website has a "search engine monte" test that lets you enter a term and let you blindly compare the results: Perhaps it's because I've been using Google for 13 years, but I consistently chose its results over both Blekko and Bing.
Bottom line
Although Izik isn't for me, your mileage may vary. Maybe all you want is simple, competent search displayed elegantly, and Izik certainly gets that job done. These days, though, that's just enough to leave us wanting more—Izik needs more than a smooth design to keep up.