Reallusion's CrazyTalk7 Pro is a powerful image morphing and character animation application with an easy-to-use interface that is fun and rewarding for hobbyists and professionals alike. Select any photo or illustration as your subject, and with just a few clicks, you can bring it to life by making it move and talk.
You can use prerecorded voice scripts and animation settings to apply to your own model, import recorded audio clips, or record your own right in the software. You can even use Apple's Text to Speech features and write the script you want your characters to say.
CrazyTalk7, which has just come to the Mac after being a Windows-only program for a number of years, is available in two versions: Standard and Pro. The standard version ($30) is the only one available in the Mac App Store. However the Pro version ($150), reviewed here, is available via the Reallusion website.
The Pro version of CrazyTalk7 has more features and advanced controls than the standard version, and gives you a broader range of muscle/motion controls and key animation choices. Plus it makes available additional bonus materials such as motion templates and special character models. The Pro version also lets you use multiple audio tracks and apply more expressive facial and mouth characteristics with the program's Auto Motion feature. It lets you create and save custom puppet profiles and provides detailed face key editing for better lip-syncing.
Mostly intuitive workflow
Getting started is quite simple, and CrazyTalk7 Pro guides you step-by-step in setting up your image for character animation. You can use one of the many pre-configured characters provided and add your own voice to animate them, or start with your own illustration or photo from your iPhone or another source. I've found it's best if your subject is looking squarely into the camera so you can get the best range of motion and animation characteristics.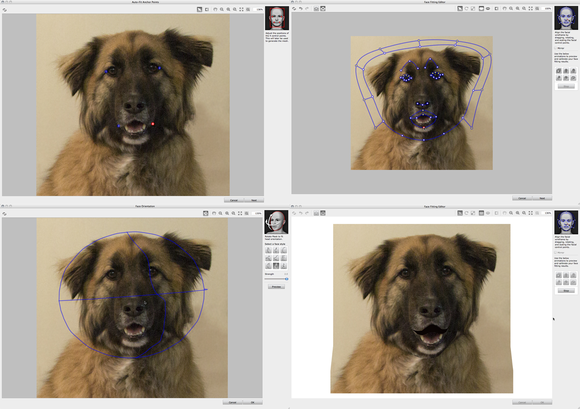 To begin, you simply select an image to import and CrazyTalk7 Pro will first guess where the outside edges of the eyes and corners of the mouth are on your subject's face. For animal faces, you will likely need to reposition these points.
The next step requires you to refine the range of facial characteristics and the program gives you two levels of detail to adjust the motion points around the mouth, eyes, eyebrows, nose, and outer head range.
Next, you determine the three-dimensional shape of the character's face, selecting from the preset grids and positioning them over the center of the face. You can use the Strength slider to adjust how much depth to generate and then preview all the points of motion so you can make final adjustments.
You can further create a mask around your character and place it on a different background or a solid color, if you plan to use it in another video editing application.
You are now ready to add your voice, script, and motion to your character, or continue to add other features such as animated eyes and teeth, if you wish. To test your new character, I suggest using one of the practice audio templates to be sure all of your subject's edit points are positioned and functioning correctly and to get familiar with editing on the timeline.
Recording your voice directly in the app will automatically generate voice-recognition characteristics and apply them to your model. The individual audio clips can be trimmed and edited on the timeline with simple controls. However, as a Mac-based professional video editor and animator, I found some of the controls to be somewhat counterintuitive to a standard non-linear editing environment. For example, shortcut keys are based on the original Windows version, which makes it necessary to manually click on tools or menu items, right-click on a mouse to access pop-up menus, or use an extended keyboard for keys such as the Forward-Delete key, or use Fn+Delete on a standard keyboard or MacBook Pro or Air.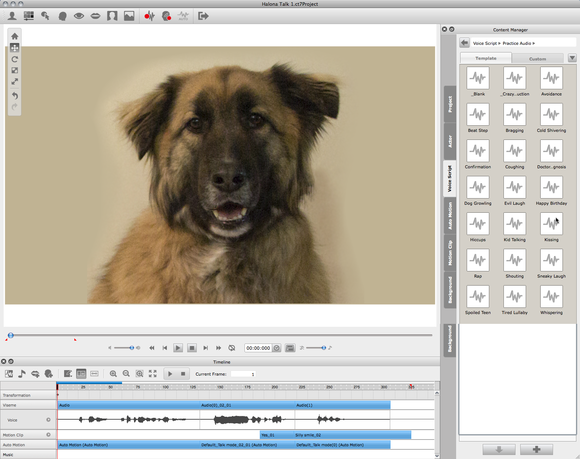 Customizing your character
You can replace your character's eyes, mouth, and teeth with animated options from the built-in library. Details such as iris color, size, and eyelashes and tooth shape and color can all be adjusted. This can give a more realistic appearance to your animation or just push it over the edge into downright comical.

In the Pro version of CrazyTalk7, ther are more advanced Auto Motion controls where you can enhance facial expressions with selectable feature regions and movements of the head and body.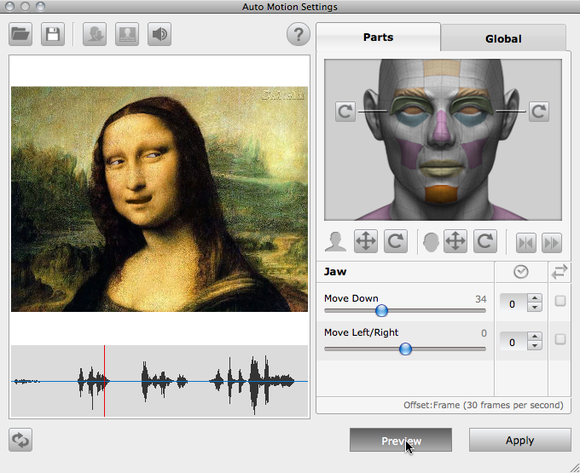 I've created some examples in a short video that show the range of motion and animation controls on a couple of test subjects, with various input methods of the audio tracks and scripts.
I was however, disappointed there weren't more options for recording audio quality and line levels. I used a $1000 professional tube mic with a submixer that I record voiceover with regularly as my line-in input, but the resulting sound was flat and somewhat distorted, regardless of my input levels. I've discovered there is a QuickTime framework limitation in the application that reduces the sample rate to 8000mhz, as a result of referencing the previous product family. Reallusion suggests recording your voice tracks with a pro audio application and then importing the recorded track into CrazyTalk7 Pro to apply to your character animations for best results.
Video export capabilities include the option to adjust scale and quality, depending on the QuickTime codec you chose—For OS X 10.6.8 you can choose H.264, MPEG4, and Lossless. With OS X 10.7.5 and above choices include Photo-JPEG, Apple ProRes 4444, and Apple ProRes 422.
When you register your copy of CrazyTalk7 Pro on Reallusion's Website, you can download additional bonus materials and get product updates, watch tutorials, or share with others in the community forum.
You can also buy additional content such as the Starter Kit with more characters and animation presets and a training video. CrazyTalk7 Pro costs $150, or bundled with the Starter Kit and Training Video in a package, $200 from the company's Website.
Bottom line
CrazyTalk7 Pro is a powerful character animation tool that is both fun to use and has practical application for professional producers that seek a creative animation option. For beginners, the interface and tools are intuitive and easy to use and you'll be animating quickly with no prior animation experience.