A reader who doesn't wish to provide his name (for reasons that soon will become apparent) has a problem with office etiquette. He writes:
My company has a few different divisions and each division has its own group email list that includes everyone within that division. There's also a company-wide address. The problem is that every so often we hire a new person or the company softball teams wins a game and these group addresses are used to send out strings of "Welcome" or "Woo-hoo!!!" messages and the endless replies from these things bombard my inbox. I find this really distracting. Any way to stop it?
I'm big on education as a means for short-circuiting problems like these. If you can find a way to politely inform the company's employees that their email client has both Reply and Reply All buttons and ( explain the difference between them and how annoying this kind of public backslapping can be), I'd consider that a good first step.
However, this may just be an example of the company's cultural divide. Some groups are big on praise and public high-fives. For them these messages are motivational and show a plucky team spirit. Let on that you find these things a waste of time and you may be looked on as someone whose heart isn't really invested in the company. And that may show up on your next employee evaluation if your boss or boss' boss is one of these unrepentant Reply All-ers. In such cases I'm more inclined to post anonymous "For The Love O' Pete, Learn To Use Reply All Correctly!" notes in the staff kitchens and restrooms.
But as your career may be at stake if you move too aggressively toward education, let's turn to protection. If you're using Gmail, as many companies now do, you have the ability to entirely mute one of these conversation. My colleague at PCWorld/TechHive, Armando Rodriguez has the details in his How to Mute Annoying Email Threads in Google. The gist is, you access your Gmail account via a web browser, select the conversation, and from the More pop-up menu near the top of the page, choose Mute. The conversation will move to your Gmail archive and you won't see future messages unless they are sent directly to you and no one else.
If you're not using Gmail or your email client doesn't allow you to easily mute conversations, you must turn to rules within your email client. For example, you might construct a rule that contains the email domain for the division responsible for the bulk of this stuff as well ensures that the message is written directly to you rather than to a group.
In Apple's Mail the rule would look like this: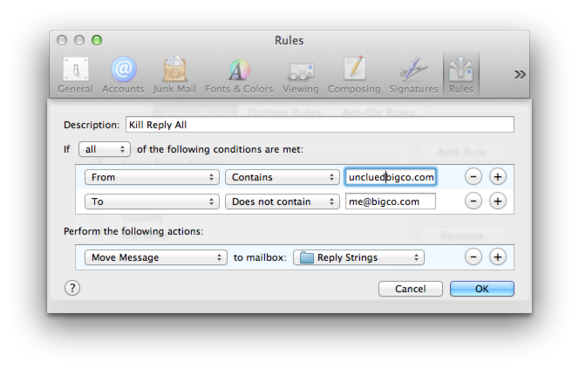 Or, if these messages always include a person you never otherwise see in an email thread, filter by that person's name:
And, more times than you can imagine, messages like this are over-punctuated—your sadly typical Congratulations!!!!!!! for example. Filter by subject heading so that any messages that contain more than two exclamation marks are given the heave-ho, as in: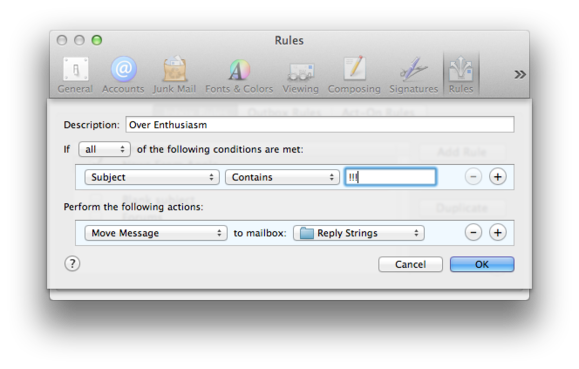 Put in the broadest terms, to avoid getting tangled in these time-wasters, sift through the email you receive and find elements typical of your company's Reply All spam. Filter too narrowly and more of it than you care for will hit your inbox. Filter too broadly and you may miss the all-important "We discovered the person responsible for the anonymous kitchen and bathroom postings. Employees are to meet in Conference Room A at eight bells to witness punishment" memo.