Game publishers always have to think about how to turn a profit on their mobile apps while trying to produce the best, most enjoyable experience for the player. With Real Racing 3 for iOS, Electronic Arts once again proves which is the company's more important priority.
First and foremost, I'm here to comment on gameplay. I generally try to avoid commenting on the controversy surrounding high profile games when I review them, especially when it comes to digital rights management, pricing, and transaction methodology. Unfortunately, Real Racing 3's micro-transaction system is so intrusive and momentum killing that a review of Real Racing 3 wouldn't be complete without some kind of comment about the game's "freemium" pricing model—meaning that the game is free to download, but runs on in-app purchases made while you play.
People will argue that games like Farmville set this pay model in motion years ago, and that it was only a matter of time before micro-transactions were applied to conventional "core" titles like Real Racing. But even Farmville's experience wasn't stopped completely when a player ran out of energy; with Real Racing, a veritable spike strip is thrown at gameplay momentum by the game's payment system.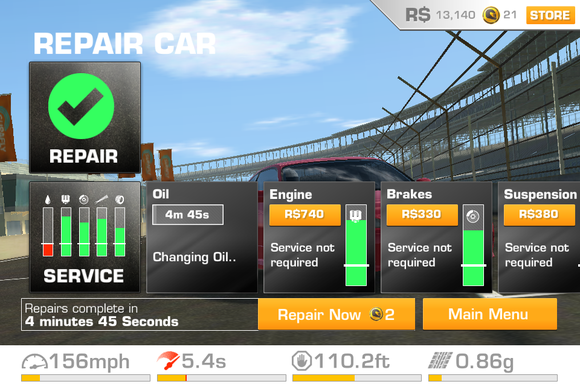 Micro-transactions work when players want to purchase items that will speed up build times or otherwise enhance the experience. But micro-transactions fail the player when you have to drop a coin to keep playing the game in a conventional manner. As an example, in Real Racing 3's Pro/Am World Series, I'd race my Nissan in a diverse spectrum of events—everything from drag racing to autocross to speed record events. But inevitably, my car would take damage and need upgrades. When my car needed repairs, I could instantly repair it through the use of Real Racing 3's in game currency. But if I ran out of money and needed a repair—and I inevitably did—the repairs would not be instant, and my car would need to spend a good amount of time in the shop. I then had to put the game down, because I couldn't race when my car was in the shop. To recap: I was burning through several courses, achieving various cups and unlocking new maps, but had to stop enjoying the game because I ran out of in-game currency.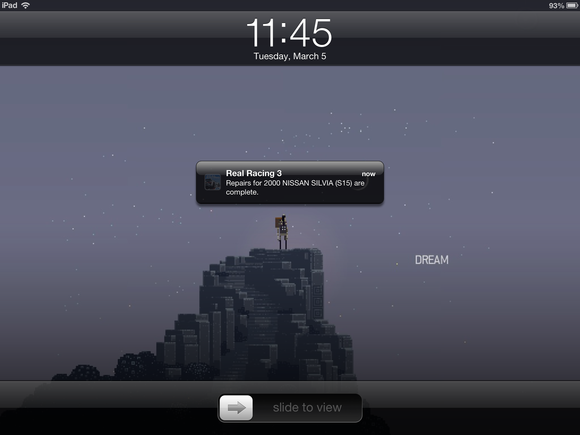 The real shame about Real Racing 3 is that, when you're actually able to drive your car, it's a fantastically made game. I look back on my Real Racing 1 review from 2009 and most of the issues I had have been largely addressed: the game's graphics have improved, the cars show real damage, the options for how to drive have been augmented (though I'd still like to be able to manually shift gears), and the game overall is much deeper with more cars, tracks, and events. Thanks to licensing agreements with many major car manufacturers, you can drive real cars on real courses and mimic real events. With 46 cars to unlock, upgrades for each, and tons of races to compete in, Real Racing 3 is exceptionally deep.
The issues I have with the gameplay are pretty minor: the price point for new cars is initially quite high, making upgrading your car a far cheaper option but also limiting the races you can enter. The initial download size of the app is also massive: I had to delete three other games just to fit it on my iPhone. The upgrade system is intuitive, but very linear and doesn't give you the personalization that gear-heads demand. Not to mention that the racetracks and backgrounds are still generic and pixelated, while the soundtrack (and lack of commentary) reveal that the series has room to grow.
But this is still a very authentic, exceptionally well-designed game. If you enjoy racing against your friends, you can invite them to race against you through GameCenter or Facebook, and I'm a big fan of the Time Shifted Multiplayer feature, effectively populating your races with ghosts of other players' times. Interestingly, they're not illusions on the course, as you can jockey for position and run them off the road (which is pretty much the best way to win).
Bottom line
Real Racing 3 handles like a dream and is one of the biggest, most feature-rich, and deepest racing games I've played—it's truly a worthy successor to Firemint's first two titles. Unfortunately, EA has taken the air out of the tires of Real Racing 3's lightning quick gameplay, effectively turning one of the best iOS games on the market into a frustrating, stop-and-go test on your patience. Though SimCity's debacle of a launch will likely get the most press, EA's atrocious wheel lock of a payment system is equally deserving of ridicule.