Reader Oliver MacKenzie is tripping out over audiobooks. He writes:
For our daughter's upcoming Spring Break we're going on a long road trip. I have some audiobooks on CD that I'd like to listen to during the trip, but the car's CD player is broken. Ideally I'd like to put the files on my iPod touch but they're spread over several discs and I want to have just a single file. Any thoughts?
The first thing you'll need to do is rip the tracks from the CDs. iTunes can help. Insert the CD and iTunes should automatically launch and display the disc's contents. Select all of the tracks and from the Options menu that appears at the top right of the window choose Join CD Tracks.
Click the Import CD button and an Import Settings window will appear. If you go with the standard import settings—the iTunes Plus setting, which is AAC format at 256kbps—you'll make files larger than they need to be. Instead, choose Spoken Podcast from the Setting menu and click OK. This produces sound good enough for spoken-word content in a form that doesn't consume large amounts of storage space. iTunes will set about ripping the contents of that CD as a single audio file. Repeat this process for each CD in the audiobook set.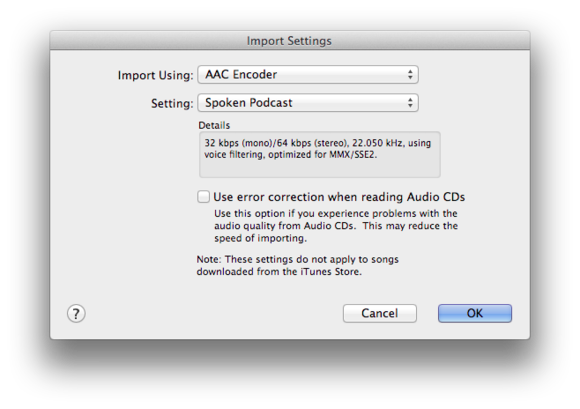 This takes you part way there in that you now have the files off the CD and into iTunes. Your next step will be to combine them into a single file. Although you can do this with an audio editor such as Audacity or GarageBand, it's a little complicated and you'll still need to format the file so that it's recognized by iTunes and your iPod as an audiobook.
For this reason I'll recommend a couple of utilities that make the job easier. Doug Adams' $7 Join Together is one. It can take tracks you select in iTunes and—as the name hints—join them together in a single file. It also lets you insert any tags you like—title, author, genre, and rating—as well as designate the file as an audiobook. When it finishes its work, your file will be playable on your iPod.
The other utility to eyeball is Splasm's $5 Audiobook Builder.This tool is a bit more full-featured than Join Together in that it lets you import tracks directly from CD as well as add files from the Finder (though it supports importing tracks from iTunes too). It too supports tagging as well as allows you to add alternative cover art.