Buying from the iTunes Store is certainly convenient. With a few clicks, I can purchase an album, TV show, or movie that gets billed to my iTunes account and that I know will work perfectly on my various pieces of Apple hardware (Macs, Apple TV, iOS devices). What's not so convenient is the way iTunes insists on downloading my purchases as soon as I buy them, even when I don't want it to. This is especially frustrating with large video files.
Let's say I decide to purchase Season 5 of Mad Men from the iTunes Store. Including the extras, the 1080p HD version weighs in at 27.5GB. Maybe I don't want—or don't have the bandwidth—to download the entire season at that exact moment (or even in the foreseeable future). Thanks to iTunes in the Cloud, I don't necessarily have to, because I can stream individual purchased episodes to my iPad or Apple TV when I want to watch them.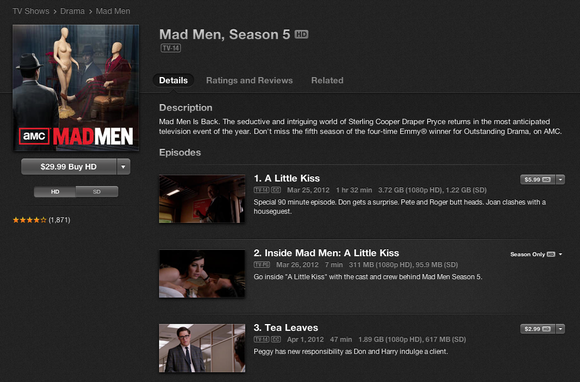 I know that I could buy content directly from my Apple TV (which has no internal storage and therefore can't download the complete files) and then stream it, but they still end up in a master download queue for my iTunes account—and there's no way to remove items from that list until I've downloaded them once.
And what if I'm not in front of my Apple TV when I want to make the purchase? Let's say I'm on vacation when Apple has a sale on Yo Gabba Gabba episodes I'd like to buy for the kids. That's a purchase I need to make from my MacBook Air or my iPhone, say. And if I don't have enough room to download everything on my iOS device? I can't even make the purchase.
What I want is a Purchase and download later option for the iTunes Store. (This would obviously work with free content, too).
When I buy music from the Amazon MP3 store, I'm given the option to either download the MP3 files directly or to add them to my Amazon Cloud Player. From there I can stream the files to various devices, or choose to download them at any time. Why can't Apple provide similar functionality for music and video obtained via the iTunes Store? (I know that I can pause a download until a more convenient time, but that doesn't solve the underlying problem that I may not want to download it at all.)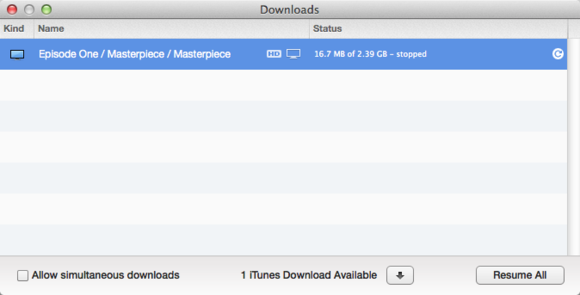 When I posted this gripe on Twitter, some users suggested that I use iTunes's Wish List feature, but that misses the point: The Wish List is a place to collect stuff I may want to buy later. But I want a way to purchase items now and then stream and/or download them at some point of my choosing in the future.
Sure, I could see a situation in which I fail to download something now and then it becomes no longer available on the iTunes Store at a later date. Then I'd be screwed. But that's a fringe event and not an insurmountable problem. Apple could send me email reminders 15 or 30 days after a purchase prodding me to download and back up locally lest tragedy strikes. Or Apple could add a checkbox to iTunes's preferences that says Never automatically download new purchases. (We'd probably have to agree to a disclaimer before turning that option on.)
This isn't the only iTunes-related problem that I think Apple needs to address. (Don't get me started on iTunes Match's track limit and all-or-nothing approach.) But it's a major headache for me—and judging by the replies and retweets I saw on Twitter, for others as well.