Sometimes the iTunes Guy gets questions where the only answer is, "sorry, you can't". This week's column covers a couple of questions with no solutions, along with some that do have answers. Learn about finding missing podcast playlists, replacing converted songs in their playlists, and more.
Q: I have a lot of songs in MP3 format, and have started converting them to AAC format to save space on my computer. When doing so, iTunes creates a duplicate version of the song in AAC format, leaving behind the MP3 file. When I delete the MP3 from within iTunes, it removes the songs from all my playlists. I would like to simply convert the song to AAC format, replacing the old MP3 format so that the playlists now reference the AAC version of the song and not the MP3. Is this possible?
Putting aside the fact that I don't usually suggest converting from one lossy audio file type to another, no, iTunes considers each file to be unique. When you convert a file, you then have two files, and it wouldn't make sense to add the new files to a playlist, in case you wanted to keep them both. (Because you most likely wouldn't want two copies of the songs in the playlists.)

This can be a problem, especially if you've created playlists with lots of songs. What I would do is this: Select all the songs in a playlist then, in the Comments field, enter the name of the playlist. Convert the songs, and delete the originals. Next, create a new smart playlist, where Comments is (playlist name), or the name of the playlist you just added. Copy the songs from the smart playlist to the original playlist, then delete the smart playlist.
Q: Is there a way to create song "aliases" (multiple entries in the library that point to the same file)? I have duplicates in my library because I want them associated with multiple albums (such as soundtracks or compilations). If I could simply point to the same file, just allow for different metadata, then I could truly delete all of my duplicates.
Unfortunately, you can't do this. It would be practical, as you say, because you may have the same songs in multiple albums. In addition, if you use iTunes Match, these songs will show as duplicates, and only one of them will be uploaded, and this can be confusing.
Q: I'm jumping through hoops to import songs from a music CD onto my new iMac—the new model that no longer sports an internal CD drive. I thought I could use Apple's Remote Disc feature, but found out that music CDs aren't supported by Remote Disc. Eventually, I solved the problem by importing the music CD on an older laptop. But what are folks with only one computer to do if they want to rip CDs?
Alas, your best solution is to buy a cheap external CD/DVD drive—you can get one for less than $20 online. Apple's $79 USB SuperDrive also works, and it is extremely portable to boot, but it's really no better than the cheaper ones. And if you plan to rip a lot of CDs, look around for a drive that's easy to use. I have a top-loading drive, and it's easier to get discs in and out of it on my desk than with a slot-loading model.
Q: Is there any way to see which playlists a song is part of?
Yep, just Control- or right-click a song, then move your cursor down to Show in Playlist. You'll see a pop-up menu showing all the playlists the song is in. Select one of the playlists to jump to that song within it.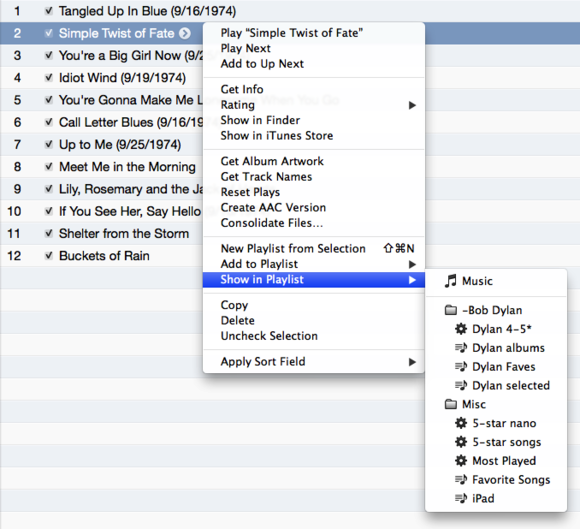 As you can see in the screenshot above, this also shows which smart playlists a song is in; or in other words, you can check to see if any songs meet the conditions for different smart playlists (such as my Most Played playlist) in this manner.
Q: What happened to podcast playlists on the iPad? When I first bought my iPad, my podcast playlists transferred over from iTunes. But then about the time of the iOS 6 update they disappeared. I have music playlists, but no podcast playlists.
If you have installed Apple's Podcasts app on your iPad, then the Music app will no longer show playlists that contain only podcasts, and the More section at the bottom of the app will no longer list podcasts. While the latest version of app adds playlists (known as Stations), if you want to listen to podcasts from the Music app then you can delete the Podcasts app.
Q: I uploaded/matched my iTunes library to iTunes Match. Almost all my songs appear on my iPhone 4S. However, when I connect the iPhone to my car, it only sees four artists. It does not recognize all my other music. Any suggestions?
Your car only sees the songs that are physically on your iPhone, not those tracks that are listed on the iPhone but are in the cloud. You need to download music from iTunes Match to the phone for the car to see it.
[Ask the iTunes Guy is a regular column in which we answer your questions on everything iTunes related. If there's something you'd like to know, send an email to the iTunes Guy for consideration.]