These days, I do quite a bit of Web browsing and link visiting on my iOS devices: I read RSS feeds using Reeder on my iPad and iPhone or Mr. Reader on my iPad; and I use iOS apps to browse Twitter and App.net. In many ways, I like these iOS apps better than their Mac equivalents, and because I usually have at least one iOS device with me, I find that I can catch up on news and other info when I'm say, waiting in line at the Post Office.
But when I come across a file—perhaps a new Mac app or a free music archive—I want to download, I'm stuck, because iOS doesn't provide an easy way to download files. And oftentimes I want to use the file on my Mac anyway, so even if I could download it on my iPhone or iPad, I would then have to figure out how to transfer it over to my Mac.
Until recently, my workflow in such situations would be to copy the download URL on my iOS device, open a new message in Mail, and then email the URL to myself; when I got back to my Mac, I'd open the email message and click the download link. It worked, but it was a hassle.
Which is why I've found the $5 Transloader ( Mac App Store link) to be so useful. This app works with a free iOS app to let you download, on your Mac, files that you come across on your iPhone or iPad. Transloader is similar to the NoteTote app I reviewed last year, but whereas NoteTote requires you to edit a text file on your iOS device whenever you want to download a file to your Mac, Transloader offers a simple, easy-to-use app.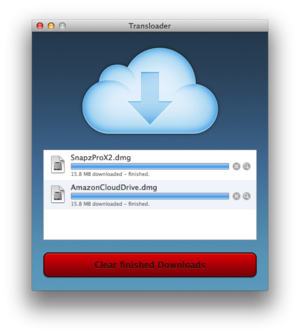 The easiest way to use Transloader is to just keep the app running on your Mac. (A setting in the app's preferences lets you view Transloader either in the Dock or in the menu bar.) When you come across a download URL on your iPhone or iPad, you just copy that URL and then launch the Transloader iOS app. The app automatically detects that a URL is on the clipboard and asks if you want to add that URL to your Transloader queue. When you do, the URL is synced using Apple's iCloud system. You can also manually add a URL by tapping the plus-sign (+) button.
The Mac version of Transloader periodically checks iCloud for new download URLs. When it finds one, it automatically downloads the linked file to your Mac. When the download finishes, you get a Notification Center notification on your Mac. You choose, in Transloader's preferences, which folder to use for downloads, and you can configure Transloader's notification settings in System Preferences.
It's worth noting that you don't need to keep Transloader running on your Mac. You can instead launch the app whenever you want to download queued files; Transloader checks iCloud for any URLs you've saved in the iOS app and then handles all pending downloads in one session.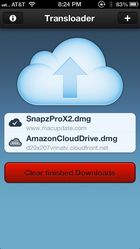 The iOS app shows all your downloads, along with the status of each: a checkmark for completed downloads, ellipses for pending downloads, or an exclamation mark for failed downloads. The Mac version's window similarly shows the progress of each download; clicking the magnifying-glass button next to a download reveals the file in the Finder. In either app, clicking the Clear Finished Downloads button clears the list.
In my testing, Transloader works well, although it can suffer from the quirks of iCloud. Sometimes I'll add a URL on my iPhone or iPad and, thanks to iCloud's iffy syncing, the Mac version of Transloader won't receive the URL immediately—sometimes it takes five or ten minutes. If you're near your Mac and need the download(s) to happen sooner, the developer recommends relaunching the Mac version of Transloader to force an iCloud sync.
One other minor quirk is that Transloader doesn't always properly handle URLs that appear to be a link to a file but are instead a link to a file-download page on a website. The app is supposed to automatically open those URLs in your Mac's default browser, but I found that Transloader would sometimes instead download the webpage.
A feature I'd like to see is the capability to run Transloader on two Macs and send download URLs from one Mac to the other. For example, sometimes I'm working on my MacBook Air away from my office, and I come across a big file that I'd prefer to download on my desktop Mac. It would be great if I could add the URL to Transloader on the Air and have that file downloaded on the iMac. I'd also like to see iOS notifications when a download finishes on your Mac, so I don't have to go back into the Transloader iOS app to check download status.
While those would be useful features, Transloader works well as-is, and while I don't use it every day, the times I have used it, it's been a welcome addition to my online toolkit.
Want to stay up to date with the latest Gems? You can follow Mac Gems on Twitter.