I'm terrible at keeping track of things, so much so that my dentist once threatened to put a GPS tracker on me. I typically operate on a day-to-day basis; my appointments either involve me arriving three hours early or breathless, panic-stricken and just in the nick of time. As such, I kind of took as a little bit of serendipity when I started using 6Wundkinder's free Wunderlist 2.0. Finally, a tool designed to help me fix my pathological lack of organization.
A reboot of the Berlin-based app company's already popular to-do list manager, Wunderlist 2.0 is buttery-smooth and almost completely painless to make use of. Its smart lists (which ensure that you'll never see anything but what is most relevant), in-app notifications, e-mail alerts, and Facebook integration are just some of the features that make Wunderlist a breeze to utilize.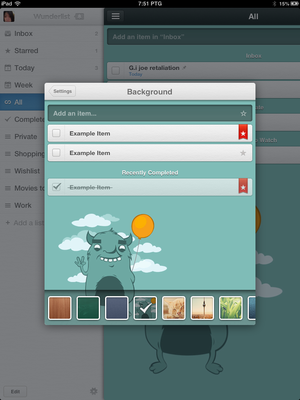 Depending on the device you're running the app on—it's a universal app for all iOS devices and runs as a browser extension and a Mac app as well—the actual look of Wunderlist's interface might vary somewhat, but it seems to follow the same basic formula. A menu bar along the left-hand side keeps track of what lists you're working with. To add a new to-do list, simply tap "add a list" and give it a name. When in a specific list, touch the top input box labeled "add an item," and you'll be able to add items one by one. Hit next to continue increasing your stable of tasks, hit done to finish. In this respect, Wunderlist is all but elementary.
Things get a little more interesting and a tad more elaborate once you start fine-tuning individual tasks. With Wunderlist 2.0, you won't just be assigning an alert to item, but you also have the ability to generate sub-tasks, due dates, notes, reminders, and even recurring tasks around an item. It can't force users to want to make lists, but helps the organizationally challenged stay on top of things.
What really brings Wunderlist home, however, is the social aspect of it all: You can invite other Wunderlist users via email or Facebook to partake in communal to-do lists, tick off completed tasks with a quick tap in its check box, survey daily activity across all lists, and decide how exactly you want to be reminded of that photo-shoot you were supposed to do in two hours (through the app itself, through Notification Center, or through email).
Perhaps the best feature of the bunch is Wunderlist's seamless cross-platform synching; whatever you make note of in one place will sync on every other platform you use Wunderlist on. So, if you mark an item as complete on your iPhone, it will also be marked as complete on your iPad or Android tablet and in your browser add on or Mac app.
Of course, Wunderlist 2.0 isn't entirely perfect. There is no way to customize list sorting, and the recently completed list can become irritating to rummage through. You won't get to organize priorities either, or set customized sounds (though you can customize the look of your list). Even so, Wunderlist 2.0 is a smooth, swipe-happy package of goodness.
Bottom line
Wunderlist 2.0 works as well as it does because it doesn't try to be more than what it is: a simple to-do list manager designed to minimize life's many small inconveniences.