If it's an alternative Netflix or iTunes app you're looking for, the free Amazon Instant Video for iOS provides you with lots of great streaming content over Wi-Fi—provided you have an Amazon Prime membership or you have already purchased content from Amazon.com.
The account conundrum
Like Netflix, you need an account with the company in question to use Amazon Instant Video. Amazon offers two options: Sign in with your normal Amazon.com purchasing account and have access to any online video content you've purchased, or sign up for Amazon Prime.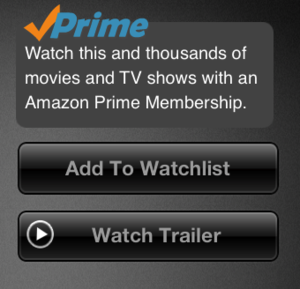 Amazon Prime is the company's $79 per year two-day shipping and streaming video service. Sign up, and you'll gain access to the entirety of Amazon's Prime streaming library, which includes a large number of videos and TV shows. You'll also receive free two-day shipping on a large number of Amazon.com catalog items. It's comparable to Netflix's similar streaming plan, which at $8 per month shakes out to $96 per year.
Unfortunately, if you don't sign up for a Prime account, you'll need to make all your TV show and movie purchases outside of the app: Due to Apple's terms and conditions, Amazon can't let you purchase TV and movie content without it being set up as an in-app purchase, and the company can't even list or link to the Amazon.com URL to send you out to Safari.
As such, if you want to purchase a season of the Wire, for example, you have to exit to Safari, navigate to the Wire's Amazon.com page, select streaming video, and purchase within the browser. When you finish and return to the app, your purchase should appear under the Your Video Library category.
Meet Amazon Prime
Once you've signed in with your account, you'll have full access to the app. Amazon Instant Video displays highlights from its Prime collection whether you're a subscriber or not; if you don't have a Prime account, you'll see a Prime badge when you tap on a video you don't have access to. If you want, you can add that video to your Amazon Watchlist, so that you can easily find it and purchase it on Amazon.com.
The app on the iPhone is divided into five categories: Home, Watchlist, Library, Settings, and Search. Home displays a rotating banner at the top with new Prime video releases; below that are several carousels containing featured Prime content, Watchlist videos, and videos from your own library (if you have any).
Tap the Watchlist tab, and you can view a list of movies or TV shows you've added to watch later. The Watchlist is divided by video type; you can tap the up/down arrow button in the upper right corner to change the video sorting from Date Added to Title.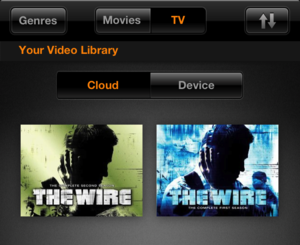 The Library tab contains any purchased video from your account. It, too, is divided into Movies and TV categories; from there, it's also divided into Cloud and Device subcategories—unlike Prime videos, you can download any of your purchased content to your device for offline viewing. Since Prime doesn't currently offer streaming over 3G or LTE, this means that you'll likely want to download videos if you plan to watch them during a commute or in the car.
Both the Watchlist and Library tab also sport a Genres button in the upper left corner; this button is a shortcut to all of the categories featured on the Home tab.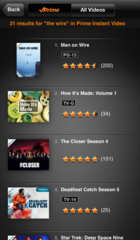 Tap the Settings tab to bring up a pop-up window for viewing about information, legal notices, providing feedback, or contacting support. You can also use the Settings tab to log out of your current account. Currently, there's no way to adjust the streaming quality of your video content; while Amazon Instant aims to deliver content at its original resolution, it will automatically downsample if your connection isn't fast enough.
The final tab, Search, does what it says on the tin: Tap it to bring up a search window; enter in a command to find a video on the store. If you're not sure what title you're looking for, the search field offers suggestions similar to the query you've typed. Once you hit return or tap on a suggested search term, you're brought to the search results page, sorted into Prime and All Videos categories. Any videos under the Prime category can be streamed for free if you have an Amazon Prime account; if a video is only available under the All Videos section, you'll likely have to go to Amazon.com to purchase the digital version.
Watching a video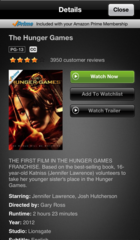 When you tap on a movie, you view its poster and basic information, including MPAA rating if applicable, description, and starring cast. From here, you have the option to either stream it (if it's Prime content), add it to your Watchlist, or watch the trailer (if available). Purchased movies also have a Download button to save it to your device.
TV shows are similar in presentation, though they often omit cast and crew details; in addition, episodes are listed by season, with drop-down info about each episode hidden behind its title. If episodes can be streamed, they sport a play button to the right of each title; if not, you'll only see episode titles and descriptions. Purchased TV shows have a Download button to the left of the Play button.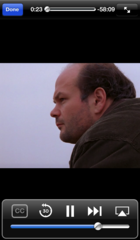 Tap the play button, and your show or movie will start to play. Amazon offers closed-caption support for many of its shows; if available, you'll see a CC button to the left of the playhead controls. Unfortunately, while Amazon Instant Video does offer an AirPlay button on videos, you can't send video to your Apple TV: If you try to AirPlay, you'll only get audio, thanks to studio licensing contracts.
When you pause your video or exit the app, it saves your place—and syncs with Amazon.com—so that you can pick up where you left off on any device. If you're in the middle of a TV episode, a small green progress bar appears under the playhead; tap Play, and the app prompts you to either resume from where you left off or play from the beginning. Movies don't show the progress bar, instead offering two buttons: Resume or Play from Beginning.
Bottom line
Amazon Instant Video is a great option for those who like streaming older content or watching video they've purchased via Amazon.com. Unfortunately, it's somewhat restricted in both its AirPlay and purchasing implementations, thanks to the studios and Apple, respectively. And unlike iTunes and Netflix, it lacks an option for streaming or downloading over 3G or LTE.