A furor erupted on the Internet on Tuesday—not that it takes very much—when comic book writer Brian K. Vaughan announced that the latest issue in his series Saga would not be available for purchase via the Comixology app, due to explicit sexual images that were allegedly deemed objectionable by Apple. This despite the fact that the series had previously contained other images of a graphic nature that had not caused objections.
At the time, Vaughan himself noted on the website of his publisher, Image Comics, "you might be able to find SAGA #12 in Apple's iBookstore, which apparently sometimes allows more adult material to be sold than through its apps. Crazy, right?"
However, it appears that Vaughan may have been jumping the gun in assigning blame. Apple confirmed to Macworld later on Wednesday that it did not block Saga #12, and Comixology CEO David Steinberger subsequently took responsibility in a post on the company's blog:
As a partner of Apple, we have an obligation to respect its policies for apps and the books offered in apps. Based on our understanding of those policies, we believed that Saga #12 could not be made available in our app, and so we did not release it today.
Steinberger went on to apologize to Vaughan and his publisher, Image Comics, and to say that "our interpretation of [Apple's] policies was mistaken" and that Saga #12 would be available via the Comixology app soon; less than an hour later, it was indeed available for purchase.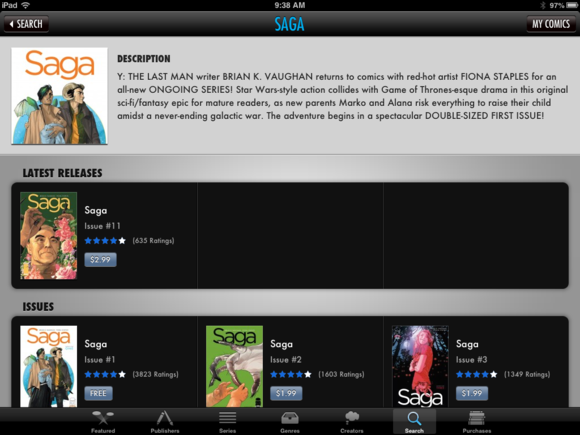 Earlier Wednesday morning, I was able to confirm that the issue in question was available from the iBookstore, and though it could not be purchased via the Comixology app, customers were able to buy Saga #12 from Comixology's website and have it synced to their iOS devices.
Given Apple's history of filtering content on the App Store, it's not surprising that the natural inclination was to assume that the company was responsible in this scenario as well.
In the past, Apple has tried to maintain a "family friendly" atmosphere in the App Store. Steve Jobs famously laid down "no porn" as one of the cornerstones of the storefront when it was announced in 2008. Since then, the company has made a point of quickly removing adult content when it has occasionally made its way into the store. Even the venerable Playboy has bowed to Apple, and offers a version of its publication without nudity.
More recently, though, Apple's found itself having to police issues of user-generated-content. Apps like Vine or 500px have found themselves under fire from Apple when it was found that they could be used to access porn. After its removal, 500px was reinstated with a 17+ rating; Vine likewise had its age rating revised from 12+ to 17+.
Comixology, for its part, has a 17+ age restriction, which means both that a warning is provided when its purchased, and access to it can be denied using iOS's built-in restrictions. By comparison, the same issue of Saga in the iBookstore has no ratings at all.
The App Store review process has long been regarded as a capricious gauntlet for developers to run. While its rules are public, they are oftentimes vague and subject to the interpretation of individual reviewers—which may be what happened in the case of Saga—but there is only limited recourse for developers who want to appeal their app's removal.
As a retailer, Apple certainly has the right to choose not to sell material that it finds objectionable. The concern in this case was more that Apple might have been denying a third-party the opportunity to sell content that Apple itself was selling, which proved not to be the case.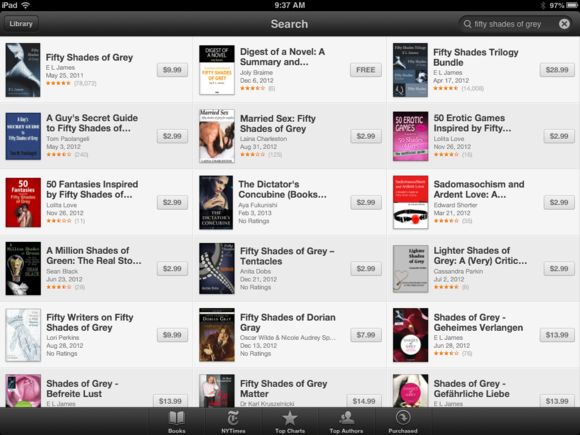 Given the concerns about certain content reaching kids, I'd argue that more emphasis should be put on educating parents about iOS's quite effective mechanisms for preventing kids from accessing adult material.
I'm not suggesting that Apple should open the floodgates to pornography and adult content, but it's clear, despite the resolution here, that the App Store review process is badly in need of an overhaul.
In his capacity as senior vice president of Internet software and services, Apple exec Eddy Cue oversees the iTunes Store, App Store, and iBookstore, so the ball would seem to be in his court regarding the review process. Content restrictions seem to flow more smoothly on Apple's other storefronts; it's not as if either the iBookstore or iTunes Store shy away from explicit content: You can find Fifty Shades of Grey in the former, and plenty of R-rated films for purchase and rent in the latter.
Perhaps the real issue—if you'll pardon the expression—is that content providers feel the need to try and anticipate what will and won't pass muster in the App Store. By putting itself into the role of content gatekeeper, Apple is left in the unfortunate position of being the target for blame when these types of issues arise, even if the company ultimately turns out to be not at fault.
Updated at 8 a.m. PT to clarify purchasing via Comixology's website.
Updated at 10:54 a.m. PT with Apple's confirmation, Comixology's statement, and changes throughout. Headline changed to reflect updated story.
Updated at 11:46 a.m. PT to note that the issue was now available in Comixology's app.