Ambrosia Sofware—the maker of Snapz Pro X, Soundboard, and other popular utilities and games on Apple platforms—on Thursday fended off suggestions it was going out of business, even as employees of the company reported being laid off.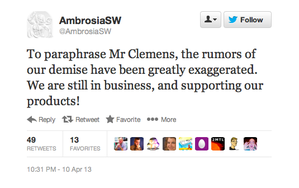 "To paraphrase Mr Clemens, the rumors of our demise have been greatly exaggerated," the company said Thursday morning, via Twitter."We are still in business, and supporting our products!"
Even if the company is still technically afloat, the head count has clearly been reduced. At least five of the company's 10 stated employees—not including president Andrew Welch—posted on Twitter that they were now unemployed, including developer Jon Gary, developer Jeremy Knope, developer Rudy Richter, product support person Evan Smith, and sales and reception person Kat Brady. Two other employees, artist Marcus Conge and lead developer Dominic Feira, had updated their LinkedIn profiles to refer to Ambrosia as a "previous" employer. Still unknown as of this writing is the fate of the company's other three employees: finance manager Bernard Cockhern, the company's public relations specialist John Champlin, and quality assurance specialist David Dunham.
Despite rumors of the company's shutdown, Welch denied the company's demise to The Mac Observer, though he did confirm the layoffs. "People were indeed laid off," he told the website, "however, the company is not folding." Macworld attempted to contact Ambrosia for comment on this story, but had not received a reply at the time this was published.
But while the company may not be closing up shop, there are plenty of lingering questions about its future. Though the company's tweet on Thursday said specifically that it's still supporting its existing products, it seems unlikely that Ambrosia would release a new product any time soon—especially given that it has let go its in-house development team.
The company got its start in 1993, making shareware games for the Mac back when high-profile PC games were still largely limited to Windows users. The company began with Maelstrom, an Asteroids remake, and followed that with Apeiron and Swoop, adaptations of Centipede and Galaxian, respectively. It put out increasingly ambitious games as years went by, including top-down actioner Harry the Handsome Executive, role-playing game Cythera, top-scrolling arcade shooters Mars Rising and Deimos Rising, and the popular space-trader and adventure series Escape Velocity.
The company also produces several renowned productivity utilities, including Snapz Pro X, for screenshots and video screen captures; the WireTap series of audio utilities; and Soundboard, an audio editing utility, making the company a favorite of podcasters and other Web-centric media producers.
Senior editor Dan Moren contributed to this report.