At a Glance
Expert's Rating
Pros
Supremely easy to set up
Fast performance on its 5GHz network
Supports USB hard drives for Time Machine backups and other uses
Cons
Very slow performance on its 2.4GHz network
Only one USB port to support either a printer or a hard drive
No FTP file server or DLNA media server
Our Verdict
The AirPort Extreme is a natural fit for Mac users, but some competing routers deliver higher performance and more features.
As a Mac user, why would you ever consider buying a high-end router other than Apple's AirPort Extreme? Easy, because some non-Apple-specific routers cost less, offer more features, and deliver better performance. When I pitted the AirPort Extreme against the highly rated Asus RT-N66U, the Asus boxed its ears on most of the benchmarks I ran.
But benchmark performance isn't everything; you'll also want to consider the experience of installing and using a non-Apple device. Apple's "think different" concept isn't just advertising copy. So in addition to performance, I'll also discuss the feature sets offered on each router.
Features
Before we dive into the benchmarking numbers, let's examine the features of each router. The AirPort Extreme and the RT-N66U are both based on the tried-and-true IEEE 802.11n wireless networking standard, and both routers have 3-by-3 antenna arrays to support send-and-receive rates up to 450 megabits per second (mbps).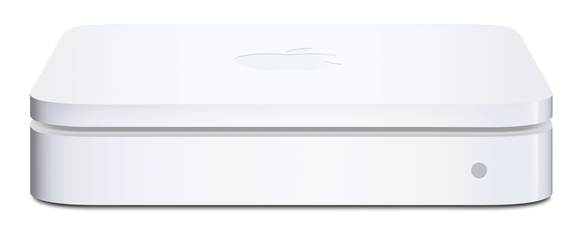 Note that 450 mbps is a link rate that doesn't take into account protocol overhead, range, or many other factors. You can expect the real-world performance for both routers to be significantly lower than that. I've found routers based on the draft 802.11ac standard to be faster and to offer better range than 802.11n routers, but the IEEE won't officially ratify that standard until 2014. Apple doesn't offer an 802.11ac router today, and none of its current computers have 802.11ac network adapters onboard.
The Apple and Asus routers both have gigabit Ethernet switches for supporting hardwired network connections, but Apple's switch provides only three ports to Asus's four. If you need more ports, you can easily connect an inexpensive Ethernet switch to either product (there are consumer models offering anywhere from four to 24 ports). But the AirPort Extreme has only one USB 2.0 port, so it can share either a printer or a storage device over your network, but not both (unless you plug in a USB hub). The RT-N66U has two USB 2.0 ports, so it can share both a printer and a hard drive at the same time without needing a hub.

Both routers provide parental controls, to shield your kids from the seamier side of the web; guest networks, to permit your guests to access the Internet without granting them access to your network; and robust wireless security, up to WPA2 Enterprise.
If you're looking to stream media over your network, both routers are compatible with Apple's AirPlay service. The Asus router, however, currently does not support Apple's Time Machine technology for client PC backups; but a company representative tells me that feature will be offered via a firmware update early in Q3. Some other non-Apple routers—including Netgear's Nexia line, which are available with 1- or 2TB internal hard drives—already support Time Machine.
Asus does offer several other features that aren't available, at least not out of the box, with the AirPort Extreme. Among them are a built-in FTP server, for sharing the contents of an attached hard drive over your Internet connection; and a DLNA server, to make media streaming easy with devices that don't support Apple's AirPlay. DLNA (the acronym stands for Digital Living Network Alliance) is rapidly becoming ubiquitous in the consumer electronics industry.
Installation and setup
Some will dismiss this observation as needlessly picayune, but I hate wall warts: They inevitably hog more than one spot on an outlet strip, surge suppressor, or the wall. So I appreciate that Apple uses an in-line power supply and provides a power cable that stretches a full 16 feet. Asus uses a very small wall wart on an eight-foot cable, but depending on the orientation of the outlet, it can still block an adjacent receptacle.
Both routers are easy to set up, but Apple edges out a win on this score. My Mac's AirPort utility automatically popped up when I turned on the router, named my new wireless network and the AirPort Extreme after my MacBook Pro, and prompted me to produce a password.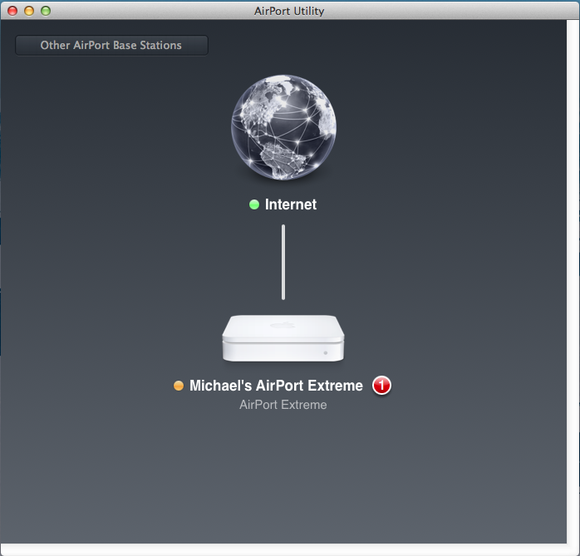 The AirPort Utility also makes it very easy to update the router's firmware. Asus has installation utilities for Windows, but not the Mac, so you must dial into the router's IP address and deal with its limited graphical user interface in order to make configuration changes and update its firmware. It's not that the RT-N66U is difficult to install or configure, it's just that the AirPort Extreme is so much easier to set up if you're using a Mac.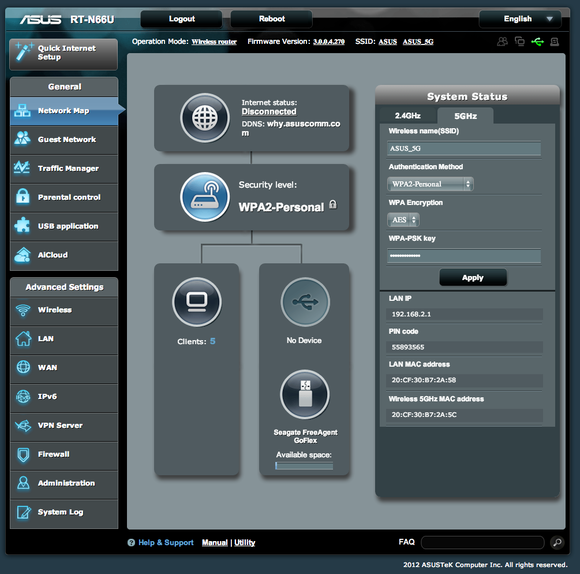 Wireless Performance
One reason that Asus's router performs better than Apple's over long distance is that the RT-N66U's three adjustable antennas are mounted outside the device, where the AirPort Extreme's antennas are hidden inside. The Asus router can also be mounted to a vertical stand, where the AirPort Extreme is designed to rest flat. Apple's design decisions help its product blend into a home's décor, where Asus's augment its product's performance. You can also remove and upgrade the RT-N66U's antennas.
Both routers are dual-band models, meaning they can operate networks on both the 2.4- and the 5GHz frequency bands. Each Wi-Fi radio channel provides 20MHz of bandwidth, so by bonding two channels, a router can deliver up to 40MHz of bandwidth on each frequency band. Apple does not permit the AirPort Extreme to engage in channel bonding on the 2.4GHz frequency band. This is a very neighbor-friendly policy, because only three channels in this band—channels 1, 6, and 11—don't overlap. A router engaging in 2.4GHz channel bonding can hog more than its share of bandwidth and will likely interfere with other 2.4GHz routers operating nearby.
Most other routers ship with 2.4GHz channel bonding turned off, but they allow the user to turn it on. A well-behaved router—such as the RT-N66U—will automatically shut down 2.4GHz channel bonding if the router detects another 2.4GHz router operating in close proximity. I activated 2.4GHz channel bonding on the Asus for my benchmarks.
To evaluate each router's performance, I installed Access Agility's WiFiPerf on an iMac (acting as a server) and on a late 2011 MacBook Pro (acting as a client) and measured TCP throughput across the wireless network first and then the wired network. The model of the MacBook Pro is important, because not all models have a Wi-Fi client adapter with a 3-by-3 antenna array. If you'd like to benchmark your own network, WiFiPerf costs $4.99, but one license is valid for both the server and the client.
Since Apple doesn't give you a choice about channel bonding on the 2.4GHz band, the AirPort Extreme underperforms on this score. (Lest you think I'm a beastly neighbor, know that I live on a 10-acre parcel of land outside the city limits, so neighboring Wi-Fi networks aren't close enough for me to trample on.) The difference between the two routers was just 12 percent when the client was in the same room as the router, separated by nine feet of air.
But the Asus was more than three times faster when I moved the client to my home theater. I should mention that my home theater is a room-within-a-room design with independent sets of 2-by-4 framing separated by 18 inches of fiberglass insulation, and three layers of drywall instead of two (one sheet on the outside walls and two sheets on the inside walls). I had it built that way for acoustic isolation, but most routers have a difficult time penetrating its unsually thick walls and ceiling. It might take a while for the AirPort Extreme to transfer files to a client in that room, but it shouldn't have a problem streaming high-definition videos there, because it was able to maintain TCP throughput of 31.4 mbps.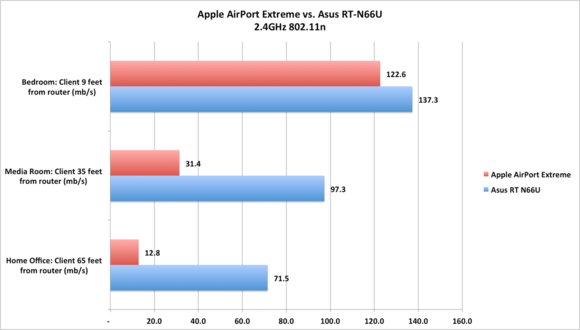 The AirPort Extreme's 2.4GHz performance went off a cliff when I moved the client into my home office, however, which is 65 feet from the router and separated by three interior walls and one exterior wall (all of which are insulated). Throughput of 12.8 mbps would not sufficient to stream HD video to the client in that location. The Asus, which delivered TCP throughput of 71.5 mbps, wouldn't have a problem with that task.
The 5GHz frequency band is much less crowded, and it has many more non-overlapping channels. Both routers automatically engage in channel bonding there. But 5GHz radio waves don't travel nearly as far as their 2.4GHz counterparts, and they're much more susceptible to being blocked by obstacles such as walls. If you're looking to stream music and video, you'll likely have a better experience using a 5GHz network than you will with a 2.4GHz network—provided, of course, your client can connect to that 5GHz network.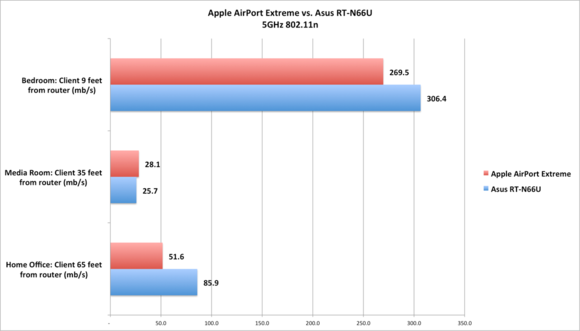 On this benchmark, the Asus router delivered 14 percent faster throughput on its 5GHz network than the Apple router when the client was in the bedroom, and it was 66 percent faster when the client was furthest from the router in my home office. Interestingly enough, the AirPort Extreme was nearly 10 percent faster than the RT-N66U when the client was in my home theater.
Hardwired Performance
The gigabit Ethernet switches on both routers delivered about the same performance: 933 mbps. Since I wanted to measure each router's ability to read and write files from an attached USB hard drive, I used a hardwired Ethernet connection between the iMac and the router.
But I was not able to make a—pardon the expression—apples-to-apples comparison of each router's performance of these tasks, because the AirPort Extreme recognizes only hard drives formatted as HFS+, and the RT-N66U currently recognizes only drives formatted as FAT16, FAT32, EXT2, EXT3, or NTFS. So for this test, I first formatted a 512GB Seagate GoFlex drive as HFS+ and benchmarked it with the Apple router; and then I reformatted the drive as NTFS and benchmarked it with the Asus router.
In each case, I timed with a stopwatch how long it took to copy a single 4.38GB file (the movie From Dusk 'til Dawn, ripped from DVD and encoded as an MKV file) from the drive to the iMac. I then repeated this read test with a 648MB collection of small files and folders (digital photos, short videos, executables, and so on). I then performed a write test, copying the same files from the iMac back to the hard drive attached to the routers.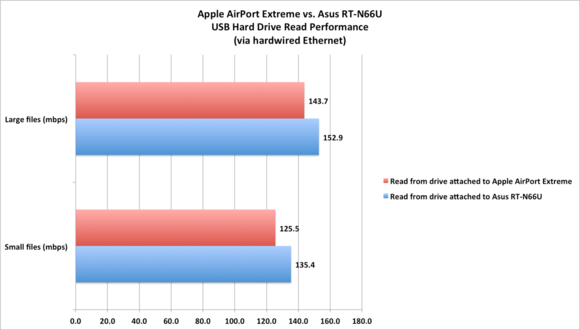 The Asus router performed slightly faster when reading both sets of files over the network, but the Apple router was considerably faster writing both sets of files.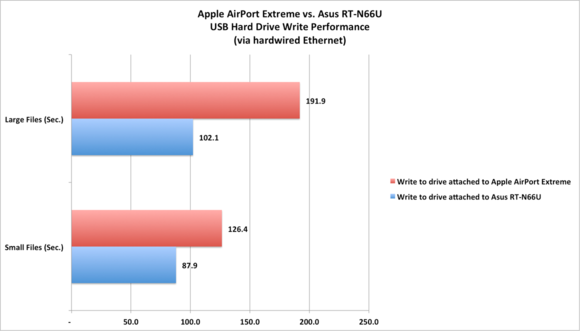 Which router should a Mac user buy?
In addition to the differences in features between Apple and non-Apple routers, you should consider the prospect of dealing with two tech-support resources should you run into a problem. All too often, one company will blame problems you might on the other's equipment. There's also the fact that many non-Apple routers don't work with Apple's Time Machine backup service, even though every high-end router has at least one USB port to support an external hard drive these days.
In terms of performance, I'd pick the Asus RT-N66U all day long. It delivers substantially higher performance on the 2.4GHz frequency band, much better range on both the 2.4- and 5GHz frequency bands, it offers a number of features the AirPort Extreme does not, and it's street-priced $10 less than the AirPort Extreme.
The absence of Time Machine support doesn't bother me, because I don't rely on router-attached storage. I use a dedicated NAS box, because it delivers much higher performance, several times more capacity, and even more features. But if you intend to make use of a hard drive plugged into your router's USB port, or if you want Time Machine support, be sure to pick a router that supports it. As I mentioned earlier, there are non-Apple routers delivering those features today, and Asus plans to offer it with the RT-N66U in the near future.
No one will laugh at you if you decide to stick with Apple for your networking needs, but you won't kick yourself for buying a non-Apple router, either.