Trot back to the 16th century and corner famed prognosticating monk Nostradamus, and it's quite likely that when posed the question: "Will those living in the year 2013 be able to call up any media programming they like from a single box?" he'd respond with an enthusiastic "Mais oui!"
Sadly, we know only too well where this one sits in the cleric's win/loss column. Progress has been made, via cable and satellite services that deliver a trillion channels plus on-demand programming, as well as set-top boxes that have access to online music and video services. But the ultimate goal—watching exactly what you want to watch when you want to watch it—remains elusive.
In search of a solution, some people have turned to the most powerful media device in their home—their computer. Not only can it play locally stored music, video, and slideshows, but it can also bring you any media found on the Internet, including streaming TV programming, movies, and music.
But sitting in front of a computer monitor—regardless of its resolution—can be limiting. It makes for a less-than-satisfying group-viewing experience, and it's hard to shake the feeling that you're, well, sitting in front of a computer. What many of us want is a device as intelligent as a computer but one that's at home in the living room, attached to a big-screen TV. Turns out that Apple produces a device fitting that exact bill: the Mac mini.
Small, not obscenely expensive, and capable of accessing media locally as well as online, the Mac mini has a lot going for it. But is it the perfect solution for those anxious to cut the media cord? I spent a month with one to find out.
About the box
I chose the $599 base-model Mac mini for my media experiment, largely based on its price and performance. That mini includes a 2.5 GHz dual-core Intel Core i5 processor, 4GB of memory, a 500GB hard drive, and the Intel HD Graphics 4000 chipset built into the motherboard. For another $200 you can purchase a Mac mini with a i7 processor and a 1TB hard drive. I chose to save that $200 because the base-model's processor is fast enough for a media server, and because, while storage is important for this kind of use, an external hard drive offers more space for less money.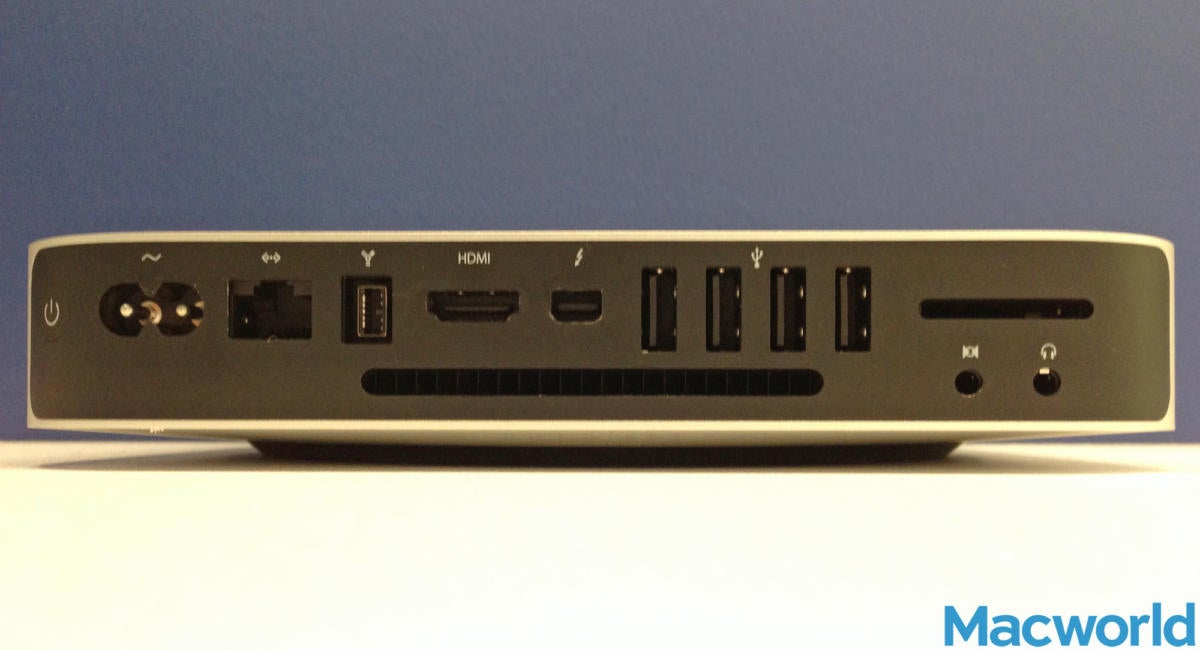 Today's Mac mini offers other advantages as a media server. It sports an HDMI port, which allows you to jack the computer directly into your TV or HDMI-compatible AV receiver. It includes an SDXC card slot for directly accessing the pictures stored on a camera's memory card. Unlike most of today's Macs it still retains a FireWire 800 port (though it also has a Thunderbolt port). It includes four USB 3 ports for plugging in additional storage devices and media peripherals. The mini has an IR receiver and comes with Apple's remote, so it can be controlled from the couch. It carries a gigabit ethernet port, for when wireless isn't fast enough. And it supports digital audio in and out.
Dealing with discs
What the mini doesn't have—and hasn't had for a couple of iterations—is a removable media drive. If you still depend on DVDs and CDs then you may be annoyed that there's no slot in the front of the mini for your discs. However, external USB removable media drives are inexpensive and they operate just like an internal drive—allowing you to play movies and install disc-based software. You can find such drives for around $30 that are every bit as good as Apple's $79 USB SuperDrive.
Those drives do not, however, play Blu-ray discs, a technology that Apple has never supported. Although you can add an external Blu-ray player for under $100, and solid software is available for burning data to these discs, the software necessary to play Blu-ray movies isn't terribly good. In this instance you're better off using a separate Blu-ray player that's plugged directly into your TV or AV receiver. (Or glomming on to a copy of the digital download that's often offered with today's Blu-ray discs and adding that copy to the mini's iTunes library.)
Scarcity of storage
Media—movies and TV shows, in particular—can take up a lot of storage space. Your average HD movie purchased from the iTunes Store consumes 3GB of storage, while hour-long HD TV episodes come in at just under 2GB. Add reasonably robust music and photo libraries, and the mini's 500GB of storage would be used up in next to no time.
One way to work around this is to leave your purchases in the cloud and download or stream just that content that you wish to view or listen to (using iTunes in the Cloud for video and iTunes Match for music). When you're finished with it, delete it. While this provides you with more storage space, you have to wait while the content downloads or streams plus, if you have a data cap on your Internet usage, this can cause you to burn through that cap before the month is out.
Because you'll want to save that bandwidth for things like Netflix, Pandora, HBO Go, Hulu, YouTube, and Amazon Instant Video, you're better off attaching an external hard drive to the mini and storing your personal media on it. Shop around and you can find 2TB USB hard drives for a little over $100. Once you've attached that hard drive to your Mac, it's a simple matter to designate it as iTunes' storage destination.
The control conundrum
While a computer can be a terrific media player, one element has traditionally stood in the way of every media rack bearing something like the Mac mini: Convenient control. We can manipulate AV receivers, disc players, high-definition TVs, and game consoles without shifting our keisters from the couch, but when we think of controlling a computer we all-too-often turn to a keyboard and a mouse or trackpad.
Before these were commonly available in wireless form, incorporating a computer into a media cabinet screamed "kludge!" It forced you off the couch and to the floor where you'd tap away on tethered input devices to locate the media you wanted.
You can, of course, control some media applications with the $19 Apple Remote, but it doesn't allow you to manage the Mac's entire interface. A better option is Bluetooth input devices—keyboards, mice, and trackpads.
What makes such controls even more acceptable is something that allows you to gang together an Apple Wireless Keyboard ($69) and Magic Trackpad (also $69) into a single unit. If you're handy in the workshop, you can probably cobble together a controller tray, but for $30, Twelve South provides the more elegant MagicWand, a rounded half-cylinder (not shown in the image below—it's under the cylindrical top edge of the keyboard and trackpad) that accommodates the battery ends of these Apple wireless devices. When placed snugly together, the two input devices become one unit, which can be used on your lap.
Turning to iOS
If these devices still seem too bulky, you may instead choose to use your iPhone, iPod touch, or iPad as a controller. One of a variety of apps can turn your iOS device into both a wireless keyboard and trackpad.
For example, both Evan Schoenberg's $5 Rowmote Pro and Edovia's $5 TouchPad turn your iOS device into a virtual keyboard and trackpad. Paired with the mini, these apps let you control its interface much as you would with a real wireless keyboard and trackpad.
If instead you want to tap on your iPad as if it was the Mac's screen, you can choose a VNC app such as the $25 iTeleport, $10 Splashtop Remote Desktop, or $20 Screens. These apps mirror the Mac's interface to your iOS device and allow you to control your computer remotely. Each of them requires that you install and run free server software on the Mac, which allows the iOS client to make the connection and project your Mac's screen to your iOS device.
Add a media player
Remote control is certainly one major challenge of using a computer as a media device. The other is making that control family-friendly. While you, as the techie of the clan, may feel perfectly at home with the system you've set up, other family members won't touch it because they find it too complicated. For this reason you should simplify the interface as much as possible.
At one time you could do this with Apple's Front Row technology, which allowed you to impose an Apple TV-like interface on your Mac. While it did make browsing media easier, it was almost entirely limited to the media in your iTunes library. Apple appeared to have no interest in opening it up to streaming media from other companies.
Thankfully, third-party developers are more open-minded about this kind of thing. Currently there are a couple of media-center applications that you can use to control not only your locally stored music, images, and videos, but also Internet-based media streams: XBMC and Plex.
XBMC is an open-source media player and entertainment hub. Plex is an application and interface built on XBMC's technology. Of the two, I find Plex easier to use thanks to its slick interface and the ease with which you can add not only local media, but also Internet streaming services such as Hulu, The Daily Show, PBS, YouTube, Vimeo, Netflix, Amazon Instant Video, Pandora, Shoutcast, and Spotify.
Using Plex with your local media means configuring the separate Plex Media Server. This is a free application and one that isn't difficult to configure. You choose the kind of media you'd like to add and then tell Plex where it's stored. It will make sure that it appears in the Plex player.
Once you've added the streaming media channels you desire as well as the music, movies, and images stored on your Mac (or a local network server), you can navigate to them easily using the Apple Remote, a keyboard, or one of the iOS apps I mentioned. The Plex interface consumes the entire screen, making it seem like you're working with a dedicated media player rather than a computer.
Regrettably, Plex can't play all the media you might want to access. For example, it won't play copy-protected media such as the movies and TV shows you've purchased from the iTunes Store. It also lacks on-demand content such as HBO Go or a cable or satellite service's catalog of streaming movies and TV shows that can be played in a computer's Web browser.
Simplifying the interface
If you want to play such media, you must leave Plex, which can cause a problem for the family because they're now confronted with a computer interface, which less-savvy users may find confounding. There are some simple (and not-so-simple) things you can do to make the experience easier for them.
The first is to place aliases of applications and sites they'll want to visit on the desktop. For example, you might hold down theandkeys and drag iTunes from the Applications folder to the desktop, thus creating an alias. If you wish to watch HBO Go, launch Safari, travel to www.hbogo.com, and then drag the icon from the address field to the desktop to create a Web location file that, when double-clicked, launches your browser and takes you directly to that site. Alternatively you can create a folder full of aliases and drag them to the dock. Instruct your loved ones to click on this folder and then click on the site or application they wish to launch.
(Some readers will wonder why you'd need to use HBO Go in a browser when you have to be an HBO subscriber in order to access HBO Go and therefore can watch it on your cable or satellite receiver. The sad fact is that not all cable and satellite providers offer HBO Go. DirecTV, for example, does carry some HBO content on demand, but not the complete HBO Go service. Those people must use the iOS app or a Web browser to enjoy this content.)
Automating the one-button approach
You can make this process even easier by providing one-button access to applications and websites. The means for doing this is Automator. This is how you'd do it with the HBO Go website.
Launch Automator, and in the workflow chooser that appears, select Service. Configure the pop-up menus at the top of the workflow to read Service receives no input in any application. Now drag the Web location file for HBO Go to the workflow area. A Get Specified Finder Items action will be added that contains the Web location file. Select the Files & Folders library, and from it drag the Open Finder Items action to the workflow area. Make sure that its pop-up menu reads Open with default application.
To test the workflow, just click the Run button at the top of the window. Safari will launch and take you to HBO Go. If you've already visited, signed in, and had Safari remember your password, you'll still need to click Sign In and enter the email address for the cable or satellite service you use; the site requires that you sign in each time you visit.
Save and name the service (HBO Go has a certain ring to it). Launch System Preferences, select Keyboard, click the Keyboard Shortcuts tab, and select Services. Your HBO Go service will appear near the bottom of the list under the General heading. Select it and click Add Shortcut. Now assign a keyboard shortcut to the service. You can trigger this shortcut from a wired or unwired keyboard or an iOS app.
Repeat this process for other websites you wish to make easily accessible, assigning a different keyboard shortcut for each site. Now all you and your family needs to do is to remember which keys launch the websites they want to access.
Cord finally cut?
Regrettably, far too little has changed on the content front. Television networks, large and small, cling jealously to their programming. You can't stream TV the way you can access it from a cable or satellite box. Thanks to online sports subscriptions services like MLB.TV, NBA Game Time, and NHL GameCenter, you can stream live baseball, basketball, and hockey games, but these are only out-of-market games (meaning you can't watch your home team when they're playing at home). And many other popular sports—including football, golf, and soccer—aren't consistently available. Special live events like the Oscars broadcast or election coverage are also unavailable. And premium channel content from HBO and Showtime is available only if you already have an existing subscription, which requires that cable or satellite box whose cord you're anxious to cut.
Elgato continues to offer a way to get live TV into your Mac via its $150 EyeTV Hybrid—a TV tuner on a USB stick. With this device you can both display and record unscrambled cable TV as well as digital over-the-air broadcasts (antenna required). While this solves the live events issue for many people, it doesn't grant access to the vast majority of cable programming.
Given these limitations, the Mac mini, like the Apple TV, Roku, Xbox, and countless other set-top boxes, remains a media accessory, though one more powerful than these dedicated devices. While it falls short of a cable or satellite box (complete with DVR) or true à la carte programming, it remains a worthwhile addition to the AV cabinet of the technically-inclined.