Messages for iOS is arguably the most-used app on my iPhone: I use it more than Mailbox, more than Camera+, more than Google Maps, and definitely more than Phone. And I'm probably not alone here. Text messaging is an integral part of the mobile device experience, and Messages—specifically its integration with iMessage—makes it a joy to use.
But the launch of Facebook Home for select Android devices made me realize that the way Messages works is a little archaic. Facebook Home's messaging system, called Chat Heads, handles incoming messages with ease. Instead of forcing you to close whatever app you're currently working on to launch a separate app to reply to a message, a small bubble appears as an overlay to what you're working on. Home users are never forced to close one app to launch another, just to send or reply to a text message.
Chat Heads was just released with the latest Facebook for iOS update, so iOS users will have a chance to use this messaging feature from within the Facebook app itself. Chat Heads isn't perfect—I'm certainly not saying that Messages needs to look like Chat Heads in the next version of iOS—but re-evaluating the way Messages functions would be a step in the right direction.
In the meantime, I decided to take three third-party text-messaging apps for a run to see if there is something I like using more than Messages—although Apple's restrictions on SMS and messaging prevent us from ditching the standard app altogether. These three apps function in a similar manner: Messages are sent over Wi-Fi or data instead of as an SMS, so they don't require a monthly plan, per-message fee, or the use of a separate phone number (like Google Voice). As it turns out, the answer is complicated.
WhatsApp: for full-featured messaging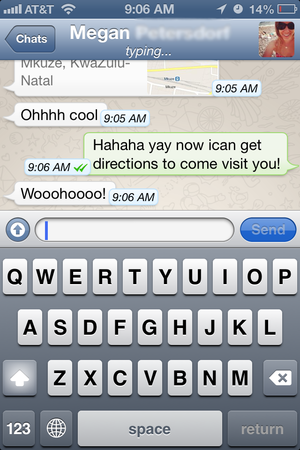 My favorite of the bunch is an app called WhatsApp Messenger. What I like about WhatsApp is that it sends messages over Wi-Fi and data, much like iMessage does when messaging from Apple device to Apple device. That way, I can send text-like mobile messages to friends with any device or any carrier without it eating up my messages limit set by my carrier plan. I can also easily send and receive messages with friends who live outside of the United States.
When you first install WhatsApp, the app will search through your Contacts (if you allow it) to find other WhatsApp users. This is important, as you can only send messages from WhatsApp to WhatsApp—however the app is available for iOS, Android, BlackBerry, and Windows Phone 8, so plenty of your contacts have the app available to them.
WhatsApp has five main tabs. The first, Favorites, is a list of your stored Contacts who also have a WhatsApp account, so you know who you can contact using the app. Next is Status, which lets you alert your contacts on whether or not it's a good time to chat. Contacts links to your entire contacts list stored in your iPhone; you can tap a contact and send them a WhatsApp invitation if you'd like to encourage more contacts to try the service.
Chats shows a log of all of your current chats, and it's also the place to go if you want to send a new message. Tap a conversation to continue chatting in that thread, or start a new message by tapping the box in the top-right corner. You can also broadcast a message to all of your WhatsApp contacts, or create a group chat.
Settings lets you configure your WhatsApp profile with an image and a username. It also contains settings for font size, message timestamps, how to handle incoming media, blocking users, and setting up a wallpaper.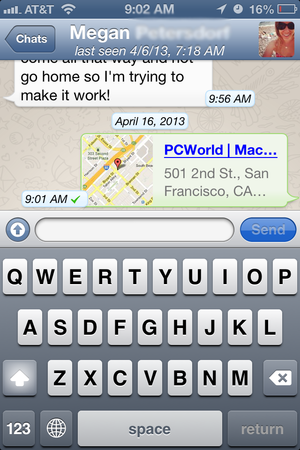 Messaging itself is a pleasant experience. I enabled Push Notifications, so I get a ping whenever I have an incoming WhatsApp message. Messages have a similar layout to iMessages, with a staggering back-and-forth between each exchange. Your messages are on the right, while those of your chat partner are on the left. When you successfully send a message, you'll see a small checkmark next to its chat bubble; when you see a second checkmark, it indicates that it has been received and read by your friend on the other side. If you're actively having a conversation, you can see when the other person is typing.
WhatsApp handles multimedia messages really smoothly. You can capture a new photo or video to send (or pull one from your Camera Reel), send an audio note, share a contact, or share location. Location sharing is really handy for organizing a meet-up with friends.
I love the data/Wi-Fi only approach to WhatsApp, but of course that leaves me in a sticky spot when I'm in a place without a connection. I only wish there was a way to integrate the WhatsApp platform and approach with Messages as a whole.
Kik: just the basics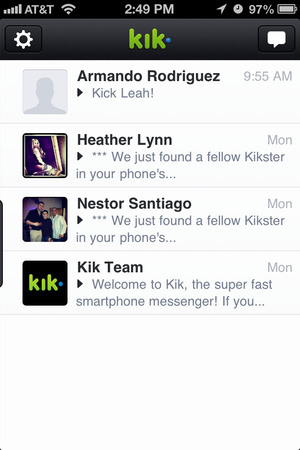 A close second is Kik Messenger, a messaging platform that lets you send notes to other Kik users. It's not as full-featured as WhatsApp, but is available on the same platforms: iOS, Android, Windows Phone 8, and BlackBerry.
Kik requires your name, email address, and phone number, along with a username and password to get started. (Don't worry—your phone number and email address are kept private by default.) Upon install, Kik searches through your iPhone's contacts to find other Kik users for you to message with.
The main Kik landing page acts as a sort of inbox. It keeps a log of current chats, notifications of your stored Contacts joining Kik, and messages from the Kik Team with info about the app. Tap the speech bubble in the top-right corner to start a new chat or search for other users, or tap an existing conversation to continue the thread.
The chat experience is pretty smooth. Kik stores your entire conversation thread, with your messages on the right and your partner's responses on the left. Like WhatsApp, when you send a message successfully, a small checkmark appears next to your speech bubble; when your friend reads it, a small letter "R" appears next to the check mark.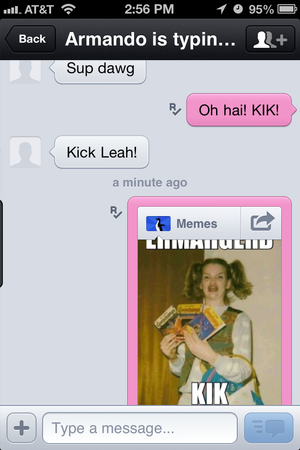 Sending multimedia messages is quick and painless as well. Tap the plus sign next to the text box to access your Camera Roll or to take a new photo. Kik also has a small library of emoticons, if that's something you're interested in, and you don't have the iOS emoji keyboard installed.
But Kik's most unique offering is its interactive extra features. If you slide to the left from your main inbox and tap More, you can access a number of additional attachments, like YouTube videos, Reddit Pics, sketches, and memes.
Kik has a solid offering of customizable settings. Here, you can block users from contacting you, pick your Notification preferences, and set the color of your speech bubbles.
Snapchat: Blink and you'll miss it
Snapchat is all about picture messaging, and as such, I wouldn't really consider it as an iMessage replacement. However, this widely popular app is fun to use and rapidly growing in App Store downloads, so we shouldn't count it out.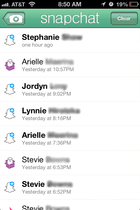 Like the others, Snapchat searches through your contacts to find other Snapchat users, who you can then add to your Friends list one-by-one. To send a message, just launch the app—it automatically loads with the camera turned on. Take a photo, then add a caption, scribble on it, and set a timer between one and ten seconds. Tap the check box next to the timer control to save the photo to your Camera Reel; there's no way to pull photos from your Camera Reel to send as a Snap, but you can save photos taken within the app. Hit send, and select a contact. Snaps can be either photos or videos.
To make the most of Snapchat, you'll want to enable Push Notifications. To view an incoming Snap, tap the Push Notification to launch the app, and then tap the inbox icon in the bottom left corner. When you have a new message, this is highlighted in a bright pink. New Snaps will be at the very top of your queue; Tap and hold a Snap to see the message.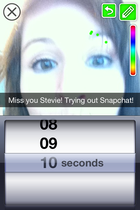 What makes Snapchat so different is that the messages self-destruct shortly after they are opened. Once a Snap is sent, that's it—you won't be able to see it again. And after the recipient has opened the Snap, he or she only has a few seconds to look at it before it disappears. The sender designates the Snap's lifespan by setting a timer. You can see a log of all past Snaps, but you won't be able to see the contents.
One important setting to make note of is "Who can send me snaps." I toggled this from Everyone to My Friends, because the thought of getting a random photo message from a stranger isn't my idea of a good time.
Final verdict
While none of these messaging services can truly replace Messages, the experience of sending platform-to-platform messages excels with WhatsApp. Chat logs are easy to view and manage, the checkmarks next to read messages provide a peace of mind, and the variety of multimedia message types is a welcome sight. The problem with these messaging services is that they're only good based on the number of people who use them—while I can use WhatsApp to message with some of my contacts, I cannot use it as my primary platform, and will never be able to under Apple's current restrictions.