In a major upgrade to its iOS apps Tuesday, Facebook emphasizes images and messages.
A central feature of Facebook's Home launcher for Android devices, which was announced April 5, is Chat Heads. On Tuesday iOS users got access to the new and improved way to view Facebook messages.
They also will notice the Facebook News Feed on both iPhones and iPads, shown above, mimics the image-heavy emphasis of the desktop version of News Feed released last month.
Chat Heads are small bubbles that pop up with your friends' Facebook profile photos when they send you messages. Chat Heads are visible on the home screen and in any app on Android devices with Facebook Home installed.
However, that isn't the case for iOS users, who will see Chat Heads only when the Facebook or Facebook Messenger apps are open.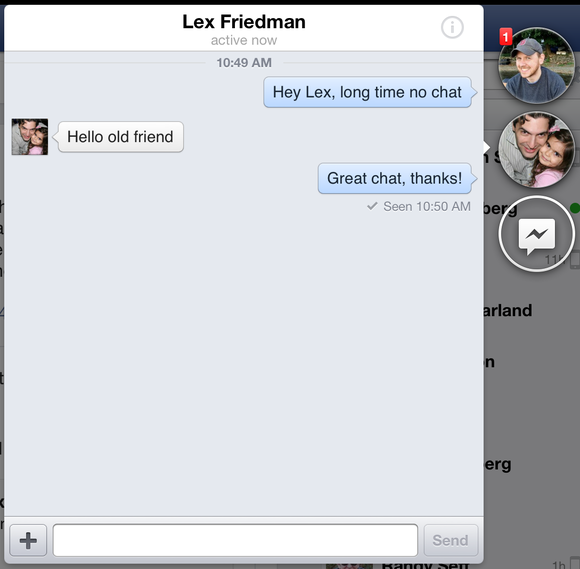 The new messaging feature is part of Tuesday's upgrades to Facebook's iPad and iPhone apps. Chat Heads first debuted last week on the HTC First, the only phone designed for Facebook Home out of the box. When I used Facebook Home on the First, I found Chat Heads especially useful because you can read messages or throw them away while multitasking with other apps.
Not as good as Android iteration
When I took Facebook 6.0 for a test drive, I found that Chat Heads is, indeed, far more convenient for Android users.
In the iOS version, you can only view Chat Heads while messaging within the Facebook app. They're a visually appealing way to receive a message, popping up on the top bar of the app on both the iPad and iPhone. But, as soon as you exit the iOS app, Chat Heads are gone, and it's impossible to tell if someone has messaged you.
The iOS upgrades also brought Stickers to Facebook messages. Stickers are emoji icons that turn your text-based smiley into a happy yellow face. Your mileage may vary as to whether Stickers are useful or important. I could take them or leave them. Android users will soon see them, too.
News Feed overhaul
Messages aren't the only feature to get an overhaul. The News Feed on both iPhones and iPads now mimics the image-heavy emphasis of the desktop version of News Feed released last month, and creates the " personalized newspaper" experience that Facebook CEO Mark Zuckerberg touted when showcasing the design.
The emphasis on images, articles, and places is a more visually appealing way to view the activity of your Facebook friends.