At a Glance
Expert's Rating
Pros
USB 3.0 port
Good overall performance
Cons
Biometric feature adds considerably to the price tag
Our Verdict
The Aegis Bio 3.0 is a hard drive meant for users who want to make sure that their files remain secure, and are willing to pay for it.
Apricorn's Aegis Bio 3.0 pairs solid performance with enhanced security features to create a nice, all-around external hard drive. The Aegis Bio harnesses biometrics to make sure you (and only you) have access to your data.
The pocket-sized hard drive comes with a built-in fingerprint scanner than helps alleviates any worries of unapproved access to the drive. Fingerprint access might sound like a bit of a novelty, but from a security standpoint it actually makes sense; passwords can be cracked—fingerprints, not so much.
Programming a new Aegis Bio 3.0 to recognize your fingerprint is a relatively straightforward task; just plug it in and wait for the green light to start blinking, then swipe your finger and repeat. Eventually, both a green and a blue light will remain solid, meaning your fingerprint has been stored and you can begin using the drive. Apricorn says that it should take most people about six finger swipes before the drive fully recognizes it, but I had to perform 11 swipes. The Aegis Bio can store up to five different fingerprints, enabling you to allow friends, family, or coworkers access to the drive.
You can add additional fingerprints at any time, but as a sort of confirmation, you first must scan a fingerprint that is already registered with the drive. If the Aegis Bio 3.0 has five registered fingerprints and you want to remove and/or add new ones, you have to completely reset the Aegis Bio 3.0 and rescan the prints. Performing the full reset on the system will wipe it clean of all data and stored prints. Seems like a hassle, but it's actually a nice little feature that insures that your data will be safe and private even if the drive gets stolen.
After the fingerprints have been enrolled, unlocking and accessing the Aegis Bio 3.0 is a breeze with one slow swipe of your finger doing the trick—usually. Locking the drive is just as simple and is done by pressing and holding down a button located directly under the scanner.
The encrypted drive protected its data even when detached from its biometric component. To test this, I opened up the Aegis Bio in the lab, removed the actual hard drive from the case, and plugged it into an external enclosure in an attempt to bypass the finger scanning process completely. The result? I was locked out of the drive and only able to regain access by reattaching the biometric component.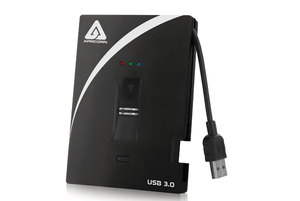 The Aegis Bio 3.0 uses power from the USB port and no extra software is needed to get the drive's biometric features up and running. Just plug it in and the 256-bit AES encrypted hard drive is good to go.
The Aegis Bio is natively formatted in NTFS, so while Windows users will face no issues using drive, Mac users will need to take a couple extra steps, either reformatting the drive or installing extra third-party software like Paragon's NTFS for Mac OS X to write to the drive. [Editor's note: PCWorld also has a review of the Aegis Bios 3.0.]
In terms of speed, the Aegis Bio is a speedy little drive. It comes with built-in USB 3.0, which makes transferring large files to and from the drive a breeze. Macworld Lab used AJA System Test to clock the Aegis Bio's write speed at 103.2 MBps and its read speed at 105.3 MBps. This beat other external drives with USB 3.0 connections that we've tested, such as the 1TB G-Technology G Drive Mobile and the 1TB Seagate Backup Plus. Motor sounds from the drive were hardly noticeable throughout the tests, and the unit remained relatively cool.
The Aegis Bio is available in three different size capacities: 500GB ($199), 700GB ($219), and 1TB ($249). It's more expensive than other portable drives—the 1TB Seagate Backup Plus can be for just over $100—but the Aegis Bio is aimed at users with security concerns.
Bottom line
The Aegis Bio really shines in the extra security and protection it provides for you and your data. The Aegis Bio is meant for users who want to make sure that their files remain secure, and are willing to pay for it.