It's easy—and cheap—to stick with the native apps that Apple installs on its iOS devices. But sometimes third-party apps are heads-and-shoulders above what's already on offer. Buzz Contacts, a $1 offering from Savvy Apps, is in that category: Simply put, it blows Apple's native Contacts app away.
When I first reviewed Buzz Contacts last year, I loved it, particularly praising the ways it makes emailing groups on the iPhone easier. But I also suggested that "for people who use their phone mainly as a phone—that is, to make voice calls—there's not much here the iPhone doesn't already offer." That's no longer true, as the app has updated its dialing function in clever ways, and now reads your habits to put your most-frequent contacts right at your fingertips.
Better contacts organization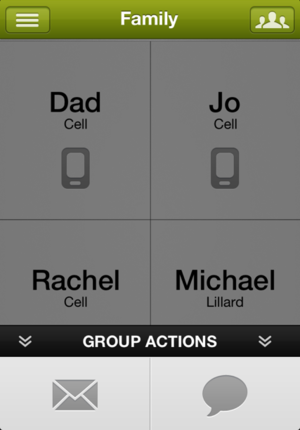 In the native Contacts app, there are two groups of people: Your favorites, and, well, everybody else. Buzz Contacts lets you organize your contacts (for phone, email, FaceTime, and SMS) into as many different kinds of groups as you wish—friends, family members, clients at specific companies, or any other preference you have. This makes it really easy send out bulk emails or SMS messages directly to an entire group, without taking time to add each name and number individually to the message.
You can't similarly do conference calls or group FaceTime chats, but it's still helpful to organize them in groups. If you remember that you need to email a client in Milwaukee, but forgot her name, she might be easy to find in the "Clients" folder of contacts you made—it's easier than scrolling through one long list of hundreds of names, the way you might in the native Contacts app. (Also helpful: Within the Groups view, contacts are displayed as large tiles—four to a page—making it easy to scan for names.)
One more aspect of this app's organizational superiority: When you add a new contact, Buzz Contacts lets you choose your primary mode of contact with that person—voice, email, SMS, or FaceTime. You're not limited to communicating with your friends through the primary mode, but it does mean that Buzz Contacts is readier to serve your desires when you decide to make contact.
Easier dialing
If you want to actually call a friend, you can use their number—same as in Contacts. However, you can also start entering their full name, or merely use the initials of their name—Buzz Contacts will narrow down your list of contacts until you get to the right one.
Similarly, Buzz Contacts is smarter about creating a type of "favorites" list for you, making a separate folder of contacts for people you call more than once.
Simpler third-party app integration
Buzz Contacts doesn't assume you'll want to use the Phone app to make phone calls—it offers options to default to several voice communication apps, including Skype, when you dial out.
Additionally, while it's difficult to start an email in Contacts and then attach a document from another app, Buzz Contacts offers integration with both the Box and Dropbox apps on your iOS device. And if you've also purchased Savvy Apps's companion scheduling app, Agenda Calendar, the two apps work in tandem to remind you when to send a particular email or schedule a certain business call.
Bottom line
There's nothing wrong with Apple's native Contacts app. But if you're in business, have a large family, communicate with a lot of people, or do that communication in a lot of ways, Buzz Contacts is the far superior choice.