Yahoo on Monday released a new version of its Yahoo app for iPhone. I'm not sure what I expected from an app called Yahoo, but I will admit that the fact that it's a news app left me feeling surprised. The updated app now integrates Summly, a technology Yahoo acquired just last month, which aims to algorithmically create summaries from lengthier text.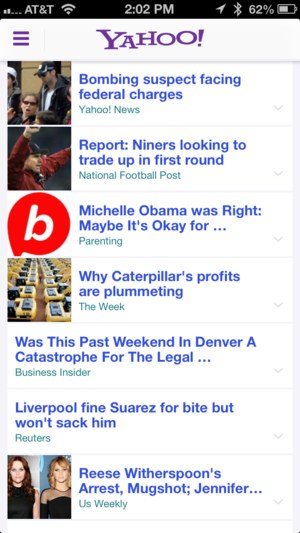 At first, though, I couldn't find any summaries anywhere. All you see when you first launch the app is a list of headlines. They're pleasant looking enough (even if the news itself isn't), and when you tap on stories, you usually see the full article. It scrolls smoothly and is easy to read, though there are no options for adjusting the font size.
In those situations where you can't see the full article, though, you don't see an algorithmically-generated summary. Instead, you see the first paragraph or two of the story, along with a link to read the rest of the article. Ironically, annoyingly, and obnoxiously, these seems to happen most often in my early testing with articles published by Yahoo on some of its less well known properties, like Shine. You're forced to make an extra tap and wait for a mobile-optimized version of the story to load in an in-app Web browser.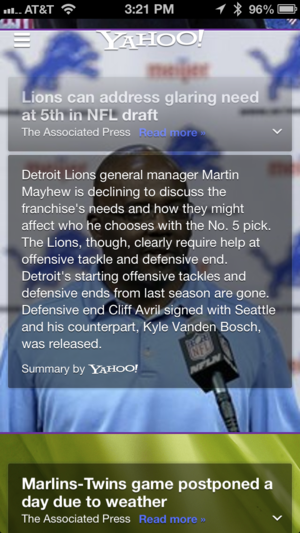 So where are those summaries, then? Turns out you need to tap on the hamburger button at the upper left of the app to expose its left-side drawer. There, you'll find a slider labeled Visual; turn it on, and the app's look transforms.
In the new look, you don't see a list of headlines—at least not one as densely packed (or quickly scannable) as the default view. Instead, you get headlines superimposed over photos related to the articles they link to. And, in many cases, summaries (labeled "Summary by Yahoo") of those articles appear, too. Some articles appear summary-free, with just a headline over the photo; it's not obvious what makes an article summary-worthy.
At the bottom of each article are several options for sharing it: Mail, Facebook, Twitter, and Safari. Though the Twitter integration leverages the built-in iOS support for that social network, the Facebook integration doesn't; it instead requires that you log into your Facebook account to grant Yahoo explicit permission to post there.
If you want to set topic preferences, in order to dictate which kinds of stories the app will show, you'll first need to log into your Yahoo account, and then grant Yahoo some permissions, and then, bizarrely, again connect to Facebook. And all of that happens in an in-app Web browser. It feels clunky.
You can also share stories from the headline view, without necessarily first having read them. I understand the appeal of such a feature, even if I don't love it. You can also delete stories from your list, though it's not entirely clear why you would do so, or what you accomplish by so doing.
Overall, though, Yahoo is a fine-looking app—albeit one that doesn't feel necessarily like a really Yahoo-ish experience. There's lots of polish: pull-to-refresh for new stories, the clever "visual" view, the smooth scrolling. It's a fine news app, and Yahoo uses good sources to populate the stories. And it may be just be its overall blandness that makes it a perfect Yahoo app: This isn't Google or Apple behind the scenes—it's friendly, neutral Yahoo.