I use Google Calendar, Apple's Calendar app, and Fantastical to manage my schedule. In general, my calendaring is in the best shape it's ever been in: My colleagues can see my free and busy times, and schedule me for meetings, and we can even reserve our office's conference rooms, all using the same system.
And yet it all feels a bit pedestrian, like I'm really just using a computerized, networked version of a paper calendar. What's missing are features that could turn my calendar into something more like a personal assistant.
Google's development of Calendar seems to have slowed—the newest item in the Calendar Google Labs tab is from October 2011—so I'm dubious about Google's ability to invest in these kinds of features. But maybe someone else could do the job?
In any event, here's my wish list for ways that the calendaring programs and servers I use could get smarter and save me time. (As a user of the three aforementioned programs and services, I realize that some of these features may be available in some apps or services. They're just not on the ones I use!)
Meeting overload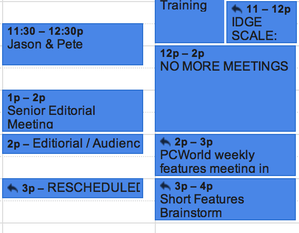 Enough is enough. Some weeks my work calendar resembles a particularly successful game of Tetris, with lots of filled blocks and very few areas of free space. If I had a personal assistant, I could tell him or her that beyond a certain point, I've just got too many meetings. It's impossible for me (and I assume most people) to be effective in their jobs if all they ever do is move from meeting to meeting. I need time to think, to walk around, and even to do things that I might define as my "real job."
Why can't calendar servers or apps be this smart? I'd love a feature that allowed me to set a maximum meeting load, after which my entire day would become blocked off as busy and all future meeting requests would be declined. Right now, I do this manually: On huge meeting days I'll just start filling in the gaps with events called (with a tip of the hat to the Scarlet Witch) No More Meetings.
It works, sort of, but this seems like exactly the sort of thing that computers should be able to do: Count up my meetings, and if they total above a certain amount, block off the rest of my time. Store's closed. Find another day.
As a smaller adjunct to this concept, how about refusing to schedule long blocks of meetings without breaks? Three straight hours of meetings can be tough if you drank a cup of tea just before going into the first one. Or what about intelligently reserving lunch time, so that you always have at least half an hour of free time between the hours of 11:30 and 2? (Then again, perhaps computers just aren't very sympathetic to our needs for sustenance.)
Travel time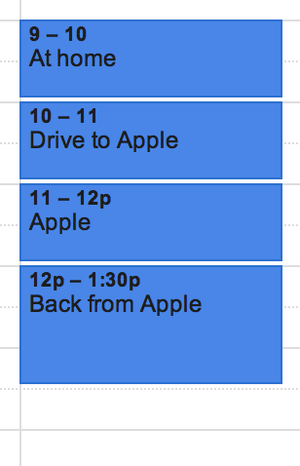 Shouldn't calendars understand travel time? This is hardly an original idea—there is, sadly, a thread on Google's product forums about the idea that was started in 2009.
Let's say I have to drive an hour to some location where there's an hourlong event at noon, then drive back to the office. I don't want to create a single event that lasts from 11 to 2, because I need to remember the actual time of the event. If it starts at noon then that's when I need to be there. But I can't just create an event from noon to 1 p.m., or someone will schedule a meeting with me at 1 p.m., while I'm still an hour away.
Why can't a calendar event include travel time, and show it as unavailable time on my schedule? Even better, imagine that your calendar knows where you work and has access to a mapping service (Google has one of those, right?). At that point, shouldn't the calendar be able to guess about travel time so long as I enter in the location of my remote event?
Do you know where I am?

Most of the devices we carry are capable of figuring out where they're physically located. Shouldn't calendars take advantage of that information?
Take my previous scenario, the off-site event. If my phone knows where and when that event takes place, shouldn't it be able to warn me when I need to leave to get there on time? Once again, a company that has access to maps and traffic data might be able to make this happen.
Knowing about your location can also be helpful if you're nowhere near where you're supposed to be. Imagine an option that would email your fellow meeting attendees when it becomes obvious that you're not going to be able to get there in time.
Finally, how about an option to muzzle audible alerts when your mobile device knows you're in a meeting? Sort of like Apple's Do Not Disturb feature, but tied to calendar events. It might be a better option than just leaving your phone on vibrate the whole time.
Why is this a surprise?
When I asked my Twitter followers for suggestions for this article, one set of requests stood out: Can't these fancy computers learn from your prior events?
For example, if your Laundry event is always three hours long, wouldn't it be nice if your calendar app assumed that a new event called Laundry lasted three hours by default? If you create an event that mentions the name of one of your kids, shouldn't the calendar be able to intuit that you want to place that event on the Kids calendar? If you create a haircut appointment for a Saturday, shouldn't the calendar intuit that it should go on your personal calendar, not your work one? If you create an event that always has an alarm 30 minutes prior, shouldn't the calendar figure out that you want that alarm set for every subsequent event you create with the same name?
Many computer calendars also can't match humans when it comes to processing the concept of certain repeating events. If you want to repeat an event every day or week, or even every few days, you're in good shape. But if there's a meeting that's held on the second Tuesday of every month? Smoke will come out of the calendar's ears as if Captain Kirk exposed it to an impossible logical contradiction.
You are not made of paper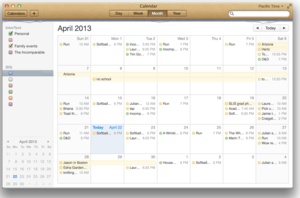 I don't want to dip into the skeuomorphism wars. But in most cases, our adherence to old paper calendars as a metaphor is a mistake. I'm not just talking about the stitched leather on Apple's Calendar app; I'm talking about the idea of a monthly view that contains the current calendar month, even if you're already at the end of it.
As described by Marco Arment, calendars that show you an entire week or month are wasting space—and the closer you get to the end of the week or month, the more space it wastes. Can't we break free of this metaphor and let time and space be a little more flexible? As Marco puts it, in most cases calendar users don't care about the past, they care a lot about the present, and they care less (but still care) about future events.
The day/week/month calendar metaphors prevent other, more useful views—such as a detailed look at today's events, while also providing a gloss on future commitments.
Turn the page
At the risk of sounding like an aspirant for Andy Rooney's old job, computer calendars could be a lot better. These are a few ideas from me and from the good people of Twitter. I have no doubt there are many more out there. What are yours?
[Thanks to Twitter users GadgetGav, Kroley, Tayster, EbE404, johanejohansson, benfysh, and tofias for their suggestions.]