You've thought long and hard about it and have decided to make the switch from your Windows PC to a Mac. The hard part's over, right? You just traipse down to a promising-looking electronics boutique, slap down your credit card, learn the secret handshake, and you're a Mac owner.
Not exactly. There are still questions to be answered. Where are Macs sold? Why would you choose one store or another? Should you skip retail stores altogether and purchase the thing online? Is it possible to purchase an older model for less money? And are post-purchase protection plans worth the money? Read on for the answers.
Where can you buy a Mac?
Unlike some PCs you may have purchased, Macs aren't sold everywhere. Apple maintains tight control over who can sell its products—increasingly so since the Apple retail stores were launched.
The source: Speaking of Apple retail stores, there are hundreds of them. To find the one nearest you, visit Apple's Retail Store page. If you don't have one within easy driving distance, you can shop for your Mac at Apple's online store.
Third-party retailers: Apple isn't your only choice. You can buy a Mac in person at a Best Buy store and online at such retailers as Amazon.com, MacConnection, and MacMall. Also, Apple has established a network of Apple Authorized Dealers. These are stores that are granted permission to sell and service Apple products. Unlike Apple's own stores, which rarely offer discounts, third-party retailers will sometimes sell Macs for less, though you'll never find them offered at a steep discount.
Government and educational discounts: Apple does offer discounts for government agencies, military personnel, and educational use. And the company usually offers a "Back to School" deal where you can get something like a free iPod touch when you purchase a new Mac. (These deals are usually offered in the late spring or early summer.)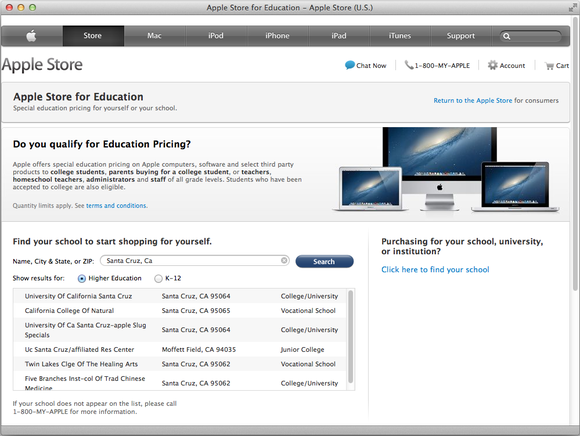 Is it better to buy directly from Apple?
Like any smart retailer, Apple wants the lion's share of the profit when selling a Mac, and so it provides itself perks that it doesn't share with other retailers. To begin with, when you order online, you can custom configure your Mac—add more memory or storage, for example, or upgrade the processor. You can also choose to sign up for Apple's One to One service, where for $99 a year (extendable to three years total), Apple will not only transfer data from an old Mac, but also offer training on a drop-in basis at an Apple retail store.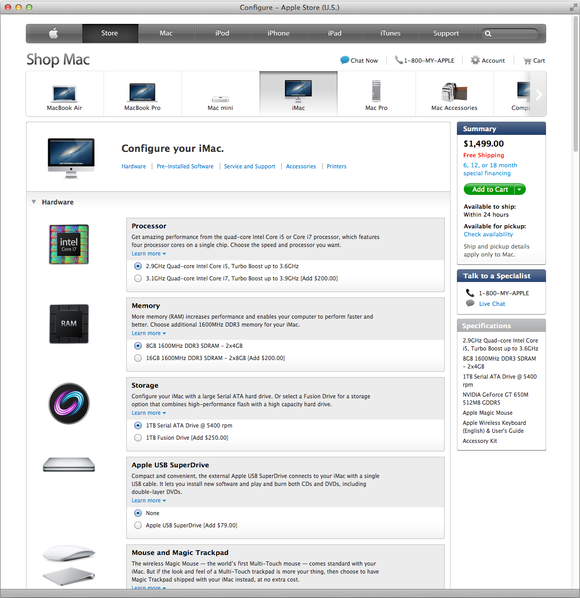 Apple sells refurbished models for a discount (more about this later), which is something other retailers can't do. And Apple performs many repairs and replacements on-site, whereas Apple authorized retailers often have to return problem products to Apple for exchange or repair.
The third-party advantage: Apple doesn't hold all the cards, however. When purchasing a Mac from Apple's online store, Apple will charge state sales tax where applicable. Some other online retailers don't (though you may still owe money to the tax collector). These retailers offer the same warranty that Apple does. Additionally, some physical stores with "Apple authorized retailer" status will migrate data from one Mac to another for free. In a small store, it's easier to establish a personal relationship with the owner and employees. And those people aren't limited to telling you only what Apple wants you to hear. They often have advice for working around issues that Apple employees can't discuss.
What about refurbished Macs?
Because all returned Macs eventually make their way to Apple, the company has the ability to repair and restore returned units. These weren't necessarily broken computers—Macs are returned for a variety of reasons. Regardless of the state the Mac was originally in, it's brought up to like-new condition, equipped with the same warranty as a new Mac, and priced, on average, a few hundred dollars less. Some refurbs are of current models, while others may be of the previous generation or two. You can find Apple's refurbs on the Apple site.
Is an AppleCare extended warranty worth it?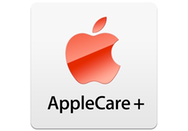 With the purchase of an Apple product, the company offers a one-year limited warranty and 90 days of free telephone support. AppleCare is an add-on service and support plan that extends the coverage on your Apple product.
What it covers: For Macs and Apple displays, this coverage extends to three years total from the original purchase date. For iOS devices and Apple TVs, coverage is extended to two years from purchase. If you purchase an Apple display at the same time that you buy your Mac, AppleCare coverage for the Mac also covers the display.
The coverage includes phone support for the length of the plan, carry-in service to Apple retail stores and authorized service providers, drop off at UPS stores in the United States for iPods and iPhones, direct mail-in service, on-site service for desktop computers, and parts delivered to you for things that can be easily replaced (new cables or input devices that were bundled with your purchase, for example). During the coverage period, repairs are done for free except in instances when it's clear the problem was caused by user negligence. (Hint: iPhones that are stored in back pockets plus restrooms can be a dangerous combination.)
What it costs: The price of AppleCare depends on the device for which you purchase coverage. For example, AppleCare for a Mac mini is $149, an iMac's coverage costs $169, a 13-inch Retina display MacBook Pro or MacBook Air is $249, and a 15-inch Retina display MacBook Pro is $349.
Whether AppleCare is worth it depends, of course, on whether your Apple product has serious problems during the coverage period. If it operates trouble-free during that time you may feel like you've thrown away your money. However, if a display goes bad or a motherboard gives up the ghost, you'll be thrilled to be covered when you learn that you'd otherwise pay three times the price of an AppleCare plan for the repair.
When it's definitely worth it: A reasonable rule of thumb is that if your Mac has a built-in display (a laptop or iMac), it's worth paying for AppleCare, as repairing a display is never an inexpensive proposition. AppleCare for an iOS device is a tougher sell, as problems with those devices usually surface within the first six months, though the AppleCare+ plans that cover such devices include coverage for two "accidental damage due to handling" incidents. If you drop your device and shatter its screen, for example, you can have it replaced for $49 plus applicable tax.
Welcome
There's a reason many Apple users' eyes have a slightly fanatical glint. Apple makes great stuff that's fun and easy to use. It's hard to not be enthusiastic about a new Mac. Now that you know where to get yours (and how to protect it should something bad happen), welcome in. The water's fine.