At a Glance
Expert's Rating
Our Verdict
The LGND is a solid case, but there's nothing really unique about it other than the method of folding the cover.
Incipio's $35 LGND for the third- and fourth-generation iPad is a folio-style case with a unique design, somewhat resembling a more conservative version of Moshi's VersaCover Origami. Though the folding configurations aren't as robust as some other cases, you do get a decent variety in a slim package.The LGND is available in two materials, vegan leather and Nubuck suede, and also a modest selection of colors (black, navy blue, gray, pink, or red).
All of the iPad's ports, buttons, and speakers are left exposed for easy access, and keeping the case's cover out of the way while taking pictures with the back camera is a piece of cake. The hardshell that protects the iPad's back is covered with the same material as the cover; I didn't like the all-around texture at first, but it grew on me the more I used the LGND. This material softens impacts, and when you place your iPad on a hard surface it doesn't slide around.
The cover is foldable along some unconventional paths, and you can prop your iPad up in one angle for typing and another for landscape-orientation viewing. Both require the same fold, in which you sort of pop the corners in along the cover's diagonal creases. Once folded, magnets hidden in the cover will keep the fold in place. This will give you a 20-degree prop for typing, and if you flip your iPad around you can stand it up for landscape viewing at 45-degrees.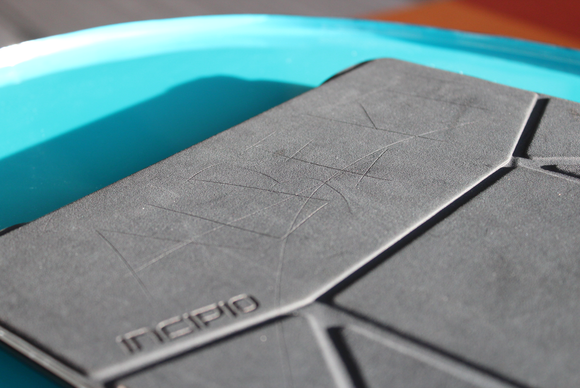 While I quite like the feel of the cover material, I found that it gets scratched when carrying it in a bag and with general use. My short fingernails could easily leave what seem like permanent marks on the cover, and I lost a small chunk early on. Granted, this doesn't stop the case from doing its job—my iPad showed no signs of bumps or bruises—just keep in mind that the LGND shows wear fairly easily. (I tested the Nubuck suede version, so perhaps the vegan leather case might be more durable.)
Bottom line
The Incipio LGND is a solid case, but there's nothing really unique about it other than the method of folding the cover. Perhaps with some improvements to the number of positions you can fold it into will make me change my mind, but as of now, it doesn't stand out from the crowd.