Ever hear a Mac's desktop fans go into overdrive under normal operating conditions? Or felt a Mac laptop go from a normal temperature to a more-than-toasty lap roaster in under a minute? Those are times when a Mac was running hotter than it should have been.
What are the long-term effects of overheating on a Mac? Beyond warmer temperatures and additional noise from the fan working overtime to cool its operating environment, you can expect to see slower performance. Long term, damage to core components may occur—for example, heat can affect battery life on a laptop.
While current hardware uses internal temperature sensors to shut itself down before parts become dangerously overheated, it still helps to keep an eye on things before your Mac gets too hot. To this end, Bjango's $16 iStat Menus application is excellent, with a temperature gauge in the Finder's menu bar as well as readouts for your incoming and outgoing Internet bandwidth, hard-drive capacity, and RAM and CPU usage. iStat Menus told me that my MacBook Pro's temperatures swung between 130 and 177 degrees Fahrenheit while I was installing World of Warcraft, so the software gives you an idea of just how warm things can become under the hood of your Mac.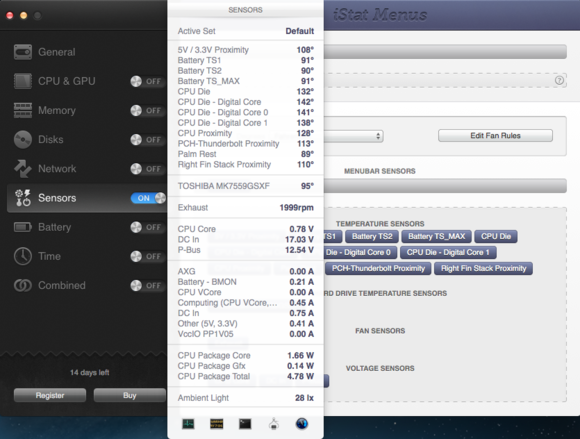 Ventilation
Your Mac is not alive, but where heat and airflow is concerned, it's essentially a breathing thing—give your Mac some room to breathe.
If it's a desktop machine, try to keep it at least 18 inches from the wall for the fan to take in air, circulate it, and then expel it as necessary.
If you love flopping on the bed with your MacBook and Netflix before bed, try to clear some room for ventilation to keep things cool. Netflix or anything that uses Adobe's Flash Player tends to add a lot of overhead to your Mac's workload, requiring more out of the fan system.
Update the firmware
Yes, a "firmware update" sounds a bit scary and technical, but it's generally for the best. If your fan's going into overdrive for apparently no good reason, be sure to run OS X's Software Update to ensure that you're running the latest firmware for your machine (OS X will find the most current version), and if you aren't, download and install it.
It shouldn't take more than a few minutes, and with fan and cooling fixes incorporated into the updates, this sometimes takes care of the problem.
Dust bunnies
Though computer fans get the air circulating, they also pull in dust and don't always get rid of all of it. Dust bunnies accumulate and have wild dust bunny parties, and since everyone loves a party, more dust bunnies appear, and the build-up makes it difficult for the fans to keep the system cool.
Even if you're hesitant to open up your Mac, it's time to take the intrepid route, put on an antistatic wrist strap (Rosewill sells a quality unit for $5 on Newegg.com), open your Mac desktop or laptop, look around, and blow out any accumulated dust with a can of compressed air or remove the dust for good with a small vacuum cleaner. This DIY cleaning is overdue at this point, it's way too cathartic for its own good, and the moment you turn your Mac on and hear the fan running smoothly, you'll be glad you made time to do this.
Replace the fan
You turn on your Mac, and the fan sounds like it's struggling, grinding, or not running at all. Time for a new fan.
The good news is that fans tend to be cheap and can be ordered from sites like iFixit or Other World Computing. Fans aren't that difficult to replace—for example, iFixit has a killer how-to video for the unibody MacBook Pro, and the site includes repair guides for just about every Mac you can think of, so it's easy to go at your own pace with the repair.
Yes, replacing a fan is a fairly major step, but it's also a pretty easy repair, so grab an antistatic wrist band, a plastic spudger, and the appropriate driver. It's time to replace that sucker!
The joys of replacing thermal paste
As beautifully constructed as your Mac tends to be, a point will come when the thermal paste—the paste that's used to fill the microscopic air gaps found in electronic equipment and that helps dissipate heat inside your Mac—will dry out and become less effective in its task.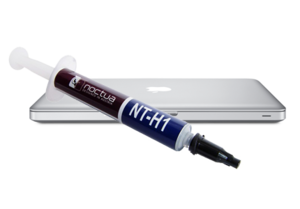 This is also the time when you're going to have to dig into your Mac, pull out the parts that have thermal paste applied to them, remove the old thermal paste with rubbing alcohol and cotton swabs, let those parts dry, and then apply a new layer of thermal paste before piecing your Mac back together.
The good news? It's not that unpleasant, and it's actually sort of fun. The bad news? This job gets a little messy, and it's somewhat intimidating to take apart your Mac's heat sink.
For the brave of heart, iFixit currently asks $9 for a syringe of Arctic Silver thermal paste, and a YouTube tutorial is available online. If you're somewhat experienced in taking a MacBook apart and want to get to the thermal paste-focused bits, skip ahead to the 7:30 mark, which explains how to take out the heat sink, how to remove the old thermal paste, and how to put everything back together again. All this is narrated by a guy with a cool British accent, which will make almost anyone sound smarter.
Best practices
Take care of your Mac, and it'll take care of you. Give the fans room to work, and make sure you've got the latest firmware for your Mac. If your fan sounds like it's working harder than it should, don't be afraid to turn the computer off, open it up, and blow out the dust bunnies. Beyond that, if something physical needs to be repaired or replaced, find the appropriate guide online and take your time with the repair.