Marco Arment's Instapaper has long been the go-to offering for readers who want to save web articles for later reading on an iOS device in their free time—in large part because it arrived so soon after the iPhone was introduced, and because it was so groundbreaking at the time.
But over the last year, Pocket, a free universal iOS app from Idea Shower, has emerged as a potent competitor. Still, Instapaper has been the dominant app for so long that any rival will be measured against it.
So how does Pocket stand up? Pretty well, actually.
Like Instapaper, Pocket lets you save articles through two methods. The first is a bookmarklet that you install in your web browser that automatically saves the page you're viewing when you click it; otherwise, you can email the URL to your private account for later reading. (Other services, like Twitter and Flipboard, also let you save links to Pocket for later reading.) When you're ready to read, launch the app on your iPhone, iPad, or iPod touch, and you'll find a queue of all the articles you've saved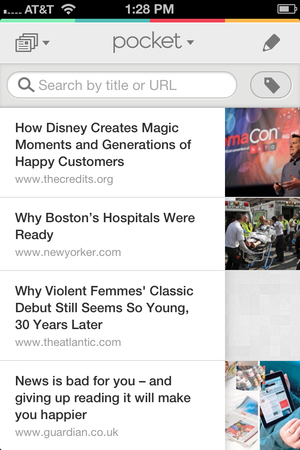 It's in displaying saved content, though, that Pocket offers the greatest advantage over its competitor. Instapaper will show you headlines and story summaries either in list or grid form, but always in the same black-and-white display, which makes the whole exercise feel a bit utilitarian. Pocket also offers a list view, but its default view—kind of a grid—includes photos and other splashes of color to present stories with much more of a magazine feel: Appropriate, since the app is essentially an act of curating a magazine that's filled only with the articles you want to read. In any case, the effect makes that stack of reading you meant to do much more inviting.
Similarly, once you're in a story, Pocket gives you the option of defaulting either to a stripped-down Readability-style view of the text, or viewing the web page directly if you're online. (Instapaper automatically defaults to the stripped-down view.) The latter option in Pocket can—and does—bring some variety to the reading experience.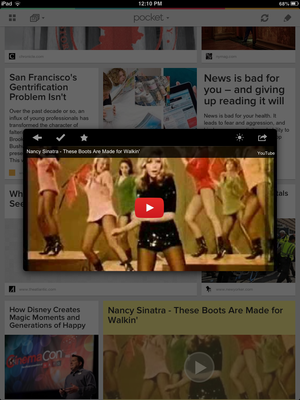 Pocket outperforms Instapaper when it comes to handling images as well. It's much easier to view saved photos in Pocket (sometimes they simply don't display in Instapaper), and while both apps are competent for saving and viewing YouTube videos (for online viewing only) Pocket does a better job of displaying videos from other sources. It showed me a New York Times cooking video straight from the Times' website; Instapaper didn't.
Pocket slips back to the pack when it comes to sharing what you've read. The app recently unveiled a new "Send to Friend" feature that's a slightly fancier version of simply e-mailing the link to a friend. (The sharing navigation, though, will remember your friends, which makes it easy to frequently share stories with others.) Both apps let users share to a variety of social networks as well. Instapaper, though, has created a sort of social network of its own by letting users broadcast to their friends which articles they're reading and liking. Pocket has nothing similar.
Finally, both services offer some tools that let users organize their reading: Instapaper lets you create folders, while Pocket uses a tagging system. Unless you have a strong preference, this category is a wash.
Bottom line
Overall, this means that the competition between the two apps is something of a draw. In most aspects, Pocket is not necessarily better than Instapaper, except for in one area—it makes the visual experience of saving and reading articles more enjoyable, which is no small feat. The newcomer holds its own against the grizzled veteran.