Editor's Note: The following article is reprinted from Macworld UK. Visit Macworld UK's blog page for the latest Mac news from across the Atlantic.
Typical—you wait ages for a good racing game and then three come along at once. They're all from the same company too, as Feral brought F1 2012 and Sonic & Sega All-Stars Racing to the Mac recently. Grid allows you to take part in a wider range of races on professional race tracks or on ordinary streets in various locations around the world.
The start of the game is a bit of a shock. There's no tutorial and you are thrown into a rookie race that you have to complete in order to earn your racing license. The starter car for this race seems extremely sensitive at first and even a slight tap of the left or right keys on your keyboard can send you screeching into the barriers at the side of the track. A gamepad might provide smoother controls, if you've got one available.
It doesn't take long to get the hang of the controls, and Grid also includes a "flashback" option that lets you to rewind the action to just before a bad crash. You can try again without having to replay the entire race from the beginning.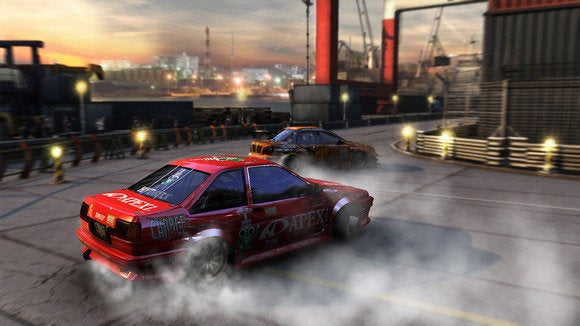 Once you get your license you can accept offers to race with existing teams, a quick way to earn some cash and get a better car. But in order to succeed in Grid you also need to earn reputation points, and that means saving a decent wodge of cash in order to start your own team. You can then take part in a wider range of races, including drift racing where you deliberately over-steer in order to perform a high-speed skid-turn, and touge races that take place on public roads winding through the mountains of Japan.
For many people the real fun will be the Demolition Derby, where pretty much anything goes as long as you manage to cross the finishing line. The 3D graphics in Grid could be a little more detailed, but the sparks and chunks of metal that go flying in the Demolition games are realistic enough to create an enjoyable sense of mayhem.
The multiplayer mode has an option for playing with friends on your home network. However, you have to use the rather obscure GameRanger service to find opponents on the Internet, so you may struggle to find a good race online. And, like many of Feral's games, Grid is rather particular about its system requirements, so you should check the Feral website first to make sure that your Mac can run the game properly.
Bottom line
Grid is very much a racing game rather than a technically accurate driving simulator. If you just want to put your foot to the floor and go all out for some high-speed racing action, then Grid is the game for you.
Note: When you purchase something after clicking links in our articles, we may earn a small commission. Read our affiliate link policy for more details.