For folks who want to digitize every paper note, receipt, or bill, a dedicated scanner—preferably one with a duplexing automatic document feeder—is a must. But if you aren't a hardcore paper-hater and you occasionally need to get the contents of printed material into your computer, you may not need a dedicated scanner that takes up precious desk space. Instead, you can use an app like Prizmo 2. With Prizmo you use your iPhone camera, point and shoot camera, or DSLR to capture images of documents, and then the software uses optical character recognition (OCR) to turn the scans into editable text. Prizmo also works with scanner that lacks OCR capabilities from companies like Brother, Canon, Xerox, Lexmark, Epson, and HP.
Scanners have flatbeds or feeders that help keep pages straight, flat, and in focus. But images of documents captured with a camera can have problems—they can be crooked, have the wrong exposure, or be distorted—which makes it difficult for OCR software to correctly recognize the scanned letters. Even images that you takes pictures of can suffer from barrel distortion or be trapezoidal. Prizmo has many tools to help fix these common problems. You can open images already captured in Prizmo, or you can attach your iPhone or iPad to your Mac and, if Prizmo is on and active, photos taken with your iOS device will show up automatically in the application.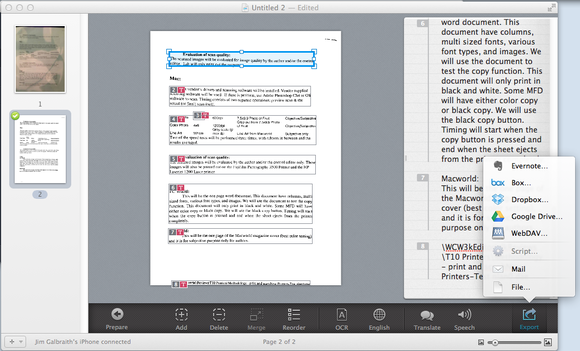 Prizmo has a clean, modern user interface. When you first launch the application and select new document, a large grey window appears that invites you to drop pictures onto it, or to click one of three icons to open an existing image file, import from a camera or scanner, or to browse your image libraries.
A dark grey tool bar sits along the bottom of the application window, the contents of which changes depending on the file type that you've chosen to work with: Text, Business Card, or Image. The tools on the toolbar let you rotate and crop the images and adjust the brightness, contrast, sharpness, and saturation of images to make them easier for the OCR engine to recognize. You can even calibrate your camera using Prizmo to improve the quality of the images captured. Once you've processed the scan, click on the toolbar's Export icon to send the text to Mail, Evernote, Box, Dropbox, Google Drive, WebDAV, or a document saved in iCloud.
Prizmo can also capture and recognize text from webpages and images that you can't select. From within Prizmo go to File > Snap Screen Text to Clipboard and follow the onscreen instructions to draw a rectangle around the text that you'd like the application to grab. It analyzes it and then you can paste the text to an application like Word, Text Edit, or Pages.
Prizmo has built-in translation tools for 39 languages, as well. I was able to take a photo of some fine print warranty information in French and translate it into English, Spanish, and Thai. The English translation worked well, but I'll have to trust Prizmo for the Spanish and Thai translations.
Prizmo requires OS X 10.7.5 or later and a Mac with a 64-bit processor. The software recognizes English, French, German, Italian and Portuguese.
Bottom line
While scanning from your iPhone or camera can be more convenient than having a dedicated scanner plugged in and taking up space on your desk, the process does require more work on your end. If you only scan occasionally, then Prizmo 2 can help make that processing easier. Its OCR engine is pretty accurate and its included software tools make it easy to edit and improve the quality of the images after scanning for either text recognition or for photos. The software's onscreen text clipping feature is a handy bonus.