We all receive photos—scads of photos—via email, many of which we ignore because they're not worth the bandwidth. But what if you want to show your kid that cute picture of a cat dressed up as a scuba diver—the one you got some past Halloween from who knows whom? As time passes, it's harder to sort out, much less find and archive, such images. That's where the appropriately titled Lost Photos ( Mac App Store link) comes in.
A lightweight utility from Space Inch, Lost Photos (free; $3 to download unlimited photos) has a fresh, clean interface. The app connects to your IMAP email accounts using a secure connection and extracts all the photos from each account quickly and efficiently. Just type your email address and password into the Lost Photos window, and the app sifts through every message on the server, scraping up any photos it finds and placing them into a folder, named for that email account, on your drive for later viewing. (The app does not remove images from the mail server; it just finds and downloads them.)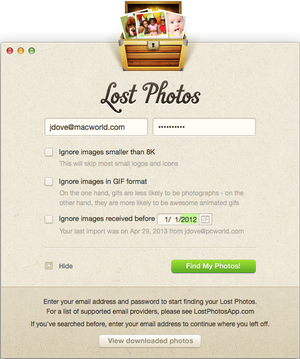 The app provides some simple filters to help spare you the agony of viewing every company logo and headshot you receive: For example, the program can skip images under 8KB, as well as GIF files. (In my testing, it took about 25 minutes for the app to crawl through some 1300 email messages with these two options enabled.) You can also choose to ignore any images received before a particular date—so, for example, you can have Lost Photos search only messages received in the past two years.
Once Lost Photos finishes its search, the app offers buttons for adding all found images to iPhoto or showing your found photos in the Finder (where you can choose to manually import only some of them to iPhoto). You also get buttons for posting your found scuba-kitty image to Twitter or Facebook, emailing it to your friends, or posting it on Flickr.
In the current version (1.2), Lost Photos puts its download folders into the Pictures folder in your home directory. However, version 1.1 stored the photos in the considerably less accessible ~/Library/Containers folder. (You can open that folder using the Show Photos In Finder button, but ~/Library itself is invisible in OS X 10.7 and later.) Unfortunately, if you upgrade from version 1.1 to the current version, you don't get the option to change the download location, though you can of course move the images anywhere you want after Lost Photos downloads them.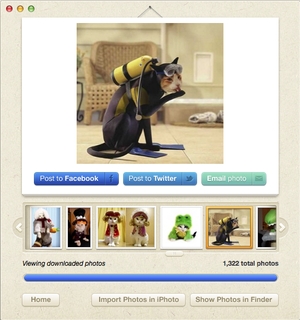 Lost Photos searches only a single email account at a time, which is a limitation, but that restriction also means it's easier to associate a photo with a particular message—something the app does not do. When I needed to find the sender of a photo, I sorted the messages in that account by attachments to find the exact message to which the image was attached. (Lost Photos preserves EXIF information, though most photos will be tagged with the date of import, rather than the date the photo was taken or the date you received it.)
The current version of Lost Photos supports Gmail, Yahoo, AOL, and Mac.com/Me.com/iCloud accounts, as well as IMAP accounts from AT&T, Cox, Charter, British Telecom, Rocketmail, Ymail, and Xtra.co.nz.
Despite its virtues, Lost Photos does have a few limitations. In addition to those I mentioned above, it works only with IMAP accounts, and it can find images only if they're still on the mail server—it doesn't search your locally filed mail. And, of course, the images it finds and downloads take up space on your drive—Lost Photos can't show you previews of images located on your mail server without downloading them first. On the other hand, you can immediately delete any photos you don't want to keep.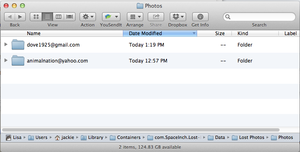 As an aside, my experience upgrading Lost Photos from version 1.1 to 1.2 was perplexing. After downloading version 1.1, from the Mac App Store, for free during a promotion (prior to version 1.2, the app wasn't free), the program was not automatically updated as the vendor says it should have been. I ended up deleting the original install and redownloading the app from the Store, after which it worked as expected. Attempts to perform the upgrade on a different computer presented other issues. However, those issues did not affect the operation of the app, which worked as advertised once properly installed. And if version 1.2 is the first version you install, you shouldn't have any issues.
If you get lots of mail with embedded images, and you're not diligent about sorting through and saving the ones you like—or if you just want to see what images you have hidden in your email archives, just in case—you can count on Lost Photos not to miss a shot. The app is limited in that it still does not support some major email services such as Hotmail, Comcast, Microsoft Exchange, and many others (though there is a workaround for Hotmail), but the company says that it is working on adding support for more mail providers, as well as providing a way to pair images with their original messages.
Want to stay up-to-date with the latest Gems? You can follow Mac Gems on Twitter.