At a Glance
Expert's Rating
Our Verdict
A handy device to have around for file transfers between iOS devices and between an iOS device and a Mac—if you are willing to pay the price.
Wouldn't it be nice if you could just plug a flash drive into your iPhone or iPad when you want to transfer a file or you're short on storage? PhotoFast actually has one: The i-FlashDrive HD is a flash drive for the iPad, iPhone, and Mac.
The i-FlashDrive HD has a USB 2.0 connector on one side and a 30-pin connector on the other; it comes with a Lightning adapter for newer iOS models. PhotoFast offers four storage configurations, ranging from 8GB to 64GB.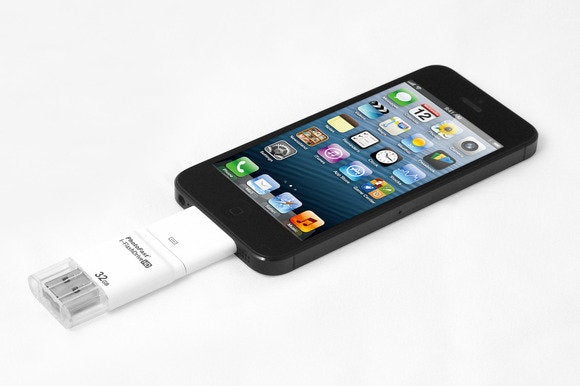 When you first use the i-FlashDrive HD, the device promptly takes you to the App Store in order to download the free app needed for viewing and transferring files. While I wasn't keen on having to install a third-party app in order to view my files, it is necessary, and the app itself is an easy-to-use file viewer that allows access to the drive, and also comes with options to back up your contacts and to sync with a Dropbox account.
While in the app, you can encrypt any of the files on the drive by pressing the small padlock icon on the bottom right side of the screen. You'll then be able to select which files to encrypt and set a password. Accessing the encrypted file is done by simply retyping the password that you created earlier. However, decrypting is only possible from the iOS app itself—trying to open the encrypted files from your computer won't work. This is a nice little feature of the app that adds protection to the drive's contents.
The i-FlashDrive HD itself is compact, about an inch long and wide and a quarter of an inch thick, but its width becomes a problem when plugged into a Mac laptop, where it gets in the way of other ports. When plugged into an iMac's USB slot, the i-FlashDrive HD seems small, but its length could be a problem when attached and dangling from the bottom of your iPhone or iPad. It's not so much a problem with older iOS devices with 30-pin connectors—it's not that much bigger than other add-on devices. But on newer devices like the iPad Mini and iPhone 5 that use the Lightning connector, you need to attach the 30-pin to Lightning adapter to the i-FlashDrive HD, and inevitably this means additional length and a fear of accidentally breaking off the connector in your device.
The Macworld Lab tested the drive connected to a Mac and clocked it at a sluggish and unimpressive write time of 5 MBps, and a quicker (but still slow) read time of 19 MBps. While the drive, in some cases, might double the storage capacity of your device, it'll do so at near tortoise-like speeds. For transferring small JPEG files, its probably not a big deal, but when moving larger files like movies, the slow transfer speeds could be annoying.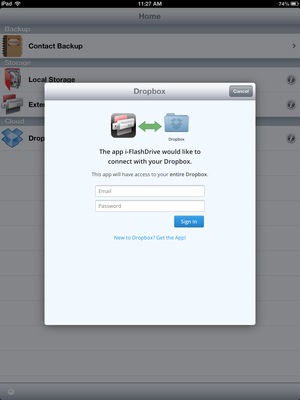 The 8GB i-FlashDrive HD is $100 and the price shoots up to $329 for the 64GB version. That seems expensive, and in the end it's up to each individual consumer to decide how much additional storage is worth to them. Some people might think that the benefits of an easily attachable iOS drive might be worth it.
Bottom line
The convenience of being able to grab data from one of your devices and easily transfer them to another might appeal to some, but the i-FlashDrive HD's sluggish performance and the additional length it adds will turn off others.