Creating playlists in iTunes can be as simple as dragging a few songs, or as complex as creating smart playlists that refer to other playlists and use nested conditions to pick songs that meet specific criteria. In this week's column, I answer three questions to show just how complex smart playlists can be. While perhaps not the same as the smart playlists you want to make, they are good examples of the complexity that is available with smart playlists in iTunes.
Q: I have a collection of jazz music that is bigger than a single 160GB iPod classic can hold. In total, I have over 6800 albums on four iPods, so I will soon face this problem for other genres too. How can I easily set up two 160GB iPods to hold only jazz music, such as having artists with names from A to L on one and M to Z on another?
The easiest way to do this is set up each iPod to sync a single playlist, and to create two standard (not smart) playlists by dragging all the music from the first group of artists to one playlist, and all the music of the second group to the other.
However, you probably want to be able to sync future additions to your library as well—and that's where things get more complicated. You can't create a smart playlist in which the beginning of artists' names are from A to L, for example.
I can think of a couple of ways to add new music to these playlists. The first is to use the Recently Added playlist, which iTunes creates by default. If you've deleted yours, here's what it looks like:

From this playlist, you'd find the tracks you've added recently, then manually add them to your two jazz playlists according to the artists' names.
Another way, which is partly automated, would be to use the Comments field in your tracks' tags. For example, you could add the comment Jazz1 to files that would go in the A to L playlist, and Jazz2 for files to go in the M to Z playlist. Do this for your existing music, and make sure to add the comment when you add new music to your iTunes library.
Then create a smart playlist with the condition Comments Contain Jazz1 for the first playlist, and Comments Contain Jazz2 for the second. Sync just the first or second smart playlist to each iPod, and whenever you add music, as long as you've added these comments (and you have room on the respective music players), the music will sync automatically.
Q: I have playlists as follows: Rock from 1980 to 2000; Pop from 2000 to 2010; and Jazz from 1995 to 2005.
I want to make a smart playlist combining songs from all three of these playlists, but only 10 percent of playlist 1, 25 percent of playlist 2, and all of playlist 3. Is there any way to do this?
Yes, but it will require several smart playlists.
Start with playlist 1. If you want 10 percent of its songs, and there are 100 songs in the playlist, you want 10 of them. You'll need to make a smart playlist where the condition is Playlist is Playlist 1, and limit it to 10 items, as in the screenshot below.

Do the same for playlist 2: Create a smart playlist with a number limited to 25 percent of its contents.
Playlist 3 is your existing jazz playlist.
Now, to group all of these together, you'll need to create a smart playlist with the following conditions (substituting the correct names for the playlists):
Match Any of the Following Rules
Playlist is Playlist 1
Playlist is Playlist 2
Playlist is Playlist 3
This will grab all the songs you've put in the first two smart playlists, and all the songs in the third playlist, into a single playlist. You can refine this playlist by, for example, adding a condition so that songs recently played aren't included, as follows: Last Played Is Not in the Last 2 Weeks.
Q: I'd like to make a smart playlist that picks songs from a few genres, of a specific rating, but excludes certain artists who have their own playlists. Is there an easy way to do this?
Smart playlists can be quite complex, with conditions and nested conditions. I've made a smart playlist that matches what you want in the screenshot below. Lets look at it closely.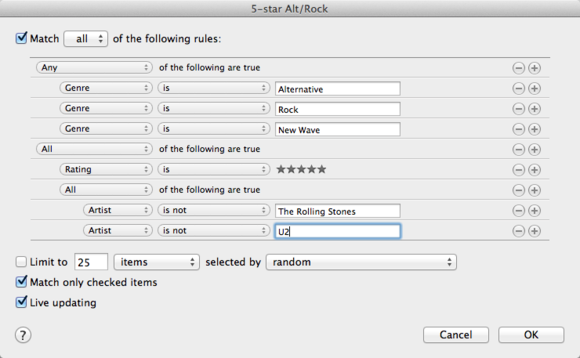 To start with, the playlist matches All of the Following Rules, so only those songs that match all rules will be included.
The first section specifies three genres from which you want to pick songs; it uses the Any condition, so it can pick songs from any of the genres.
The next section specifies a rating—in this case five stars—to whittle down the first selection.
Finally, the third section specifies two artists, again using the All condition. You could do the same thing with individual smart playlists, but it's just as easy to put all of these conditions into a single playlist.
[Ask the iTunes Guy is a regular column in which we answer your questions on everything iTunes related. If there's something you'd like to know, send an email to the iTunes Guy for consideration.]
[Updated at 7:28AM on 5/4 to change the condition in the last item from Any to All.]