Back in the days of 56-kbps modems and 1.44MB floppies, compressing files was a necessity. These days, bandwidth and storage are less of a concern, but there are still reasons to package files into neat little bundles. A zip archive, for example, lets you attach a single "file" to an email message instead of tacking on multiple items. The zip file is smaller than the sum of those separate files—and it's an industry standard that works across platforms.
OS X has long been able to uncompress zip files and some other archive types, using its built-in Archive Utility, but I've switched to The Unarchiver (Mac App Store link) because it supports more formats and offers easier customization options—and it's just as free as Archive Utility.
When you launch The Unarchiver, its preferences window automatically opens to the Archive Formats tab. There you can see the software's extensive format support, comprising 58 different file formats. Some, such as rar, are widely used, but you've probably never heard of some of the others—and are just as unlikely to encounter them.
This list is where you choose which formats you want The Unarchiver to handle. By default, zip and the other dozen or so other formats that OS X's Archive Utility normally handles are unchecked, but by checking the box next to any of these, you can choose to have The Unarchiver deal with them instead. Handy 'Select All' and 'Deselect All' buttons let you make changes en masse.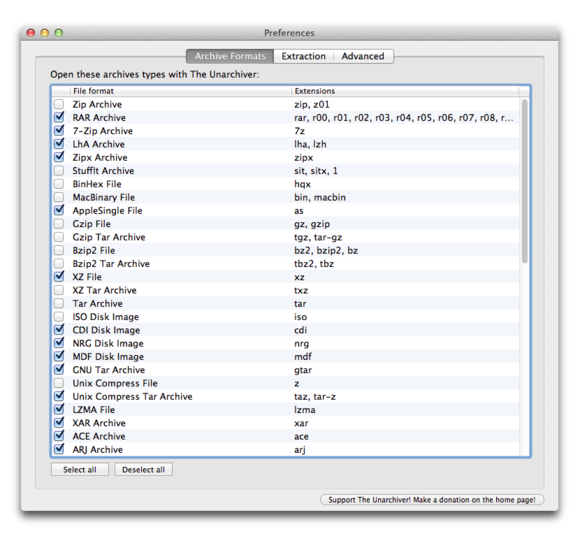 Alternately, to have The Unarchiver handle a particular archive without changing the systemwide handler setting, you can just drag that archive onto The Unarchiver's icon.
In the Extraction tab of the Preferences window, you choose where the app places extracted files and folders (automatically in the same location as the original archive, automatically in a particular folder, or automatically prompting you for a destination for each archive); whether to create a new folder for the extracted items; how to set the modification date of the created folder; and what to do after extraction (whether to open the extracted folder, and whether to move the original archive to the trash).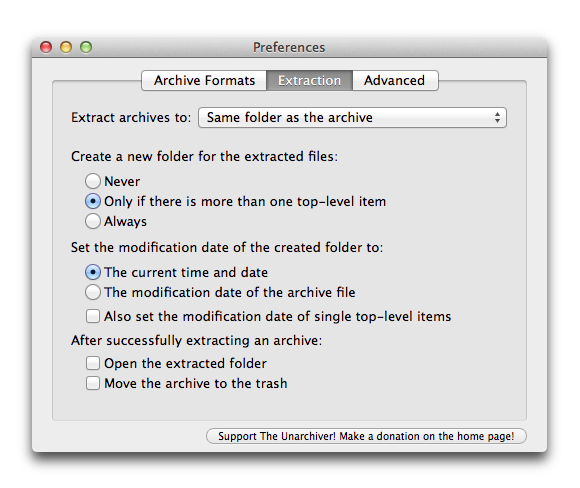 (Archive Utility actually offers many of the same options. But those options are not easy to find: To get started, you must navigate to System/Library/Core Services/Archive Utility, launch the Archive Utility app, and then open its preferences dialog.)
Finally, the Advanced tab deals with file-name encoding. The utility normally detects the proper encoding automatically, but you can choose a particular type of encoding—say, Japanese (ISO 2022-JP)—if you deal with specific types of files regularly. You can also set the confidence threshold for auto-detection.
With all of your settings taken care of, using the app is as simple as can be. Double-click a file archive that you've chosen The Unarchiver to handle, and The Unarchiver launches and extracts the archive's contents. A progress bar displays the progress of the extraction. One nice touch is that the progress display shows you file names as they're extracted from the archive, something that Archive Utility doesn't do.
Note that due to sandboxing requirements with the Mac App Store, The Unarchiver requires authorization the first time you extract an archive. If that step bothers you—or if, in the words of the developer, "you experience strange problems"—you can download a non-Mac App Store (and, thus, non-sandboxed) version of the app from the developer's website.
If you regularly encounter different archive formats, or want easy access to your file-extractrion settings, The Unarchiver is worth a download and a spot in your Mac.
Want to stay up to date with the latest Gems? You can follow Mac Gems on Twitter.
Note: When you purchase something after clicking links in our articles, we may earn a small commission. Read our affiliate link policy for more details.