Dreamweaver, one of the first, and perhaps the most famous visual Web-design app, has evolved over time into a powerful development tool that can facilitate almost any kind of website or project. Today the app—alongside Flash Professional and the HTML5-oriented Edge Tools & Services suite—joins Adobe's new Creative Cloud Web-oriented lineup. The company's new cloud initiative, announced at the Adobe Max 2013 creative conference, offers enhancements to all the Web-design applications.
In Adobe's transition from licensed Creative Suite to Creative Cloud subscriptions, familiar apps get an upgrade while subscribers get a slate of extra services for a $50 monthly subscription. Access to Sync services, 20GB of online storage, the Behance community hub, automatic cross-platform downloading and updates to all programs in the suite, and training are some subscription benefits.
Sync Settings features let you log in to Creative Cloud from any computer to sync and access files, preferences, and site settings. Edge Web fonts, available via Creative Cloud, offer use of its library, powered by Typekit.
Dreamweaver CC
With Dreamweaver CC, Adobe has introduced CSS Designer, a visual editing tool that generates standards-based Web code, letting you apply CSS properties such as gradients and box shadows. The Enhanced Fluid Grid Layout feature facilitates the visual construction of Web designs and responsive layouts for projects viewed on different screen sizes. Adobe has done some housecleaning with Dreamweaver CC too, modernizing the interface and removing outdated features.
On the mobile side, full visual support for jQuery UI widgets are designed to enhance development workflow while PhoneGap Build support lets you package native apps for Android and iOS.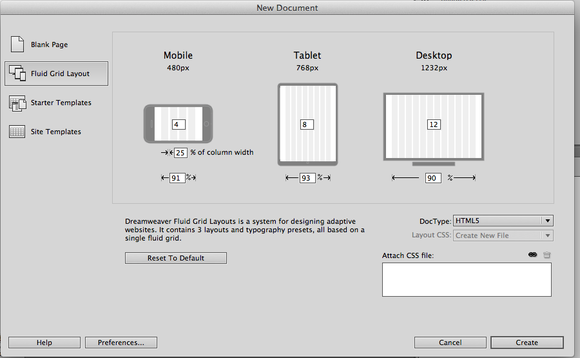 Flash Professional CC

Now 64-bit, Flash is the newest creative app to switch to the dark interface. With the newly re-engineered Flash Professional CC however, you can chose to work in whichever environment you prefer. The new version is more modular, with a more responsive timeline that lets you manage multiple large files, and thus publish more quickly. The new version also lets you export content in full high-definition video and audio—even from complex timelines or script-driven animations. Enhanced HTML5 support with updated Toolkit for CreateJS includes new functionality for buttons, hit areas, and motion curves.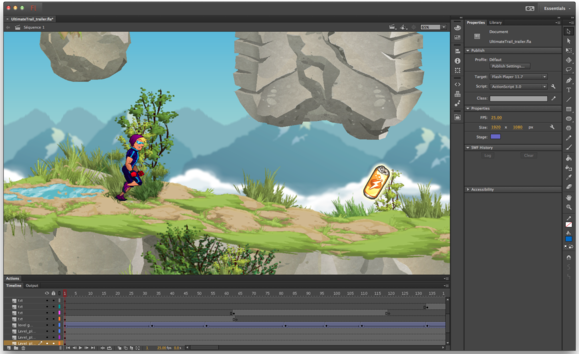 You can test and debug content by connecting multiple iOS and Android mobile devices directly to your computer via USB. A new code editor lets you write code more efficiently using the open source Scintilla library. Search across multiple files using a new Find and Replace panel to update code and see full previews in real time—with fill and stroke color—using shape tools. Manage properties across multiple selected layers in the Timeline panel and swap symbols or bitmap images on the stage. Or, select multiple objects on a layer and distribute them to key frames with a single click.
In addition, you can manage large backgrounds or content positioned offstage with an unlimited pasteboard/work area. Detect potential problems in your code earlier in your workflow by integrating with Adobe Scout, a tool that offers advanced profiling and analysis of items such as CPU, GPU, memory use, and performance.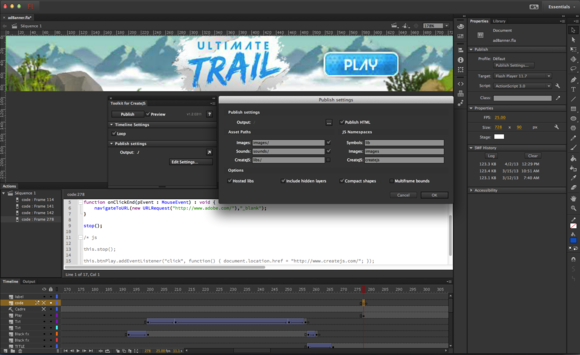 Edge Animate CC and Edge/Reflow Preview 3
The newest version of Adobe Edge Animate, Adobe's HTML animation tool, has been substantially updated. Custom motion paths and an option to create and reuse templates now speed up production. You can also opt to host your Animate runtime files on an Akamai-powered Adobe content delivery network, at no cost to you. As with all other Creative Cloud offerings, you can now seamlessly include Typekit fonts, in addition to Edge Web Fonts, in designs. Swipe gesture support lets you add left and right swipe events to elements for mobile projects.