Keeping up with just one social media account is tough enough. But if you personally hang out on even one or two more services, or are in charge of socializing with your business's customers online, juggling it all starts to feel a lot more like work, and not the fun kind. Here are a few tools and tricks—some for power users, others for business cases, and even a slightly nerdier option—that can help take the drudgery out of managing social media.
Get started posting with OS X
Depending on your needs, there is, of course, always OS X itself. As of Mountain Lion, Apple added some much-needed integration of a handful of social media accounts right into OS X. Go to Apple menu > System Preferences and select Mail, Contacts, & Calendars. Here, you can add multiple Twitter accounts, one Facebook account, and Yahoo, Vimeo, and Flickr accounts.
OS X's social media integration mostly makes the process of sharing out to your accounts much easier. If you mostly just need to post status updates, links, and media, having these tools built into most of your apps and even having the good ol' fashioned right-click menu can simplify a lot of your social tasks.
Try Tweetbot for heavy tweeting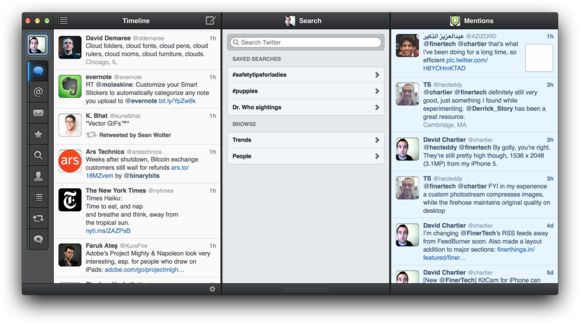 Tweetbot is the stylish, power-user client that Twitter's own apps only wish they could be. You can save searches, instantly look up users, use topic-based lists with grace, search your timeline or all of Twitter, and create a media dashboard fit for Adrian Veidt by opening any account, stream, or saved search in new columns and windows. Top it all off with excellent support for multiple accounts (as well as $3 mobile versions for iPhone and iPad), and Tweetbot is truly a steal.
Become a professional Socialite
If Twitter alone cannot contain your multi-account social media aspirations, it's probably time to step up to Apparent Software's $10 Socialite. It has a familiar Mail and iPhoto-like interface and packs support for multiple Twitter, Facebook, Flickr, RSS, and even Google Reader accounts (until Google shuts Reader down on July 1). You can dig into useful sub-sections for each service, like lists for Twitter, or photos and links for Facebook. Socialite's support for multiple Facebook accounts (in addition to Facebook Pages) is particularly useful, since that's a rare perk.
Schedule and collaborate with HootSuite
HootSuite is a powerful social media dashboard that goes even farther than Socialite. Also, it isn't strictly a Mac app; it's a Web service, though it has extensions for Google Chrome and Mozilla Firefox to help it behave, in some ways, like a native Mac app. With HootSuite you get access to a cornucopia of social media services, including LinkedIn, Google+, Foursquare, WordPress, and more.
You can schedule posts and plan out your week, get insight into your followers, create multiple tabs and columns to arrange just the social services and sections you care about, hook up your site's RSS feed to auto-publish to one or more accounts, and more. Plus, if you decide to move beyond the initial free version (plans start at $10 per month), you can get access to social media statistics about your accounts, extra sub-users who can collaborate on your accounts (perfect for businesses), and vanity URLs for branding the links you share, and you get access to the HootSuite University, which offers lessons in improving your social media presence, best practices, and other goodies.
Unleash your social nerd with Alfred
Alfred is one of those nebulous "productivity utilities" for OS X in the vein of Objective Development's $35 LaunchBar (

) and The Quicksilver Project's Quicksilver (donation requested). You can use it much as you use OS X's Spotlight to quickly search for—and then open—files, contacts, and emails. The big difference is that Alfred dramatically expands the range of tools and possibilities.
You press a simple keyboard shortcut to toggle Alfred's Google-style minimalist search box, type a couple of letters to start looking for a piece of information, and then strike another key or two to do all sorts of things with it. For example, you can find a contact and display its information in a large font to make filling in a shipping label easier. But that's not all: Quickly navigate the Finder and attach multiple files to an email, control iTunes, harness any number of search engines, and more.
In fact, that more is a bit more meaningful this time around, because Alfred recently gained a feature that lets users create and share powerful ways to expand Alfred's capabilities. It's called Workflows, and it allows you to automate a process, tie a number of apps or services together, and then share the workflow at sites like Alfred 2 Workflow List. One such workflow is AlfredTweet, which lets you perform many of the basic posting, replying, and @name auto-complete features of a typical Twitter app. If you add this to your social media workflow, it could give you some flexibility as to which apps you use for certain accounts.
More social, less hassle
These Mac tools should help get you started with some ways to simplify a multi-account social media workflow, whether it's for business or just having fun with your personal passions. But you'll find plenty more where these came from, with focuses ranging from business to collaboration to sales.
Note: When you purchase something after clicking links in our articles, we may earn a small commission. Read our affiliate link policy for more details.
David has been covering Apple and how to get the most out of its products since 2005. Now a freelance tech writer, he runs Finer Things in Tech, jots down thoughts at DavidChartier.com, occasionally starts outlining the great American tech novel, and might still get to snowboard Breckenridge one more time.