If you love to listen to podcasts on your iPhone or iPad, you're probably familiar with Vemedio's Instacast, a $5 app that lets you consume your favorite shows through an elegant and well-thought-out user interface.
Despite all its great features, Instacast was an iOS-only affair—until now. The folks behind it have now released a public beta of Instacast for OS X, and we've taken the Mac version for a spin to see how it holds up.
Podcasts a-go-go
Like its mobile cousin, Instacast for Mac revolves around a simple and intuitive user interface that emphasizes your content, organized according to your tastes.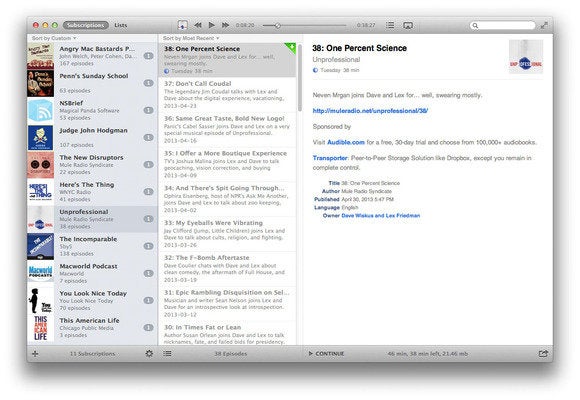 When you first launch the app, you'll probably start by building your own library of podcasts; Instacast offers a convenient panel for this purpose, letting you pick favorites from a large catalog that's divided up by podcast type—audio, video, enhanced content, and so forth—as well as by genre and language. You can also search for a specific title, or enter a feed URL directly if you so choose.
The subscription panel only lets you add one title at a time; this can be a bit annoying if you're just starting out and want to add a large number of podcasts to your library in one go. Fortunately, you'll probably only be adding that many podcasts once.
Once added, podcasts end up in your subscription list, which employs a Mail-like three-panel layout: podcasts on the far left, episodes in the middle, and show notes in a large panel on the right. By default, the app downloads the latest episode of each podcast, making it available for listening offline; the others can be played on demand through streaming, or downloaded on an individual basis.
Play it back, Sam
If a podcast is downloaded but never listened to, does it make a sound? Given that listening is the task you'll most often use Instacast for, the developers have spent a lot of time making sure that it works smoothly.
Double-clicking on an episode starts it playing immediately, interrupting any previously-running recording. Alternatively, you can queue an episode for later playback, either right after the current episode or at the end of the app's "Play Next" list.
The playback interface resides on the title bar of Instacast's main window, where it's readily accessible without ever being in the way. The controls give you quick access to the usual playback controls, as well as a chapter and Play Next popover, and an AirPlay selection panel that allows you to pipe sound to an external set of speakers.
As in the iOS app, the interface gives you a few options to control how each podcast is played back. In addition to determining how far the app skips back and forth when you hit the backwards and forwards buttons in the interface, you can also change at what speed the show is played back, ranging from half-speed to three times the normal rate, at which everybody sounds like they've just left a particularly well-stocked party from the Eighties.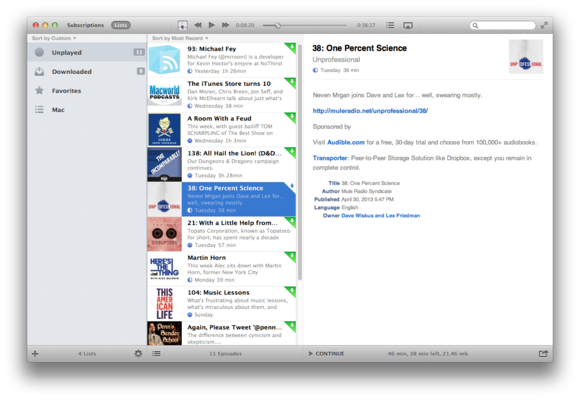 Organization is everything
In addition to managing your subscriptions, Instacast allows you to organize your episodes in a number of lists, either manually or automatically according to a number of predefined criteria.
The latter functionality is provided through Smart Lists, three of which—Favorites, Unplayed, and Downloaded—appear by default in the Lists screen, while three more (Partially Played, Recently Played, and Most Recent) can be added as needed.
You can also add any number of manual lists, which you can use to collect individual episodes in any way you like. Each list gets its own name, and can be sorted alongside the others according to your preferences.
Sync, please
One of Instacast for iOS's most useful features is the ability to sync your podcast data between different devices—a capability that has been ported to the OS X version as well.
Rather than relying on Apple's iCloud, which has its share of problems, Instacast relies on a custom solution called Instacast Cloud, which the company claims is faster and less prone to hiccups. This sync system, which is available free of charge to all users, also supports local file sharing, so if you download a podcast episode to your Mac, your mobile devices will be able to grab it via Wi-Fi, rather than having to retrieve it over the Internet again.
During my quick test, the sync functionality worked well—although I did have a moment of panic when my entire subscription list disappeared during the sync, only to return, unscathed, at the end of the operation. In addition to keeping tabs on your subscription, the app also synchronizes several metadata points, like which episodes you have listened to, and how far you've gotten in episodes that you haven't finished playing back yet.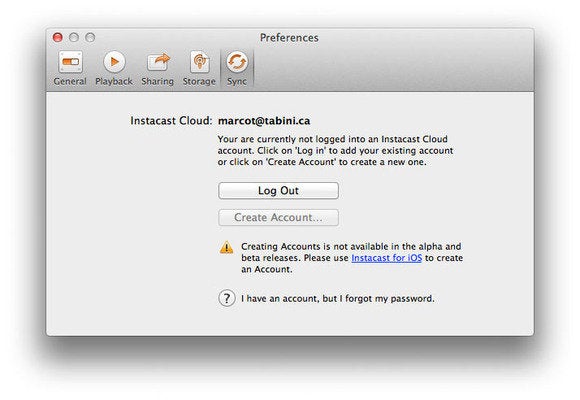 As good as it gets
Instacast does have a few minor flaws here and there—it is, after all, a beta, and it does crash on occasion—but it promises to be as good a product as its mobile counterpart. Rather than being flashy, it feels like a solid "classic" Mac app that foregoes skeuomorphic design and glitzy animations in favor of a user interface that emphasizes simplicity and ease of use.
Instacast for Mac, which requires OS X 10.8, will be available in public beta until May 31, at which point it will presumably turn into a paid product. Speaking of which, you can already purchase a license directly from within the app at an early-bird price of $15.