At a Glance
Expert's Rating
Our Verdict
The HardShell Case protects the aluminum Retina MacBook Pro from dings and dents, though it adds some size to the laptop.
As sturdy as Apple's MacBooks are, it's a little depressing to pull your laptop out of your bag and discover a ding or scratch on the aluminum case. If you want some extra protection for your laptop, Handy Candy Cases' $60 HardShell Case might be the answer.
Hard Candy makes the HardShell Case for the Retina MacBook Pro and the MacBook Air. (I tested a version for the 15-inch Retina MacBook Pro.) The case consists of four pieces of translucent, rigid plastic. The plastic doesn't feel brittle or cheap, and it's available in blue, black, lime, or red.
Snapping the HardShell Case onto your laptop is easy and takes just a few minutes. Before doing so, however, you'll want to clean the outside of your MacBook and the inside of the HardShell Case's pieces to prevent any dirt or debris from getting trapped inside.
With the HardShell Case on my MacBook Pro, I was able to connect various cables and several different USB flash drives without a problem. However, if you have a very oddly shaped USB device, there's a possibility that the bottom shell, which sticks out a bit just below the computer's ports, could get in the way.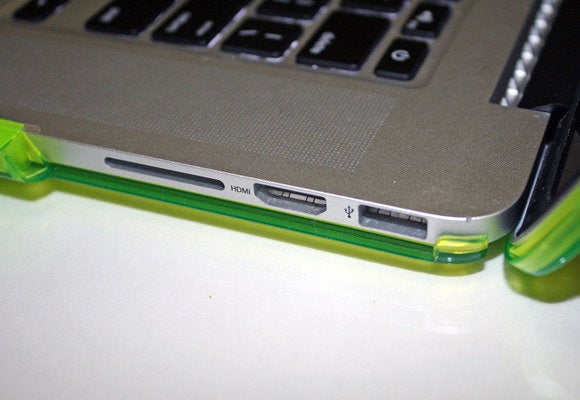 The HardShell Case has cutouts to allow air to flow to the vents on the bottom the laptop. During general use—visiting websites, writing documents, and checking email—My MacBook didn't appear to get warmer than usual. But I found it difficult to tell if the case caused my MacBook Pro to run hotter. When I watched the temperature with and without the case during iMovie renders, it seemed like the laptop heated up faster with the case on, but the difference was very, very slight. The case also won't completely shield your lap from your MacBook's heat; during iMovie renders, I could still feel the heat from the bottom of the laptop through the HardShell Case.
The bottom of the HardShell case has no rubber or silicone feet, so on smoother tables, the laptop can slide around while you're using it.
The biggest drawback of the HardShell Case is the bulk it adds. For example, the version for the 15-inch Retina MacBook Pro adds a pound of weight and expands the laptop from its original size of roughly 14.1 by 9.7 by 0.7 inches to roughly 14.8 by 10.1 by 0.9 inches. Some might consider this a small compromise to make for extra protection, but others won't like the bulk.
Bottom line
The HardShell Case is a good option for MacBook Air or Retina MacBook Pro users who yearn for a more-rugged laptop. It can also be useful for giving your MacBook a different look.