There's an endless array of minimalist, "distraction free" text editors to capture notes and ideas, but what about more visual, free-form thoughts? Fapptory's $7 Delineato Pro ( Mac App Store link) is a new diagramming and mind-mapping Mac app with a clean design and lack of visual clutter.
Each Delineato Pro document starts fresh with a gray canvas that is limitless in size. There are five other themes to choose from, but they're mostly similar. To add to the canvas, either double or right-click to bring up a palette of shapes and lines, then drag the desired object onto the canvas. A grid can be enabled to help you align objects.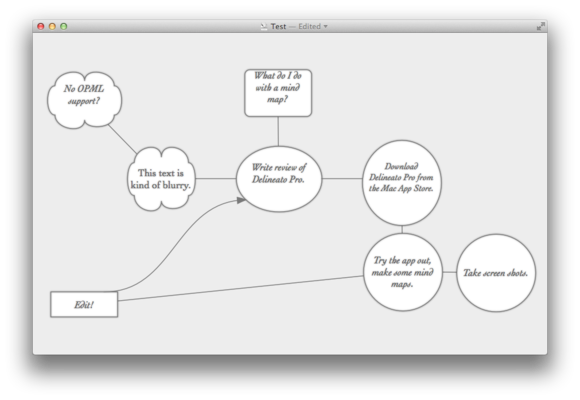 There are two simple ways to connect shapes. You can just drop a line out of the palette, then drag each end to connect it to a shape. Alternatively, click on a shape, then drag on one of the pop-up arrows to draw a line to another shape. If you just drag a line out of a shape and drop it on a blank spot in the canvas, it will create another shape of the same type.
There are a number of shapes to choose from, like clouds, but there are also purpose-specific shapes intended for Concepts, Tasks, Ideas, and Notes. You also have a selection of lines to choose from, including my favorite, a curved line that makes just about any diagram look elegant.
Some aspects of Delineato Pro aren't so elegant, though. On my 2011 MacBook Pro, text appears blurry when using the default light gray background. The grayness of the text blends with the grayness of the background, detracting from readability. Changing the background to dark removes this issue. Also, in my experiments, the Cochin italic typeface that the app uses looked the least blurry on a light background.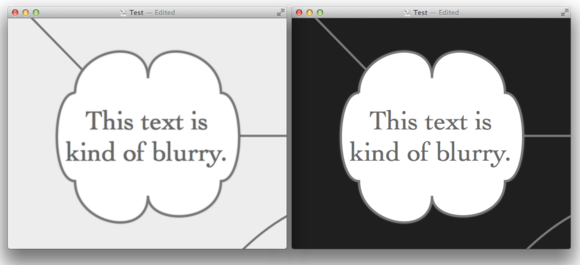 Another drawback is the lack of OPML support, which is the standard import/export format of most diagramming and mind-mapping apps. Nor is there a corresponding iOS app, so for now, your drawings are trapped on the Mac.
Despite that, there are plenty of built-in ways to share a drawing, including email, Twitter, Facebook, and even AirDrop. By default, Delineato Pro saves to iCloud, with Dropbox support planned for a future release.
Delineato Pro takes its Zen-inspired minimalism seriously. There is an option to play "Zen Music" as you work, which is a relaxing theme with chimes and piano. However, the music clip is only a few seconds long, so it gets old fast.
Delineato Pro is a wonderfully minimal app that still needs a bit of polish. But for a mere $7, it's hard to pass up investing in an app with an awesome future in store. Once import/export and blurry text are fixed, Delineato Pro will be a beautiful bargain of a diagramming app.
Want to stay up-to-date with the latest Gems? You can follow Mac Gems on Twitter.