Pixelmator on Thursday released version 2.2 of its $15 Mac App Store-only image editing app. "Don't be confused by versioning numbers," the developers wrote on their blog, because "it's a major upgrade."
Among the new features are a slew of new shape tools, a Smart Move tool, a clever Paint Selection tool, a Light Leak Effect, and plenty more.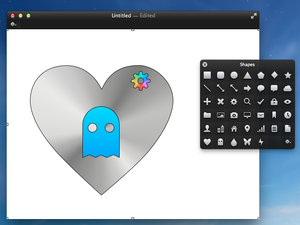 Pixelmator 2.2 includes 40 shapes you can easily insert into your images, and they're all customizable: You can give them solid or gradient fills, shadows, inner shadows, adjustable stroke styles, and a host of visual effects. The shapes include basic geometric objects, along with cameras, people, ghosts, clocks, and more. And, of course, you can create your own shapes and share them with other Pixelmator users.
There's another new option that lets you treat text layers as shapes, too. That essentially lets you warp text in all the same ways, with all the same sorts of effects.
Pixelmator 2.2 is smarter than previous versions. The new Smart Move Tool knows whether you're trying to adjust image layers or shape layers, based on where you click. In practice, you don't notice much, because it's one of those things that just works: You click where you think you should, and Pixelmator figures out what you're after.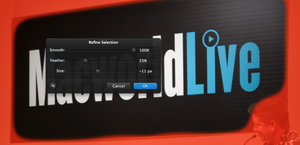 The new Paint Selection Tool is similarly very cool. Instead of using the magic wand or painstaking selection, you paint over the area you want to select, and Pixelmator figures out what borders you want, with a live preview. And you can use the app's built in selection refinement tools to make things even more precise.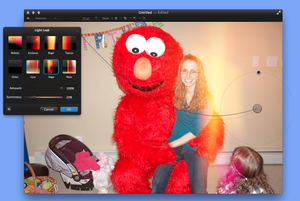 One other new feature worth mentioning is Pixelmator 2.2's Light Leak filter, which makes quick work of adding Instagram-style effects to images. You can choose among numerous filters, and then adjust the position of the visual effect, along with its center point and size.
The updated app includes a variety of other new features and under-the-hood improvements, and feels noticeably snappier when applying processor-intensive effects.
Pixelmator 2.2 is a free update in the Mac App Store, and the app costs $15 for new customers.